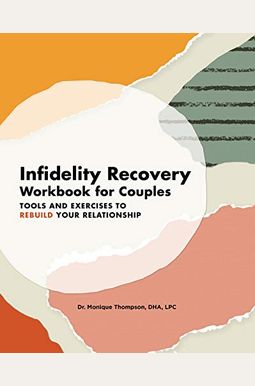 
 
Infidelity Recovery Workbook For Couples: Tools And Exercises To Rebuild Your Relationship
Book Overview
Repairing your relationship after infidelity--an unbiased, hands-on workbook for couples
Couples can and do survive infidelity, but they must first commit to the honesty and emotional work that's required for lasting change. The Infidelity Recovery Workbook for Couples helps you do that, with a collection of evidence-based advice and activities to help facilitate the healing process. You'll explore the different types of infidelity, learn effective communication language, and begin the process of rebuilding your trust, happiness, and future together.
Commit to a better future with your partner with:
An expert first step--Work through your relationship issues with quizzes, writing prompts, and guided questions that help you express your feelings, grow more intimate, and practice forgiveness.
Strategies for both partners--Learn effective techniques for speaking and listening that honor the perspectives and feelings of both partners equally.
For all couples--Couples of any age, gender, marital status, religion, or sexual orientation will find guidance from a licensed mental health professional who specializes in infidelity.
Recover from relationship infidelity with this book of clear and empathetic strategies that every couple can use.
Frequently Asked Questions About Infidelity Recovery Workbook For Couples: Tools And Exercises To Rebuild Your Relationship
Book Reviews
(9)
Did you read Infidelity Recovery Workbook For Couples: Tools And Exercises To Rebuild Your Relationship? Please provide your feedback and rating to help other readers.
Genuinely Good Couple's Workbook

Derived From Web

, Feb 8, 2022

As a clinical therapist that is always looking for high quality books to use in my practice, I am always on the lookout for high quality workbooks to use. I have found that this book is priceless in helping to couples guide through the difficult times of infidelity. I love the new look of the magazine. Simply add it to your cart and it will be added to your order. Thanks for all the love. If you're having trouble with infidelity, add to cart.
Returned it.

Derived From Web

, Jan 31, 2022

It's not what I needed, Mr. Dhaliwal said. I still want to discredit it for people it did work for. A workbook can get you both talking to one another.
JUST BUY IT!

Derived From Web

, Sep 7, 2021

I purchased this workbook for my husband and I after we found out about a short affair he had just recently. We did one chapter a night after putting our son down, he said. Even though we were behind, we were excited to get it done. It has helped us a lot, Mr. Dhaliwal said. It's great to be able to work with such a great third party, Graham said. It really helped us understand what the other was feeling, but we couldn't say. RECOMMEND!
Nice workbook an excellent task list

Derived From Web

, Aug 5, 2021

The book is organized so that the reader can follow along with the steps in a step-by-step fashion. The book is divided into six sections: Tasks, Projects, Diagrams, and Notes. The book is written in a technical writing style. I didn't find it too useful for the victim of the infidelity. To rebuild trust, one must not only be willing to make the sacrifice, but also be willing to put in the work. The cheating spouse needs to be willing to participate in the rebuilding process which may take years or may never happen.
A great book for married couples struggling with infidelity

Derived From Web

, Jun 3, 2021

I got this book to help on top of marriage counseling, Raymond said. This book has activities you can do with your partner which I feel is useful, Ms. Caramore said. He said many people have asked him to help a marriage that has had problems.
Insightful

Derived From Web

, May 25, 2021

Good job, Paul. You're the real deal. Brings back a sense of sanity under... not so sane experiences. See your feelings as reactions to external circumstances that are uncontrollable.
Very well written guide

Derived From Web

, May 23, 2021

The workbook arrived today, said Jennette Tamayo, a spokeswoman for Microsoft. I bought my spouse a copy as well and its not easy to admit being the one to break that sacred trust, but I have been all in on repairing the damage that I have done. So far this couples workbook is amazing guide to follow, and if your heart and mind are truly into rebuilding your life, I recommend getting this. She has hurt herself so deeply knowing and feeling her pain. It is a great guide to identifying and taking responsibility for your safety.
Great help

Derived From Web

, Mar 11, 2021

Practical advice from the experts. Clear and concise, this book help you restore your relationship or ended in good terms.
Excellent Resource!

Derived From Web

, Jan 23, 2021

The workbook is an excellent resource for anyone seeking to heal relationships after infidelity. Dr. Thompson suggests that both the unfaithful and the offended partner use tools of healing to find their way out of the situation. Each exercise is designed to encourage individual exploration and change, not just in physical exercise. The undeniable outcome for anyone working through this book is personal growth and understanding of what is needed to heal the damaged relationship, Graham said. I look forward to using it in my practice, he said.