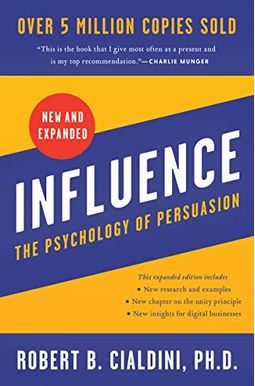 
 
Influence: The Psychology of Persuasion
Book Overview
This Description may be from another edition of this product.
The foundational and wildly popular go-to resource for influence and persuasion--a renowned international bestseller, with over 5 million copies sold--now revised adding: new research, new insights, new examples, and online applications.
In the new edition of this highly acclaimed bestseller, Robert Cialdini--New York Times bestselling author of Pre-Suasion and the seminal expert in the fields of influence and persuasion--explains the psychology of why people say yes and how to apply these insights ethically in business and everyday settings. Using memorable stories and relatable examples, Cialdini makes this crucially important subject surprisingly easy. With Cialdini as a guide, you don't have to be a scientist to learn how to use this science.
You'll learn Cialdini's Universal Principles of Influence, including new research and new uses so you can become an even more skilled persuader--and just as importantly, you'll learn how to defend yourself against unethical influence attempts. You may think you know these principles, but without understanding their intricacies, you may be ceding their power to someone else.
Cialdini's Principles of Persuasion:
ReciprocationCommitment and ConsistencySocial Proof Liking AuthorityScarcityUnity, the newest principle for this
Read More chevron_right
Frequently Asked Questions About Influence: The Psychology of Persuasion
Book Reviews
(8)
Did you read Influence: The Psychology of Persuasion? Please provide your feedback and rating to help other readers.
Very insightful but too repetitive

Derived From Web

, Aug 12, 2021

The book has a lot of information, but it becomes repetitive. The chapters on commitment and unity drag on forever.
Singularly, the most important book I have ever read!

Derived From Web

, Jul 20, 2021

I read this book in 1986. I've re-read it a dozen or more times over the years, as well as purchasing the newer revised editions. A new tool of influence called "unity" is included in the most recent copy. The reading of this book is a must for my mentoring. I think this is a must read for everyone, even if the original copy was written in 1985.
A must read

Derived From Web

, Jul 19, 2021

I am almost done reading this book for my advertising degree class, and it is absolutely eye opening. If you want to go into sales or marketing, you need this book. I tried out some of the techniques on my family and they worked well. This book will give you everything you need to increase your effectiveness in persuasion and protect yourself from exploitation. All presented in a very easy to understand way.
one of the classics!

Derived From Web

, Jul 10, 2021

The book is a must read for students of social psychology, but it's also a good read for those not interested in psychology. Cialdini's book shows how easy it is to be swayed by things that we don't put as much thought into as we should. Cialdini is a master of being able to explain psych science in a way that is accessible and entertaining. I would recommend this book to anyone. Excellent work by Cialdini!
Wonderful, Inisghtful, and VERY well researched

Derived From Web

, Jul 8, 2021

A lot of books about influencing people are rather hokey, and come across like they're trying to trick you. This book is not the same as the other one. It's very easy to read, but it's also very dense with references to the work the writer did. I would recommend this book to anyone who works with people.
Everybody has something to gain from this book

Derived From Web

, Jun 25, 2021

The book is for everyone. This book will benefit you if you're not a sales person. After reading the first 300 pages, I can say that it's an interesting read with tons of tips to increase your influence. It teaches you how to avoid being tricked by sales people. You can't hate the author for presenting you with tools and tricks in this book. For certain, the top 10 reads of mine.
This Book Will Change Your Life

Derived From Web

, May 12, 2021

This is the best book I've ever read, and it's for a small service based business owner who wants to grow the company as big as possible over the next few years. Do your best to absorb all the knowledge that you can get from this. The book can change your life. You won't be able to stop reading because it is so powerful. This book was very good and I am very grateful for it.
One of the most important books out there!

Derived From Web

, May 4, 2021

The new edition of this book is insightful and has made me want to learn more about the psychology of persuasion.