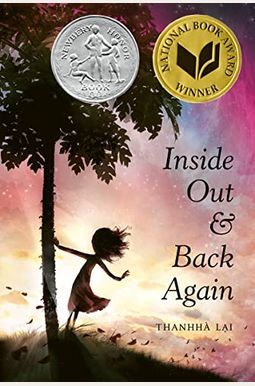  
Book Overview
This Description may be from another edition of this product.
Winner of the National Book Award, a Newbery Honor, and a #1 New York Times bestseller
Inspired by the author's childhood experience as a refugee--fleeing Vietnam after the Fall of Saigon and immigrating to Alabama--this coming-of-age debut novel told in verse has been celebrated for its touching child's-eye view of family and immigration.

This Harper Classic edition includes an author's note explaining how and why Thanhha Lai translated her personal experiences into this book, an interview with the author, an activity you can do with your family, tips on writing poetry, and discussion questions.
H has only ever known Saigon: the thrills of its markets, the joy of its traditions, and the warmth of her friends close by. But now the Vietnam War has reached her home. H and her family are forced to flee as Saigon falls, and they board a ship headed toward hope--toward America.
Inside Out and Back Again is the moving story of one girl's year of change, dreams, grief, and healing. This book was named to multiple state lists, received four starred reviews, and was hailed as a best book of the year by Publishers Weekly, Kirkus, School Library Journal, and the Chicago Public Library.
Frequently bought together
Frequently Asked Questions About Inside Out & Back Again
Book Reviews
(11)
Did you read Inside Out & Back Again? Please provide your feedback and rating to help other readers.
Delightful Beyond my Expectations

Derived From Web

, Apr 20, 2022

I was a little skeptical of the book when it arrived and it was free verse. I was expecting a novel for young readers, not poetry that didn't rhyme. The free verse format is great. I'm a little emotional as I write my review of this wonderful, sensitive, charming account of a young girl and her family who were displaced by war. It moved me. I absolutely loved it. Due to the target audience range, it is easy to read, but has a lot to say. I will recommend this to my friends. Thank you for such a great read, Thanhha.
It's a wonderfully tragic story about a little girl who has to ...

Derived From Web

, Apr 20, 2022

My child's summer reading requirement was this book. It's a sad story about a little girl who has to leave Vietnam and move to the US and how she is treated as an outsider. The author is telling her story. It's a great way to talk about bullied people.
Inside Out & Back Again Review

Derived From Web

, Apr 20, 2022

Inside and Out and Back Again was written by Thanhha LaiHarper Collins, and it was published in 2011. She tells her story through her eyes because she lost her father the year she was born. Her story is told through a series of poems, divided into four parts of her life. The first set of poems begins in 1975, with Ha and her family. She describes how she and her family had to move from Vietnam to Alabama because of the war. She talks to the reader about her life and how she is treated at school in the book. A college in Georgia was reviewed by Moza Al-Kuwari.
Understanding

Derived From Web

, Feb 26, 2022

The book will expose you to a young lady who was forced to migrate. It's easy to read but will get you thinking.
Five stars every time I read this beautiful book.

Derived From Web

, May 4, 2021

Everything about this book is perfect. I like the cover, the writing style, the Alabama setting, and the characters. I have taught English to adult immigrants in Alabama and know how hard it is to make a living here. In 1975, I was a college student who wanted to meet people from other places and learn about their cultures. Most of the other Alabamians were not. The people that the main character meets in Alabama ring true. I love how her brothers stood up for her. The woman whose son died in the Vietnam war befriended the family and helped them learn English. As the family accepted that the father was dead, my heart broke. The family is beginning to stand up for themselves by the end of the year.
Not an immediate hit

Derived From Web

, Jan 13, 2019

This book was purchased for an avid 9 yo reader and wasn't received well. I think the prose poetry was off-putting. She might come around to it in time. I'm hoping.
Hauntingly Contemporary

Derived From Web

, Jul 8, 2018

The book is very sad, funny, shocking, sweet, and haunting. The girl is innocent but brave, and she adjusts better than I could to one hostile environment after another. The story is even more astonishing because most of it is true. The issue that burns underneath is how we treat people who are not like us, even though there are other aspects to life in war-torn Vietnam. Ha's struggles seem quaint until we realize the same struggles are happening to a different group of people.
So few words and yet, such detailed panoramas in the brain ... an epic in a teaspoon.

Derived From Web

, Jun 14, 2018

It is beautiful and lycical. The novel is written in free verse, so it takes a few pages for it to settle into the brain. There are some people who don't like free-verse and maybe this isn't for them. If you're not sure, read the first page. One of the best free-verse books out there taste the fruit, feel the fear, escape with your life, learn how to live in a new country, and have less words than an average infomercial!
Five Stars

Derived From Web

, Jan 10, 2018

My great-grand daughter liked this book because she was studying immigrants in school.
Rough Reading

Derived From Web

, Aug 20, 2017

My daughter is 11 years old and she enjoys poetry, but the book is poetry and she was a little disappointed with that. We were both hoping for a story line to follow. There are some words that I need to look up to figure out the meaning and context in the poem and how to pronounce them which makes reading this book frustrating. This book would be interesting for the right kid. A group of kids reading it together, doing the research together, and having others discus the significance of the poetry could make it more interesting and significant.