Buy 3 Get 1 Free
Our Best Sale Yet! Add 4 Books Priced Under $5 To Your Cart     Learn more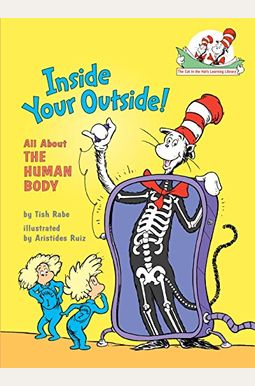  
Inside Your Outside: All About The Human Body (Cat In The Hat's Learning Library)
Book Overview
The Cat in the Hat takes Sally and Dick for a ride through the human body where they visit the right and left sides of the brain, meet the Feletons from far off Fadin (when they stand in the sun you can see through their skin), scuba dive through the blood system, follow food and water through the digestive tract, and a whole lot more!
Frequently bought together
Frequently Asked Questions About Inside Your Outside: All About The Human Body (Cat In The Hat's Learning Library)
Books like Inside Your Outside: All About The Human Body (Cat In The Hat's Learning Library)
Book Reviews
(8)
Did you read Inside Your Outside: All About The Human Body (Cat In The Hat's Learning Library)? Please provide your feedback and rating to help other readers.
One of the most delightful human anatomy books for children that I've read

Derived From Web

, Apr 20, 2022

This is one of the most unique human anatomy books I have ever read for children. It does not sound the details down to just in the dumpling and cute. I discovered that we have exactly 206 bones in the human body and for the first time learned by manually counting with my children that at least 96 of them live alone in our palms and feet. I also learned that the ear bones together are the size of a grain of rice and we feel dizzy even after we stop the wiggleing because the fluid continues to swirl in the cochlea and sent the wrong signals to the brain. The book ends with a glorious illustration of a giant bladder squeezing into the WC, while a character of Dr. Suess waits their turn outside the restroom patiently.
Too complicated

Derived From Web

, Dec 28, 2021

I got this because we liked the dinosaur so much. This is, however, not as well written or designed. There are groups of words everywhere on the pages making it difficult to read and overwhelming to follow a child. I am an English teacher so that I am not afraid of a challenging read even for children. But this was just so poorly thought out and executed compared to some of the others in the series.
ADORABLE BOOK!!

Derived From Web

, Jan 25, 2021

I am a science nerd, so I asked Santa for my three-year-old son for Christmas this past year. I was not sure if he'd be into it, but figured why not? Well... Well... HE LOVES IT!!! No matter how many books we read per night, he is ALWAYS zoned in laser-focused on this. It is a nice, long read as well. I absolutely love how they incorporate rhymesfun pictures to make it very educational for the little readers while also being as fun. Book GREAT Book '' : !
Fantastic book!

Derived From Web

, Mar 7, 2020

We have a few other books on learning library books, but this is our favorite. It is a very funny read that is full of information. The best part is that it held my attention for four years olds the whole time and he even made surprising gasps and expressions at some of the facts. It may be a tad too long for littles 2-3 yrs, but I think 4-7 age would really enjoy these. Highly recommended! Highly recommended! ''
What a giggle!!

Derived From Web

, Jan 18, 2019

We received this book and another 2 from the cat in the hat series delivered today. This one is BRILLIANT!!! My 2.5 year old made me read it 4 times since it was delivered around 4pm! Obviously a few things go over his head, but it is fun, interesting and you can adjust the explanations to the age of the children. Once i read the words, i point out and explain in a way i think he gets. We flex our arms and legs, listen to our heartbeats, wiggle our muscles etc. Before we start the journey, we hand over a ticket to each other and off we go!! I admit, sometimes I can be a lazy parent, but this book gets your imagination going and I am honestly smiling from start to finish. Seeing my little boy get excited about learning and having fun while doing it has been worth every cent! Not sure who enjoyed it more! Not sure who enjoyed it more! '' Bedtime tonight has been such a giggle that I had to come back and review the book. Will be recommending to everyone! Will be recommending to everyone! ''
Great visual in Dr. Seuss style

Derived From Web

, Sep 27, 2018

It is a great visual book of the internal organs of our bodies. I bought it for my 2.5 year old daughter so that she could start learning about what we have inside. Here I was showing her pictures of the brain, giving her examples, explaining how it works. We read a few more pages, then flipped back to the page with the brain. I asked her, pointing to the brain what this was. She says it is a tree. I said : Honey, we just talked about it. Think again, what is this? She goes sa flower. '' Then I realize it is a little early for her. But we still love the book and she still loves to flip through the pages and ask what these things are.
LOVE this book!!

Derived From Web

, May 12, 2018

I am a surgical assistant and my children love to watch surgical videos with me. But i want them to understand what they are seeing... we have several kid oriented body related books, but i wanted to read a more entertaining one that they might actually enjoy reading. This is PERFECT!!! And it touches most of the big themes in surprising detail. I give each of my friends a copy of this book for any birthdays or parties lol.
Good body introduction

Derived From Web

, Jul 16, 2017

My 4 year old son and 2 year old daughter both really enjoy this book. They recently have become interested in things inside your body. My son especially loves seeing the pictures of skeletons. All the pictures are drawn though, no real xrays are included in this book.