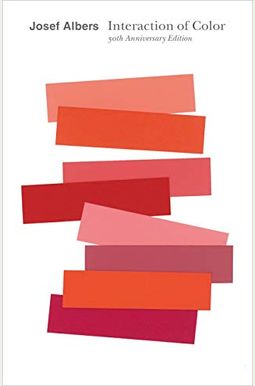 
 
Book Overview
One of the most important books on color ever written.--Michael Hession, Gizmodo
Interaction of Color with its illuminating visual exercises and mind-bending optical illusions, remains an indispensable blueprint to the art of seeing. . . . An essential piece of visual literacy.--Maria Popova, Brain Pickings
Josef Albers's
Interaction of Color
is a masterwork in art education. Conceived as a handbook and teaching aid for artists, instructors, and students, this influential book presents Albers's singular explanation of complex color theory principles. Originally published by Yale University Press in 1963 as a limited silkscreen edition with 150 color plates,
Interaction of Color
first appeared in paperback in 1971, featuring ten color studies chosen by Albers, and has remained in print ever since. With over a quarter of a million copies sold in its various editions since 1963,
Interaction of Color
remains an essential resource on color, as pioneering today as when Albers first created it. Fifty years after
Interaction
's initial publication, this anniversary edition presents a significantly expanded selection of close to sixty color studies alongside Albers's original text, demonstrating such principles as color relativity, intensity, and temperature; vibrating and vanishing boundaries; and the illusion of transparency and reversed grounds. A celebration of the longevity and unique authority of Albers's contribution, this landmark edition will find new audiences in studios and classrooms around the world.
Frequently Asked Questions About Interaction of Color
Books like Interaction of Color
Book Reviews
(13)
Did you read Interaction of Color? Please provide your feedback and rating to help other readers.
better version of a classic

Derived From Web

, Apr 20, 2022

Albers was a pioneer in the systematic exploration of how our perception of colors is influenced by surrounding colors. The original edition of his classic work included numerous prints to illustrate the ways in which colors interact. The previous paperback issue included only a few of these prints in the previous edition. This edition includes more of these prints and so gives the reader more insight into a fascinating subject. The work is of interest not only to painters and printmakers, but also to photographers and anyone interested in how we view the world around us.
Albers is THE standard

Derived From Web

, Apr 20, 2022

This volume is a classic reprint of the modern interaction of color, which now resides most often in rare book collections. The reproductions are fairly accurate. I teach it at the university in teaching color theory. Together with some of Itten's work these two are still the best education for color theory. It is not a science approach, so that light students may find it too palaestic, but is a good start for those interested in the meat of color theory. It does not cover RGB light structures or additive media, but was designed for painters, so that it is what one would expect. Love it, and the images of the art works make a beautiful application of examples of the principles.
The Power of Color

Derived From Web

, Apr 20, 2022

An excellent book on the phenomenon of color. The quality of the colors is various, as the splendid experiments Albers have done. This is a vital book in the understanding of color's power. The quality of the paper and the integrity of the colors are absolutely amazing. Kudos to the printer -- and Josef Albers to the great.
A Helpful Resource

Derived From Web

, Apr 20, 2022

Currently I am taking a studio class in architecture, and this book is one of the required readings. The content of the book is in conjunction with a color project, which I start in class with. I find the color studies in this book to be quite interesting and I gained some insight into how colors can affect the eyes. I had to read some passages a number of times in the book to understand them, but collectively, the book is a wonderful resource for anyone interested in color theories.
This is THE Book About Color Interaction

Derived From Web

, Apr 20, 2022

Wow! What an amazingly well written and well thought out book. Highly recommended for anybody interested in the subject of how colors interact with each other. Brilliant!
Our archival film, To Open Eyes, is a ...

Derived From Web

, Apr 20, 2022

Our iconic film To Open Eyes is a companion to this archival book for learning color. It is available as a DVD on Amazon. com.
A very poor version of the original- stay clear

Derived From Web

, May 9, 2020

Very difficult to print the book and colors are not all accurately navigated. Some of the color examples are not properly visible because this is a cheap print version of the original. I 'd like to see what the book was intended to be, but I think the only way to buy it is to see the regular version of $200+. I guess that you get what you pay? The content is really hard to follow, the author tries to explain simple observations with overly dramatic and often times confusing high brow language. Often times, you have to follow the authors'instructions to find a sample figure in another part of the book, but you have to search the entire book to find it. They could have put page numbers to solve this easily. It adds to a list of frustration that the book is not even designed properly for reading. I don 't recommend this one!
Not the most user-friendly book

Derived From Web

, Feb 22, 2019

The book is written in a style that advises the reader to teach color experimentation to others, rather than instructing the reader herself. The book contains a few color plates in the back, but they get the point across, but don 't make for a visually engaging reading experience. The book obviously had a great influence on many people, but if you're looking for something more user-friendly than historically authoritative, I would recommend reading Playing with Color by Richard Mehl, who was also heavily influenced by the interaction of color. Playing with color has beautiful pictures and is written for a student looking for a guide to color experimentation.
You get what you pay for?

Derived From Web

, Jan 27, 2018

I guess you get what you pay for, I guess. My comments are not about the content of this book, but about the presentation of the content in this book itself. I bought this book to give to a friend, but I scanned through it before I did. The text is small and oddly justified leaving many pages less than half filled with text. Also, and maybe I am missing something, but for a book about the interaction of color, there isn't much color in this book. There are more expensive and larger versions of this book available. Maybe those are executed well enough to do justice to the content?
Life Changing

Derived From Web

, Jan 5, 2018

This textbook '' and the professor who led my sophomore introduction to color theory course by assigning the exercises Albers created enriched my life on this planet, frankly. If you are blessed with any sight, buy it and enter the magic. My experience was almost 45 years ago and I am still conscious and appreciative in both my artistic and daily life of the lessons I learned.