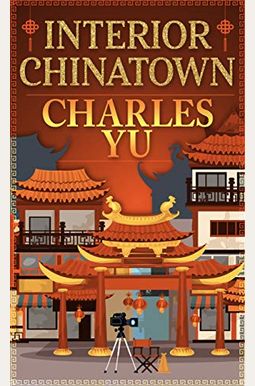  
Book Overview
This Description may be from another edition of this product.
NEW YORK TIMES BESTSELER - NATIONAL BOK AWARD WINER
One of the funniest books of the year. . . . A delicious, ambitious Hollywood satire. --
The Washington Post
From the infinitely inventive author of
How to Live Safely in a Science Fictional Universe,
a deeply personal novel about race, pop culture, immigration, assimilation, and escaping the roles we are forced to play. Willis Wu doesn't perceive himself as the protagonist in his own life: he's merely Generic Asian Man. Sometimes he gets to be Background Oriental Making a Weird Face or even Disgraced Son, but always he is relegated to a prop. Yet every day, he leaves his tiny room in a Chinatown SRO and enters the Golden Palace restaurant, where
Black and White
, a procedural cop show, is in perpetual production. He's a bit player here, too, but he dreams of being Kung Fu Guy--the most respected role that anyone who looks like him can attain. Or is it? After stumbling into the spotlight, Willis finds himself launched into a wider world than he's ever known, discovering not only the secret history of Chinatown, but the buried legacy of his own family. Infinitely inventive and deeply personal, exploring the themes of pop culture, assimilation, and immigration--
Interior Read More chevron_right
Frequently bought together
Frequently Asked Questions About Interior Chinatown
Books like Interior Chinatown
Book Reviews
(10)
Did you read Interior Chinatown? Please provide your feedback and rating to help other readers.
Pages don't align

Derived From Web

, Aug 8, 2021

The book pages were not cut right and the alignment of the panels was not correct. It's disappointing and I don't recommend it to anyone.
A Lightweight

Derived From Web

, Apr 20, 2021

Not surprisingly, the New Zealand Defence Force objected. But I think its politics are more important than ever - anti-racist stereotypes in the movies. Two kids who were asleep at the wheel.
Wow

Derived From Web

, Apr 11, 2021

Really interesting and look into the stereotyping of people.. Really interesting and look into the compelling aspects of being an artist. The consequences of stereotypes are often stark: a twilight zone combined with Vonnegut's feel. I will definitely be recommending it to friends and family.
Pointless

Derived From Web

, Mar 11, 2021

What a maddening, pointless novel, I have read in years. The writer of the book, Simon Sinek, also lampoons Asian stereotypes.
Very disappointing

Derived From Web

, Nov 30, 2020

It's probably best to read books before they get awards, or better yet, not know that a book is critically acclaimed. The first time I read it, I was blown away by the level of detail. I grew up Chinese American and I found the whole 'generic Asian guy' stuff both self-evident and, as it's picked up across the book, predictable and repetitive. The mixed genres of screenplay, stream of consciousness, narrative, and stand-up quips and asides didn't gel for this reader. This may be others' cup of tea but I didn't really pick up any new insights or flashes on being "the Asian guy" in the room or much else. There's a half century of cool Asian-American writing on this stuff that's worth reading, but I'm not sure what's added here.
We all live in a screenplay

Derived From Web

, May 24, 2020

In "Interstellar," Chinua writes, "the world meets China." Those reviewers who thought it was a parody of Hollywood missed the point - which is that all the screenplay stuff is a metaphor for how we all live according to the scripts we are given, and apparently all the more so for Asian Americans. What do we do with those stereotypes we are destined to live? Funnynot funny, that's how life should be viewed. Yu does a fantastic job of delivering those themes, said Blair.
Moving Beyond Generic

Derived From Web

, Apr 9, 2020

Intermixing fantasy and fact, fiction and history, the specific and the general, I INTEROR CHINATOWN AVEL allows the reader to experience something of the self-generated whirl of influences shaping Generic Asian Man and limiting his willingness to move beyond his self-accepted stereotypical role. The slightly self-depreciating humor, the shifts in point-of-view requiring "you" Willis to experience Wu's experience of the world, and the novel's video script presentation style all contribute to a welcomed fresh take on an important issue human interactions in the United States. Highly recommend.
Important Reading Disguised as Entertainment

Derived From Web

, Mar 1, 2020

Not only was this a fun book to read with its mashup of styles, it was also heartfelt and eye-opening in its depiction of a generic Asian man who is seeking his identity in a world that doesn't recognize him as an individual. Through the prism of interior design, Jackson reveals his quest in a unique and original way. Charles Yu's experiences on-set have provided him with a greater knowledge of that milieu than most, and given him insight in how to construct and present his message of living under racism with all its noxious layers, and perceptions of Asian men, in this, the supposed land.
One of the best this year, no doubt

Derived From Web

, Feb 25, 2020

I've written about this place before, but the writing is so good. Like the book, I'm partial to the screenplay. There are a lot of metaphors here, too. There is also a lot to think about, and that is where the author tries to guide you.
Stunning, Powerful, Funny, and Important

Derived From Web

, Feb 3, 2020

It's only February, and I have already read one of the best books of the year. Interior Chinatown is full of wow moments and it tells its story brilliantly weaving in and out of screenplays and set pieces, telling several related stories to race, identity and what it means to be an American. What a wonderful book whose ideas I will treasure for a long time. Please enjoy the book.