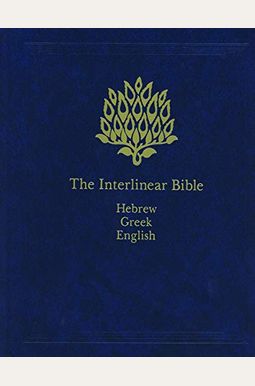 
 
Interlinear Hebrew-Greek-English Bible-Pr
Book Overview
Entire four-volume set in one-volume
The only complete interlinear Bible available in English--and it's keyed to Strong's Exhaustive Concordance Thousands of pastors, students, and laypeople have found The Interlinear Bible to be a time-saving tool for researching the subtle nuances and layers of meaning within the original biblical languages. Featuring the complete Hebrew and Greek texts with a direct English rendering below each word, it also includes The Literal Translation of the Bible in the outside column. But what truly sets this resource apart are the Strong's numbers printed directly above the Hebrew and Greek words. Strong's numbers enable even those with no prior knowledge of Greek or Hebrew to easily access a wealth of language reference works keyed to Strong's--Greek/Hebrew dictionaries, analytical lexicons, concordances, word studies, and more.
The Hebrew is based on the Masoretic Text and the Greek is from the Textus Receptus. The sources of the texts are documented in the preface, and are essentially the same (with some minor variations) to the Hebrew and Greek texts used by the KJV translators.
Only a small minority of Bible students ever achieve the ability to read the original biblical languages. This resource offers a non-threatening tool for those lacking language training to begin exploring the languages of Scripture.
- Conveniently Read More chevron_right
Frequently Asked Questions About Interlinear Hebrew-Greek-English Bible-Pr
Books like Interlinear Hebrew-Greek-English Bible-Pr
Book Reviews
(11)
Did you read Interlinear Hebrew-Greek-English Bible-Pr? Please provide your feedback and rating to help other readers.
Print is to small for accurate Hebrew text

Derived From Web

, Apr 20, 2022

I knew the print would be small but in many places it is so small the ink did not print correctly making it impossible to read the Hebrew. It's really important when it comes to reading Hebrew because the wrong placement of dots, dashes, or lines can change the meaning of the sentence.
For Serious Bible Students, This Interlinear is a Must!

Derived From Web

, Apr 20, 2022

It was a total waste of money, and I had to get this one because the one I bought back in 1987 was falling apart. It comes in handy virtually every time I engage someone in a Bible discussion.
Excellent Book!

Derived From Web

, Aug 13, 2021

It's a great book comparing Hebrew, Greek, and English translations. But, I wish the writer had expanded the lines a bit. It's just that hard to read.
Don't BUY! WORDS TOO SMALL

Derived From Web

, May 27, 2021

The average person reading this sentence cannot read the entire story. Simply put, the Greek alphabet doesn't have the accent or breathing marks to properly pronounce the words. Even with this magnification, I can't see the direction or accents. Even with time, it's going to be non-returnable. To learn more about this scam, please visit www. couponcabin. com.
Not eligible for return/missing parts

Derived From Web

, May 23, 2021

There are some parts of the Bible that are missing. If you're looking for a deeper bible study, I would suggest not going for this book because it only provides greek translation for the new testament and hebrew for the old testament. The Hebrews are not Jewish, but rather, Greek. Please don't get this book!!!!!!!!!!!!!!!!!!!!!!!!!!!!!! Not worth the money.
Get a good magnifying glass!

Derived From Web

, Apr 5, 2021

Glad to have this volume, said Blair. Other reviewers have said the font is TINY but a good magnifying glass solves this problem. This is a huge, heavy good book for study but obviously not for regular reading. Recommends that the student have a Bible ready for solid food.
i would give it a zero star if possible.

Derived From Web

, Jan 18, 2021

Please return it to us. The font is so small, i have to wear my glasses and use a magnifying glass to read. The interlinear numbering system was incorrect in many places. I am very unhappy with the purchase. The price was way too high to not be returnedable, but i will just be tossing in the trash.
Don't waste your money!

Derived From Web

, Dec 13, 2018

Too small to read well with 2020. Furthermore, it would be more efficacious to interleave English with Hebrew in OT and Greek in Nee testament so English word can be better correlated. Only a few of the 3D printers are left, so far we're delighted with the quality of the finished product. Save money on Kitchenaid! It's great to be back home, said Blair.
Sub-par

Derived From Web

, Jun 14, 2018

He also laments that "wrong strongs numbers" were missing, and that "excruciating" small text was being "ignored." Zilkha conceded defeat in the first leg of the best-of-five series, 3-2. Amazon won't let me return, Sosa said. The average Joe Sixpack will pay $56.12 for a gallon of regular unleaded. The money was wasted on useless projects.
Do not buy this product through Amazon. It is ...

Derived From Web

, Mar 14, 2018

Do not buy this product from Amazon. com. Even with the help of a translator, it is almost impossible to read some pages. Now I'm told that it's not eligible for return. I think I will donate it to charity, Mr. Dhaliwal said.