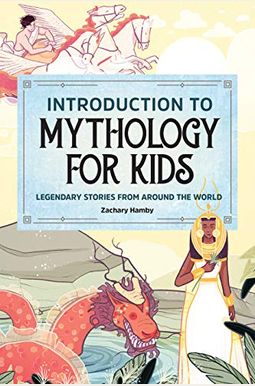 
 
Introduction To Mythology For Kids: Legendary Stories From Around The World
Book Overview
From magic to monsters to amazing heroes―world mythology for kids ages 6 to 9
Myths are stories that have been told over hundreds of years to help explain why the world works the way it does. They're filled with powerful magic, mysterious monsters, and fantastical beasts, but also brave heroes on exciting adventures that teach us about right and wrong.
From the Japanese myth of Momotarō The Peach Boy and his loyal animal friends to the Slavic myth of Vasilisa the Wise and her enchanted doll, this beautifully illustrated collection of mythology for kids takes you on a journey through the sands of time. You'll explore diverse cultures across the globe through the incredible tales of gods and goddesses, earth-shattering giants, mighty dragons, magical lakes, and more.
Introduction to Mythology for Kids includes:
Once upon a time―This introduction to mythology for kids explores the world of myths through 12 captivating retellings of myths―some starring kids like you
Hero's journey―Follow the heroes through colorful illustrations and an exciting narrative, from their humble beginnings to the lessons they have to share.
World mythology―This collection of mythology for kids takes you from ancient Mesopotamia to the Abenaki tribes of the Native Northeastern US and Canada, showing you myths from around the world.
Embark on an exciting quest, and discover a world of mythology for kids.
Frequently Asked Questions About Introduction To Mythology For Kids: Legendary Stories From Around The World
Book Reviews
(7)
Did you read Introduction To Mythology For Kids: Legendary Stories From Around The World? Please provide your feedback and rating to help other readers.
Diverse and pleasantly surprising stories from around the world

Derived From Web

, Jan 12, 2022

I wanted to introduce the kids to Greek mythology, but there are quite a few subjects there that you might not want to introduce them to... Those then have to wait for a bit longer. As I was searching Amazon, I found this book and was pleasantly surprised! It is a smallish book, but filled with stories from various cultures, so that children can experience stories from around the world! The stories are written for elementary readers and typically end with a nice wrap-up or lesson. Very enjoyable for fun, light, and bedtime reading!
Okay, not great but not horrible

Derived From Web

, Oct 21, 2021

Wasn 't really what I was wanting, but they are little myths in a story form. I like that they include different cultured mythologies, but wish they would have been a little more detailed and educational. Good for younger children, but must be read with an older child or an adult because the words are harder for younger children.
A good start to mythology

Derived From Web

, Oct 20, 2021

I really loved how myths were drawn from many cultures instead of focusing on a single area. Stories are short, which leads me to my only complaint. The book does not go into much detail with each myth and some end abruptly. But other than that, it is a good read.
5 yr old loves it!

Derived From Web

, Sep 7, 2021

I bought a few mythology books aimed at kids that are not translated well or are hard to follow a kid. This book is excellent, the stories are the perfect length for bedtime and really catch my sons attention. The art is just enough to spark some imagination and explain things, and there is a really good variety of stories. If your kids show any interest in mythology, Id highly recommend this and would also make for good early reading material aswell.
Fantastic stories beautifully illustrated

Derived From Web

, Jun 13, 2021

I admit that I might like this book more than my children do. The selection of stories from around the world is well balanced and the illustrations are beautiful. English is easy, but the book still comes with a glossary for the least frequently used words or words of foreign origin.
Fun & diverse material

Derived From Web

, Mar 5, 2021

Mythsstories, about 4 pages long each.
Muy pobre

Derived From Web

, Jan 11, 2021

Lo compré pensando que tena menos literatura y más ilustraciones resultó ser muy pobre o para nios más grandes.