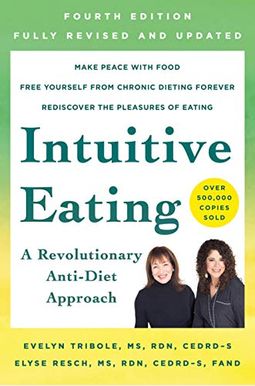 
 
Intuitive Eating, 4th Edition: A Revolutionary Anti-Diet Approach
Book Overview
Make peace with food.
Free yourself from chronic dieting forever.
Rediscover the pleasures of eating.

The go-to resource--now fully revised and updated--for building a healthy body image and making peace with food, once and for all.
When it was first published,
Intuitive Eating
was revolutionary in its anti-dieting approach. The authors, both prominent health professionals in the field of nutrition and eating disorders, urge readers to embrace the goal of developing body positivity and reconnecting with one's internal wisdom about eating--to unlearn everything they were taught about calorie-counting and other aspects of diet culture and to learn about the harm of weight stigma. Today, their message is more relevant and pressing than ever. With this updated edition of the classic bestseller, Evelyn Tribole and Elyse Resch teach readers how to: - Follow the ten principles of
Intuitive Eating
to achieve a new and trusting relationship with food
- Fight against diet culture and reject diet mentality forever
- Find satisfaction in their food choices
- Exercise kindness toward their feelings, their bodies, and themselves
- Prevent or heal the wounds of an eating disorder
- Respect their bodies and make peace with food--at any age, weight, or stage of development
- Follow body positive feeds
Read More chevron_right
Frequently Asked Questions About Intuitive Eating, 4th Edition: A Revolutionary Anti-Diet Approach
Books like Intuitive Eating, 4th Edition: A Revolutionary Anti-Diet Approach
Book Reviews
(15)
Did you read Intuitive Eating, 4th Edition: A Revolutionary Anti-Diet Approach? Please provide your feedback and rating to help other readers.
Food for thought

Derived From Web

, Sep 23, 2021

I've been aware of the philosophy for a while. I missed this book when it was first published. I've had the book on my shelf for a while but I'm just starting to work through it. I lost 40 pounds more than a decade ago, but in recent months my weight has 888-405-7720. I picked up the book in hopes of getting back on track. My main struggles are emotional eating and the need to feel full which can lead to lots of binge eating. I appreciate that the authors have separate chapters for each of these issues. The authors have compiled a lot of information and research. I plan on implementing their 10 principles for intuitive eating in order to have a healthier relationship with food.
No to Giving Up

Derived From Web

, Mar 6, 2021

I downloaded a sample of the book after reading articles and social media posts. I've found that I can't trust my body alone, even though I was intrigued with the idea of letting my body decide. I've found that most people can't. Many people have adopted the idea that you should give up and not try to maintain a healthy weight. Being fat is not good. One's lifespan may be reduced by it because it stresses the heart and other internal organs. The sample book was the kicker for me. I couldn't get out of the introduction because the authors made a point about genders being fluid so they would be using non-gender terms throughout the book. I don't need to give nutrition advice to these two if they're confused about basic biology.
Woke

Derived From Web

, Mar 5, 2021

I will get a previous addition after returning the 4th addition. The studies got lost in the shuffle. The consideration for inclusiveness was nice, but it was enough.
Pfft.

Derived From Web

, Jan 24, 2021

Self help books are not something I like to read. I was looking for a new perspective and chose this one because I am an emotional eater. I learned quickly that the book that promised so much was only a bunch of rhetoric and buzz words. I didn't finish it so I gave it three stars. I wasn't buying it. I didn't find much of a value in others seeing things differently.
Glad I didn't have to pay for it...

Derived From Web

, Jan 18, 2021

The principles behind intuitve eating are sound. I think the authors need to take a course in medicine. I work in diabetes research and have a degree in nutrition, which is related to high levels ofinsulin in the body. When you eat a lower-cholesterol diet, you burn fat first when your body's fuel stores run out. I think daily and weekly weighing puts too much stress on an individual, but I believe monthly weighing gives you some accountability. I'm glad I didn't have to purchase the book.
A "love yourself" approach

Derived From Web

, Nov 22, 2020

It was well written. It's difficult to follow at times because you're surrounded by people and ads telling you to keep doing the diet. It takes a lot of courage, but it's the only way to look at food that makes me feel good. I'm learning to listen to my body and trust myself with food. I feel much calmer and positive about what the future holds because Negative Nelly still pipes up every so often, but nowhere near as much as she used to.
Nope, Don't Waste Your Money.

Derived From Web

, Sep 18, 2020

I was curious to read the updated edition of the original IE book since I don't like the IE method. The only thing that has changed from the original to this one is that they have added in politically correct terms to fit into what is happening in the world today. I can't stomach the gender is fluid, keep the political garbage out of places that don't belong. I wouldn't recommend this book or the original for a number of reasons.
Refined and enriched.

Derived From Web

, Jul 29, 2020

The 2nd edition of this most valuable book gave me a new lease on life. The 3rd edition expanded on the 2nd, but the 4th edition has matured the presentation of the process. Since the original book, others have examined, tested and provided ever more thought and support for this valuable alternative to the self torture that dieting truly is. Making peace with one's own body and life in general is not easy but it is worth the effort and time required. This book can be used as a self help guide or used in conjunction with professional guidance. People who have traveled find a joyful life.
Same 10 Principles, Updated Research and Weight-Neutral Language

Derived From Web

, Jul 29, 2020

Evelyn Tribole and Elyse Resch wrote The Intuitive Eating Book. With more examples from patients, more research from those who are able to study the effectiveness of following the IE principles, and a thorough scrub to remove any weight-related language, the same 10 principles of intuitive eating are still valid. The book will help you regain your sense of control over your food and eating, as well as connect with and honor your body. It's not about eating whatever you want whenever you want, it's about connecting with and honoring your body and enjoying eating.
Not for me

Derived From Web

, Jul 18, 2020

This book was not for me. I couldn't take the authors seriously after they made statements about the patriarchy, thin privilege and how weight isn't an indicator of health. It was disappointing.