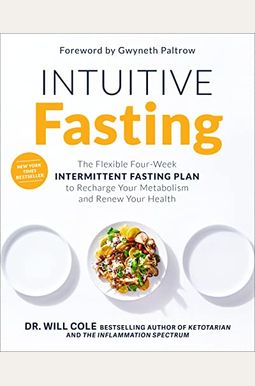  
Intuitive Fasting: The Flexible Four-Week Intermittent Fasting Plan to Recharge Your Metabolism and Renew Your Health
Frequently Asked Questions About Intuitive Fasting: The Flexible Four-Week Intermittent Fasting Plan to Recharge Your Metabolism and Renew Your Health
Book Reviews
(14)
Did you read Intuitive Fasting: The Flexible Four-Week Intermittent Fasting Plan to Recharge Your Metabolism and Renew Your Health? Please provide your feedback and rating to help other readers.
Helpful book

Derived From Web

, May 13, 2021

I learned a lot from this book, mostly to stop Eating when I am actually full or even just before. And only eat when I'm actually hungry and not bored.
Love all of Dr. Cole's books!

Derived From Web

, May 9, 2021

I own all books by Dr. Cole. He writes from the vantage point of a highly experienced physician, but also writes in a way that anyone can understand. I enjoyed this book and am a proponent of intuitive fasting, which is not about starvation, but about mindful eating and reconnecting with oneself and one body.
West coast strange dieting

Derived From Web

, Apr 17, 2021

You think it is going to give you fasting tips, no... it is a 4 week planned diet with ingredients you have never heard of and probably will have to pay a ton. It probably works, but anyone with the time and patience for it should just walk their asses around the block.
Easy to follow and making so much difference

Derived From Web

, Apr 15, 2021

As a post-menopausal woman, I needed to find a solution that was easy to follow to restart my metabolism. I was interested in Keto but didn 't know where to start. At the end of the week 2, I feel so much better, happier and motivated. Carry on doing what makes a significant difference to the body, rather than the hype and misinformation thrown daily at us.
Former Emotional Eater

Derived From Web

, Apr 7, 2021

Intuitive fasting has helped me feel empowered when it comes to food and making the best choices for myself. In the past, I have eaten when I should have dealt with my emotional feelings in other ways. Now I know how to listen to my body and find true hunger cues.
Superb approach to eating

Derived From Web

, Apr 3, 2021

I was a little hesitant about buying this book. I figured that the recipes would be mediocre at best. Well, I just finished the four-week program and am blown away.
Self awareness and educational

Derived From Web

, Mar 24, 2021

Dr. Cole understands the mechanism of diet, and his books are changing the lives of the. You will think twice before making any decision about what to eat and also teaches you to listen to your body.
Great!

Derived From Web

, Mar 22, 2021

This bookprogram loved. A very busy mom of 2 toddlers who works full time and eats so unhealthy! More energy, better skin, lost a few lbs, but most importantly, has gotten myself and children on a better, more healthy trajectory!
Dr. Will Cole does it AGAIN!

Derived From Web

, Mar 5, 2021

Dr. Cole genuinely cares about people and wants to see them living the life that they were designed to live. This book teaches us a way to better understand that and do our bodies just as well! I am so grateful for his voice of concern and heart to see the healing. Dr. Thank you for this. Cole, OH!
This is dangerous, negligent information

Derived From Web

, Feb 26, 2021

From an eating disorder professional, this is a good path to disordered eating and dangerous behaviors. Please consult licensed dietitian doctors who have actually had experience with food & body issues and understand the risks of this type of dieting. Intuitive fasting '' is not possible. Gwynny is sorry, sorry.