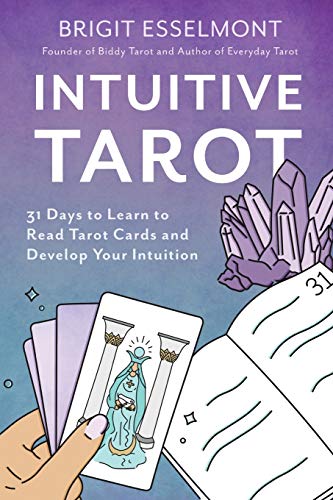 
 
Intuitive Tarot: 31 Days to Learn to Read Tarot Cards and Develop Your Intuition
Frequently Asked Questions About Intuitive Tarot: 31 Days to Learn to Read Tarot Cards and Develop Your Intuition
Books like Intuitive Tarot: 31 Days to Learn to Read Tarot Cards and Develop Your Intuition
What should you read after Intuitive Tarot: 31 Days to Learn to Read Tarot Cards and Develop Your Intuition Book? Here is a list of books to read if you read and loved Intuitive Tarot: 31 Days to Learn to Read Tarot Cards and Develop Your Intuition
Book Reviews
(10)
Did you read Intuitive Tarot: 31 Days to Learn to Read Tarot Cards and Develop Your Intuition? Please provide your feedback and rating to help other readers.
Shameless self-promotion.. not cute

Derived From Web

, Feb 15, 2022

While I haven 't managed to make it through to the end of this book, and does have great information, the author's blatant, EGREGIOUS amount of self-promotion really puts me off the whole thing. Again, I only personally forced myself through Day 4 of Intuitive Tarot's 31 Days to Develop Tarot Cards & Learn Your Intuition, but I noticed that almost every other page has a product promotion or a brand reference. We get it, you've made a name for yourself by teaching your hobby to others, but who wants to read about it on every other page??? For this reason, I received two stars. It's just too much. I did not pay for self-promotion or marketing strategy.
Wonderful Resource for New and Experienced Tarot Readers

Derived From Web

, Feb 1, 2021

I am a longtime listener and fan of Brigit's podcast, so when I saw her book I knew I needed it in my Tarot book collection. Brigit's method of reading Tarot is a welcome relief for most others. I became so frustrated with the traditional reading style, which requires memorizing cards and their meanings. I find reading intuitively and this was just the book I needed. I was not even sure if I was being right. I mean, were we all supposed to study each and every card and sit down with meaning? How tiring! Brigit finally rescued the yay... Since I read this book, my tarot reading methods have already greatly improved. The most intuitive reading described in just 31 days describes this book. I would recommend this book to anyone who is looking for a better, yet extremely accurate way to read Tarot. Whether you're an experienced Tarot - card reader or someone who is just getting into Tarot, I can highly recommend this book.
A basic tarot book...

Derived From Web

, Jul 3, 2020

In my opinion, I am not quite satisfied with this book. I decided to purchase it because I am interested in learning more about how to read the Tarot cards, but it does not give a good explanation for how to understand them. The explanations are real, same old, not what I expected from a superficial Tarot book for beginners. It does not mention the real meaning of each of the cards, nor how to obtain an interpretation of them. Very superficial, very basic...
Loose pages make reading a challenge.

Derived From Web

, Jan 6, 2020

I enjoy the book, however, in the paperback format it is very poorly bound. I am 30 pages in and already three pages have come loose from the glued-on binding simply by turning them as I read. I am frustrated by this and hope that I don 't end up with a pile of loose leaf pages by the time I read them. I'd like to go through this book once more.
Same information in the Everyday Tarot

Derived From Web

, Dec 25, 2019

If you have Everyday Tarot, you don t need this book because it is redundant. Since I have Everyday tarot, I give it 2 stars because there is no new information available here. I always enjoy Biddy Tarot products, but I have to be honest with my review.
Good information, poor format

Derived From Web

, Dec 17, 2019

Kindle books were probably not meant for the Kindle. I can easily read poetry books on the Kindle. I bought this book soon after it was published and maybe that was the problem. Examples of the problems I write are weird page breaks and words that run together. I suspect that the page break problem is due to the pictures not being printed in the book. More deceiving is that you can 't see most of the card spreads. Fortunately, I know what a Celtic Cross looks like, but other spreads are still an enigma to me. The appendix is useless because you can 't see a thing. As I said, the information is good in the book. The bottom line is that if you want to learn about the Tarot and have no experience or background, this book will not help you until the formatting problems are solved. I hope for an update from Amazon.
A+

Derived From Web

, Dec 5, 2019

It could really help you on your journey through Tarot reading. Worth the money : Buy it if you want a daily guide to help you on the way. It says 31 days, but you can go faster or slower if you want.
Kindle Version Has Issues

Derived From Web

, Nov 10, 2019

Information is great and it helps to think out of the Tarot box. Three stars for the Kindle version : The formatting leaves large sections of blank pages and words off illustrations making them hard to read.
So Many A-Ha Moments and So Much Fun!

Derived From Web

, Nov 6, 2019

I have so much fun working through this book! I can 't wait to get to my activities every day. Though I have been dabbling in Tarot for awhile and have read a lot of books, I learn things from Intuitive Tarot that I never heard before. I can 't wait to see what is possible with Tarot when I finish this book.
Amazing way to learn to read tarot

Derived From Web

, Nov 4, 2019

I tried to memorize all the Tarot card meanings and almost given up lots of times. Crazy that I did not realize it was this simple. So glad I found this book ''.