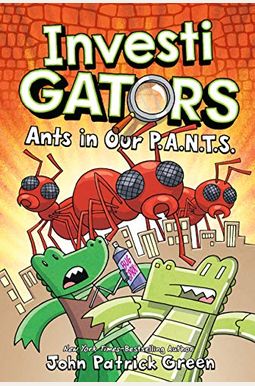 
 
Investigators: Ants In Our P.a.n.t.s.
Book Overview
Will InvestiGators Mango and RoboBrash be able to solve this latest mystery in the hilarious adventure series perfect for fans of Dog Man?

The InvestiGators' new mission has our sewer-loving secret agents bugging out in InvestiGators: Ants in Our P.A.N.T.S, the latest chapter in the hilarious adventure series from John Patrick Green.
With agent Brash trapped in a mysterious coma, the technicians at S.U.I.T. have designed the ultimate replacement: RoboBrash This high-tech replica has been programmed with all of the original Brash's crime-fighting skills and knowhow--but it seems he's got a few bugs in his system Will Mango and his new partner be enough to stop the giant ants that are on a rampage in the city? Orchestrated by the spaced-out villain, Maestronaut, and Houdino, the dinosaur escape artist, it seems criminals are certainly upping the ANT-y
Frequently Asked Questions About Investigators: Ants In Our P.a.n.t.s.
Book Reviews
(10)
Did you read Investigators: Ants In Our P.a.n.t.s.? Please provide your feedback and rating to help other readers.
Fun book for my 9 year old daughter

Derived From Web

, Mar 14, 2022

My 9 year old daughter loves this book series and this is a quick read. She read it the day we purchased it. She asked to read during the day because she couldn't wait to go to bed. I think that is a win.
Kids love this book

Derived From Web

, Dec 15, 2021

My seven year old loves watching this series. The jokes are funny and age appropriate. It is important for kids to read all genres, and humor and entertainment have a special role in keeping them reading. I can't go wrong with it.
fun reading

Derived From Web

, Nov 15, 2021

My 8 year old loves this book and is eagerly waiting for the next book, she's been reading them since she was 6 but she's 99 percentile so the age may tend to the higher end of the reading age brackets
Great series!

Derived From Web

, Nov 6, 2021

My kids love reading these books and drawing them. My 8 year old and his brother were hooked on these books. We pre-ordered it and my son red it twice the day it arrived.
Engaging story

Derived From Web

, Oct 14, 2021

My son is eight years old and he has asked me to keep ordering the next book in the series. We pre-ordered the newest book. That is a win!
So fun to read and great for kids

Derived From Web

, Oct 8, 2021

There is a family friendly comic book called ants in our pants. It's good to recommend it. Don't buy it if you haven't read the first 3 Investigator books because you won't understand what the book is about.
Love it!!

Derived From Web

, Oct 7, 2021

My child loves these books. He had been reading it cover to cover. We only wish there were more books.
long anticipated next book in the series!

Derived From Web

, Oct 5, 2021

The most recent book in the series. The eight-year-old granddaughter was so excited that she finally got to read the book. I probably wouldn't have bought them if I had known they were graphic books. These graphic, fast moving adventures have helped take a reluctant, almost non-reader to an excited reader of chapter books in a few months. There is more challenging vocabulary in these books. She is improving her reading skills very quickly. She has to be patient for the next book since she is a very satisfied customer. It's!
Best InvestiGators book yet

Derived From Web

, Oct 3, 2021

My son asked me to write a review. He says it was very good and intense.
We love this series

Derived From Web

, Sep 28, 2021

The first 3 books of this series were checked out by me to read with my kids. The 7 year old has re-read the series many times. My son's 8th birthday is in November, so I am very excited for this book. I'll update on the content after I read it. It will be a family favorite if it's the same as the others. It's fun to read as an adult. The story is cute and funny and there are many puns and clever jokes throughout. Don't forget, edits again, doesn't disappoint! Similar to all the other books in terms of content, but I would say this one touches on some character development that's actually a little serious for the story. The next book in the series will be arriving on our doorstep, so I wanted to edit this review. Excited! It's!