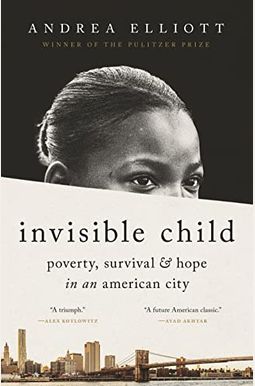  
Invisible Child: Poverty, Survival & Hope In An American City
Frequently Asked Questions About Invisible Child: Poverty, Survival & Hope In An American City
Book Reviews
(7)
Did you read Invisible Child: Poverty, Survival & Hope In An American City? Please provide your feedback and rating to help other readers.
Light and Upbeat

Derived From Web

, Feb 2, 2022

A light and upbeat, grand-literature drama, with a hopeful ending. What the market demands is not readily available, nor is the product itself. The second part of the film deals with the anguished and indifferent American people. Why hopeful after hundreds of years of society's low priority for its most vulnerable children?
Making Change in the Tough Times

Derived From Web

, Jan 29, 2022

At the same time, I couldn't put it down. Nobody can understand the lives of the people living in the projects of New York City unless they have lived it. It's far beyond my understanding, Mr. Rule told the judge. This book pulls on the heartstrings of those who have it all. It is a story of survival, heartbreak, and endurance, Raymond said. There is no such thing as a "home." It's a story of anger, but also love, Raymond said. It's a message of think twice before you judge and categorize people, especially children, he said. It's just that there is a need for change, Mohler said. Indeed, the whole point of the book is to remind the children that they are special. Thanks for reading!
Painful

Derived From Web

, Jan 5, 2022

To the FBI, "T.S. is often referred to as the 'War Department.'." She seems to care and not care in the way she chronicles Dasani's journey through homelessness. She doesn't try to be artificially balanced as many journalists do. She also included relevant historical facts to support her story. The criticism has mounted, and I have seen it written by people who think the book is too long. It seems to me that criticism is to be expected from those who seek to avoid the pain of others and minimize the failure of the dominant culture. The brutality of the work reflects the life this family led, and that requires more than a photojournalist's skill, he said. I would like to hear more about Dr. Dasani's experience at Hershey.
Amazing bookBest

Derived From Web

, Nov 8, 2021

Anthropologist's work is being called "the best ethnography ever." It was a good read, but I couldn't find the hard copy. It's just that the whole thing is a bit uncharacteristic." No easy answers, no saints or villains, just real people struggling against deadening system.
Must-Read

Derived From Web

, Oct 12, 2021

Like Saul Bellow's fiction, this is a work of high level scholarship. I looked at these people and I was by turns, laughing, crying and grappling with my own role in the society that perpetuates their life conditions. Even in the bleakest of urban slums, he shows compassion for the many victims of the world's most desperate conditions. If you're an American, you must read this.
Everyone should read this book.

Derived From Web

, Oct 8, 2021

His story sheds new light on a world I should have known about years ago. A great book.
You learn there is no silver bullet

Derived From Web

, Oct 7, 2021

The book takes you through a roller coaster of 1) relationship with the family and understanding the statistical N 1, back down to 2) the impact of personal responsibility of adults on innocent children, and 3) over to the institutional and programmatic resources that fail for the circumstances of this family. No silver bullet, so what reform, what amount of compassion or legislation can counteract these statistics?