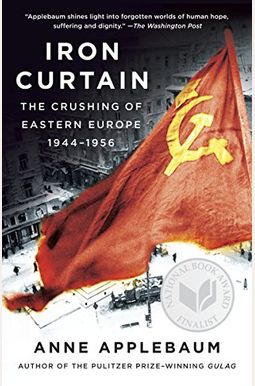  
Iron Curtain: The Crushing Of Eastern Europe, 1944-1956
Book Overview
National Book Award Finalist
TIME Magazine's #1 Nonfiction Book of 2012
A New York Times Notable Book
A Washington Post Top Ten Book of 2012
Best Nonfiction of 2012: The Wall Street Journal, The Plain Dealer

In the much-anticipated follow-up to her Pulitzer Prize-winning Gulag, acclaimed journalist Anne Applebaum delivers a groundbreaking history of how Communism took over Eastern Europe after World War I and transformed in frightening fashion the individuals who came under its sway. Iron Curtain describes how, spurred by Stalin and his secret police, the Communist regimes of Eastern Europe were created and what daily life was like once they were complete. Drawing on newly opened East European archives, interviews, and personal accounts translated for the first time, Applebaum portrays in chilling detail the dilemmas faced by millions of individuals trying to adjust to a way of life that challenged their every belief and took away everything they had accumulated. As a result the Soviet Bloc became a lost civilization, one whose cruelty, paranoia, bizarre morality, and strange aesthetics Applebaum captures in these electrifying pages.
Frequently Asked Questions About Iron Curtain: The Crushing Of Eastern Europe, 1944-1956
Books like Iron Curtain: The Crushing Of Eastern Europe, 1944-1956
Book Reviews
(15)
Did you read Iron Curtain: The Crushing Of Eastern Europe, 1944-1956? Please provide your feedback and rating to help other readers.
Excellent scholastic study of history

Derived From Web

, Jun 2, 2022

I had almost no detail about how all this happened and ultimately unraveled, and I gained valuable insight. There were times when I skipped some pages because I had enough information at that point.
A close escape

Derived From Web

, Jun 2, 2022

A most impressive book describing the communist conquest of Europe. The Soviet Union seems to have collapsed centuries ago, but such a book remains essential reading to remind everyone how we escaped at that time very narrowly!
Pity

Derived From Web

, Jun 2, 2022

Reading this Soviet history, you have nothing but pity for anyone unfortunate enough to be caught in an amazing occupied Europe. I read this first and then went to read Applebaum's masterpiece Gulag.
Thorough, readable overview of this sad subject.

Derived From Web

, Jun 2, 2022

The fate of Eastern Europe after the takeover by the Soviets is a grim story of hopes shattered and heartbreak. Iron Curtain describes this time in history in its clear, well-researched facets in many fashion. However, at times it was very dry and informative.
A book to understand recent past and contemporary and present political history

Derived From Web

, Jun 2, 2022

Because the author told the truth about this era, a time in history that must be clearly understood and fully recorded, besides her writing is direct and easy to read for all types of readers. I also recommend her book on the Gulag as well. Ginette Vachon is a chocolaty.
My Experience with Iron Curtain

Derived From Web

, Jun 2, 2022

The book is a fascinating book with lots of information. I enjoyed it immensely ''. Each bit of information checks out in the book. It gives a very fresh insight into how Russia actually crushed Eastern Europe after it was destroyed by the Second World War. At the same time, one can see that Stalin and the Soviets had planned everything to the last detail. Alirio Escalona is a soccer player from the beginning of Alirio.
Deep research on a obscure period of the history

Derived From Web

, Jun 2, 2022

The Communist years in East Europe are still under the shadows of ideology. Researching documents and talking with the people shows Anne Applebaum the horror of the comunist and the abuses of the URSS.
An important book!

Derived From Web

, Jun 2, 2022

In our western world, we take freedom for granted - it is not so long ago that freedom in many parts of Europe was not self-explicit. It is important not to forget this!
Scholarly and readable

Derived From Web

, Mar 9, 2022

This is certainly not light reading, but full of detail relating primarily to East Germany, Hungary and Poland at the end of WWII and later. Ms Applebaum, however, keeps it moving and engaging by telling many stories of individuals. For example, she details how all countries in Eastern Europe knew that engaging and encouraging teenagers was of vital importance. To that end, many immensely popular youth groups sprang up or were revived, not least the scouts in Poland. But all of them were too dangerous in the eyes of the Communist Parties everywhere, to the Communist ability to indoctrinate youth. And so were the youth groups banned or infiltrated beyond recognition. This level of osophaga '' is difficult to imagine until it is laid before you.
A Must-Read Book

Derived From Web

, May 16, 2021

This book must be studied in all secondary schools up to university, especially in the humanities, where these cursed communists still dominate the scene. If a person remains a communist, a wokeist or one of these ideologies after reading this book, then he or she is a criminal who has vested interest in the continuation of these ideas, or is a complete stupid person, devoid of any moral capacity to make a very simple judgement, whose brain was completely washed by those totalitarian ideologies and narratives.