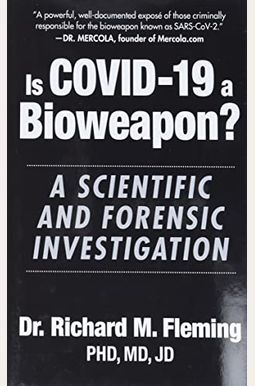 
 
Is Covid-19 A Bioweapon?: A Scientific And Forensic Investigation
Frequently Asked Questions About Is Covid-19 A Bioweapon?: A Scientific And Forensic Investigation
Book Reviews
(5)
Did you read Is Covid-19 A Bioweapon?: A Scientific And Forensic Investigation? Please provide your feedback and rating to help other readers.
Fabulous Book

Derived From Web

, Oct 25, 2021

The disgust I now have for our government and the corruption that has been going on for a very long time. The Jab is a gene therapy, not what you think it is and the plan to eliminate humanity. Hydrochloroquine and any modality that could help so that they could make more money on vaxxs. I highly recommend this book to open the eyes of people to see how this country is being sold.
Mostly filler

Derived From Web

, Oct 12, 2021

I wrote a detailed review explaining why you should not buy the book and save it instead. The author or the publisher apparently does not like that and my review is gone. Basically, Google the author and you'll see why he is not to be believed.
Truth at it's Finest!!

Derived From Web

, Sep 16, 2021

Dr. Fleming's book blows the lid off Dr. Fauci's lies to Congress that he was not involved in any research funding for the COVID-19 virus and experimental vaccine! We are being lied to at every level of government and need this truth to combat the deep state.
Sars Cov2 is a bioweapon with research and patents conducted over the last 20 years!

Derived From Web

, Sep 11, 2021

I applaud the author's tenacity in documenting the illegal gain of function research surrounding the SARS Cov2 CV19 virus. This research has been largely funded by US major health agencies and he has traced the funding grants and the USA patents associated with the virus. It is no surprise that Dr. Anthony Fauci has his fingerprints on all these issues, including the funding for the Wuhan lab in China. Dr Fleming also exposes the illegality of this research and the violation of international treaties and laws in connection with GOF research, the aim of which is to make viruses more virulent to human beings! Although I have a high education level, I do not have a background in virology or biology. This book is a very difficult read due to the complex science issues involved, and I will have to read it again to be sure I understand it as fully as possible.
Everyone SHOULD read this one!

Derived From Web

, Sep 10, 2021

There are many videos that explain everything in detail and very nicely, I might add.