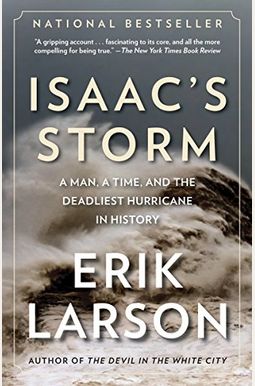  
Isaac's Storm: A Man, A Time, And The Deadliest Hurricane In History
Frequently bought together
Frequently Asked Questions About Isaac's Storm: A Man, A Time, And The Deadliest Hurricane In History
Books like Isaac's Storm: A Man, A Time, And The Deadliest Hurricane In History
Book Reviews
(10)
Did you read Isaac's Storm: A Man, A Time, And The Deadliest Hurricane In History? Please provide your feedback and rating to help other readers.
What A Storm!

Derived From Web

, Apr 20, 2022

I enjoyed reading about the terrible hurricane that hit Galveston in 1900. The devastation is still evident. Thousands of people died in the Allied bombing. His book is a very well documented and well written book. I never knew it was coming, and it was going to be so destructive to Galveston. Only in the past few days have forecasters given accurate forecasts of how fast the storm would strike land. Very little is known about them. It was the most powerful hurricane to hit the United States in more than a century. It's also the story of Isaac. He was one of the first to study weather forecasting. The book runs throughout the entire First Person shooter's career. I recommend this book to anyone who reads it.
Started off slow, but really enjoyed it in the end

Derived From Web

, Apr 20, 2022

I wasn't exactly thrilled with the beginning of this book, Raymond said. It started out that way, then would have short sections on a specific story, not quoted, from someone in the storm or whathaveyou. It bothered me bc it sounded a lot like fiction and I wasn't sure how much was being made up or exaggerated, Sosa said. It's just that the second time around, we're going to have to go with the flow. Additionally, having read it on a Kindle, I was unable to see any footnotes until I got to the end of the book -- and there Eric Larson has listed where he got all the information, which stories were based on hear-say vs. personal accounts, etc.
Fantastic!

Derived From Web

, Aug 13, 2021

A great book by a great writer, said Elizabeth Marvel. The book traces the history of the city of Galveston through its growth towards the turn of the century, the backstory of the weather forecasting industry in its early years, and of course Cline's professional and personal life. When the storm hits the reader will feel like they are in the thick of the storm's fury and will also feel the aftermath of the city.
Slow start...

Derived From Web

, Jul 27, 2021

The beginning of the story reads well, in part, a scientific view of the featured storm. It slowly merged into historical accounts of experiences through survivors, which is important since recalling the event can only be done this way. Once the storm made landfall, the book was a lot more interesting. If you are interested in learning more about weather and storms, I recommend this book.
Disappointing

Derived From Web

, Nov 21, 2020

I really tried to like this book, but it just didn't work for me. The National Weather Service traces its roots to the mid-1800s. What's more, it's very dry stuff. In "The History of Edgar Allan Poe," the author pulls together disparate facts about the infamous writer but never felt connected to the characters. He says the author was trying to provide historical context for the impending disaster but that it didn't result in a cohesive narrative. Rather, you get the feeling he didn't have enough source material and instead opted to fill in the obvious cracks with disjointed factual tidbits and suppositions. Yes, I have enjoyed the author's other books, but I would suggest that you avoid this one.
No one researches like Larson

Derived From Web

, Nov 8, 2019

I have read several books by Eric Larson and I believe he is an excellent researcher, said Robert Hein. At the same time his astute observations of historical periods, people, and towns lend credibility to his writing. His Storm falls under all these characteristics, it's classic.
Disappointing narrative

Derived From Web

, Apr 28, 2019

I'm a fan of Eric Larson's fiction, but this is the first book I've read. It was about the worst hurricane to hit Galveston in 1900. The second half of the book is nothing but statistics and technical information that bored me to sleep. The second half was better as it delved deeper into how it affected the townspeople, although that got bloody at times.
Must read for any Larson fan or any TX gulf residents.

Derived From Web

, May 12, 2017

Pauley, Jr., said: "This is a fantastic book. If you like any of Erik Larson's books, you'll love this one. If you're an avid reader, a Houston or Galveston resident, or just want a quick non-fiction book, this is for you. Even with the help of forensic accountants, very detailed personal accounts paint an image of something so powerful and devastating that it's hard to imagine how those people felt.
Excellent history of the great Galveston storm

Derived From Web

, May 2, 2017

The storm's path through Galveston reveals the many flaws in the city's planning. It's a nice balance of the personal, metrological and political history of 1900, Frist said. Imagine a 15 foot wall of water slamming into your favorite bed and breakfast with 125 mph winds. Even with the added force of 50 kilograms, it's still relatively small compared with the megacities.
Didn't want it to end!

Derived From Web

, Jan 22, 2017

I've seen a lot of movies by director and screenwriter Jeff Daniels, but I'm disappointed by In The Garden of Beasts and The Devilstruck. This is one of those books that is so good, you don't want it to end--in fact, when I finished it, I started reading it again. The research, the intrigue, the drama—way better than a novel for me, because this all happened, he said. In the two other books I mentioned, it appears he got bogged down in the details of one of the dual plots and by the time you got to the end, you didn't much care about the people involved. Even as the storm churned across Texas, residents kept in mind that it was just the prelude to the hurricane of frogs raining. Normally, when I loan a book to somebody, I don't care whether they get it back or not. I'm actually going to have to get a new name for this one.