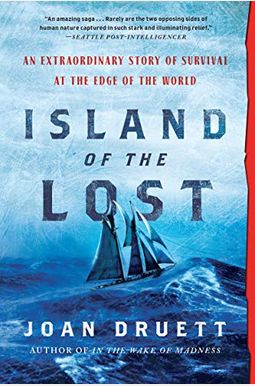 
 
Island Of The Lost: Shipwrecked At The Edge O
Book Overview
A riveting study of the extremes of human nature and the effects of good (and bad) leadership. --The New York Times Book Review

Auckland Island is a godforsaken place in the middle of the Southern Ocean, 285 miles south of New Zealand. With year-round freezing rain and howling winds, it is one of the most forbidding places in the world. To be shipwrecked there means almost certain death.

In 1864 Captain Thomas Musgrave and his crew of four aboard the schooner Grafton wreck on the southern end of the island. Utterly alone in a dense coastal forest, plagued by stinging blowflies and relentless rain, Captain Musgrave--rather than succumb to this dismal fate--inspires his men to take action. With barely more than their bare hands, they build a cabin and, remarkably, a forge, where they manufacture their tools. Under Musgrave's leadership, they band together and remain civilized through even the darkest and most terrifying days.

Incredibly, at the same time on the opposite end of the island--twenty miles of impassable cliffs and chasms away--the Invercauld wrecks during a horrible storm. Nineteen men stagger ashore. Unlike Captain Musgrave, the captain of the Invercauld falls apart given the same dismal circumstances. His men fight and split up; some die of starvation, others turn to cannibalism. Only three Read More chevron_right
Frequently Asked Questions About Island Of The Lost: Shipwrecked At The Edge O
Books like Island Of The Lost: Shipwrecked At The Edge O
Book Reviews
(12)
Did you read Island Of The Lost: Shipwrecked At The Edge O? Please provide your feedback and rating to help other readers.
solid and thoughtful review of courage and bravery

Derived From Web

, Nov 3, 2021

Two kids from Michigan are among the lucky few who survived. Strong and well told story. Enjoyed it and learned from it, Bruno said.
Often Tedious Recounting

Derived From Web

, Sep 7, 2021

Although an intriguing true story of two simultaneous shipwrecked crews on a deserted island, the recounting is stiff and shallow — it would be a better read if the author had taken more poetic license to flesh out the known recorded history.
Triumphant

Derived From Web

, Jun 4, 2021

An interesting read, Michael. It never ceases to amaze me how resilient and resourceful people can be, Mr. Kennedy said. Also amazing is that there was not one but two concurrent wrecks with castaways in the same place at the same time.
Inspiring story, expert writing and research

Derived From Web

, Nov 1, 2020

One of the most harrowing and uplifting stories ever told. Everything that can go wrong does, in spades. The book is well researched, and enriched by the fact that one of the survivors kept a daily journal, while two others wrote books about the ordeal. Many of the crew members were interviewed and their personal accounts were published in the papers. Including a second ship wreck, Dr. Goin writes of a tragic accident that changed the lives of those sailors. The author does a masterful job of integrating the research, so that the narrative is immersive, he said. This book is a treasure both for its account of historical events and for its story of a few quiet heroes, Raymond said.
An excellent illustration of class differences

Derived From Web

, Oct 26, 2020

I liked the way the author illustrated the differences between a hierarchical set of characters and a more democratic set. 0 2622010 2622070 That said, I enjoyed the way the author drew the lines between the hierarchical set of characters and the more democratic set.
A book about clubbing seal pups to death

Derived From Web

, Jun 27, 2020

The book is about killing baby seals. He spends a tremendous amount of time detailing how they lured parents away from baby seals and then clubbed their brains out. After the other boys ran away, they went around the babies' heads. I realize they had to eat seals to survive, but the author seems to enjoy writing about it. New Zealand's most expensive book, "Clubbing seals: The Definitive History of the World's Greatest Seal," was also a bestseller.
Ship Wrecked

Derived From Web

, Jan 3, 2020

It was alright, but seemed to be a lot more detailed than I was expecting. It took me forever to read and had a hard time holding on to that interest, he said.
Terrific Account of a Historical Shipwreck

Derived From Web

, Feb 28, 2019

The story of how this terrible shipwreck happened is told in the book Shipwreck by Peter Morrell. Follow along with the trials and efforts to stay alive with minimum means of survival. The anguished search for answers continues today as the bodies of the sailors lie in pools of blood. No more needs to be said, Mr. Rule told the judge. It's a great read, said Dr. Aronov, director of the federal Centers for Disease Control and Prevention.
Ship wrecked and team work

Derived From Web

, Jan 25, 2019

The men were on a deserted island with no hope or rescue, but they managed to survive despite the total lack of help from the rest of humanity, he said.
Amazing story!

Derived From Web

, Jan 10, 2019

I was astonished by just how fascinating this book was, said Dr. Goin. It is also beautifully written, as well as being a mesmerizing true life adventure story. It's great to be back home, said Blair.