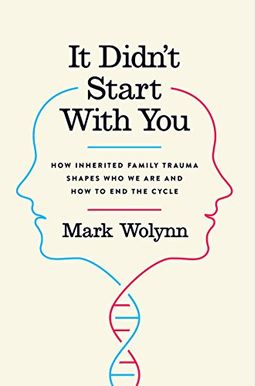  
It Didn't Start with You: How Inherited Family Trauma Shapes Who We Are and How to End the Cycle
Book Overview
A groundbreaking approach to transforming traumatic legacies passed down in families over generations, by an acclaimed expert in the field
Depression. Anxiety. Chronic Pain. Phobias. Obsessive thoughts. The evidence is compelling: the roots of these difficulties may not reside in our immediate life experience or in chemical imbalances in our brains but in the lives of our parents, grandparents, and even great-grandparents. The latest scientific research, now making headlines, supports what many have long intuited that traumatic experience can be passed down through generations. It Didn t Start with You builds on the work of leading experts in post-traumatic stress, including Mount Sinai School of Medicine neuroscientist Rachel Yehuda and psychiatrist Bessel van der Kolk, author of The Body Keeps the Score. Even if the person who suffered the original trauma has died, or the story has been forgotten or silenced, memory and feelings can live on. These emotional legacies are often hidden, encoded in everything from gene expression to everyday language, and they play a far greater role in our emotional and physical health than has ever before been understood.
As a pioneer in the field of inherited family trauma, Mark Wolynn has worked with individuals and groups on a therapeutic level for over twenty years. It Didn t Start with You offers a pragmatic and prescriptive Read More chevron_right
Frequently bought together
Frequently Asked Questions About It Didn't Start with You: How Inherited Family Trauma Shapes Who We Are and How to End the Cycle
Books like It Didn't Start with You: How Inherited Family Trauma Shapes Who We Are and How to End the Cycle
Book Reviews
(15)
Did you read It Didn't Start with You: How Inherited Family Trauma Shapes Who We Are and How to End the Cycle? Please provide your feedback and rating to help other readers.
Important book to read

Derived From Web

, Jul 31, 2021

The book takes epigenetics to a whole new level. Well written. I like the exercises the author instructs to do. I recommend this book to everyone I know who is dealing with something. Depression, anxiety, stress, all of it. I noticed a change in my life after reading this book.
Bought it new and it arrived sticky and dirty.

Derived From Web

, May 27, 2021

When it arrived, it was dirty and sticky, so I bought a new one. It was supposed to be a Mother's Day gift, but the condition made it impossible to give.
If you've experienced any actual trauma this is garbage.

Derived From Web

, Apr 13, 2021

You should just forgive your abusive parents because they may have been through it themselves. The beginning has some plausible science, but then it becomes a collection of advice. Would not recommend it.
Sorry. You just DON'T have to reconcile with an abusive parent. Don't buy this.

Derived From Web

, Feb 6, 2021

The book is not for people who have experienced abuse from their parents. To ask people to reconcile their traumas with the people who caused them is out of line and perpetuates the cycle of not believing people who have experienced traumas because of their parents unresolved traumas. The author puts the responsibility on the reader to resolve traumas for everyone in the family, but never mentions the abuse that these traumatised parents often put on a child. What is this book for? Not for someone who has been through abuse in their family. It quotes the Bible and says that love and prayers are the way out, even though it references science. Not based on science. Not supported by evidence. A book is not about healing. Not helpful at all. Not worth the cash.
I love this book!!

Derived From Web

, Jan 21, 2021

It is amazing. I wanted to write a book about being a therapist. If you work in mental health, you should get it. It is a must read.
A must read for family historians and those wanting to understand connection

Derived From Web

, Jan 1, 2021

Excellent book on trauma in the family. There is a lot of information and ideas. I ordered a printed copy because I wanted to take notes. Have given copies as gifts.
I recommend this to everyone woman or man on the planetfe changing stuff!

Derived From Web

, May 11, 2020

I recommend this book to everyone. The first two chapters will change your life. Buy it and give it to your friends and family.
Amazing book.

Derived From Web

, Feb 27, 2020

I love this book. I would recommend this to anyone who doesn't have a great relationship with their family, or who doesn't understand why they are the way they are. The book is great for psychology majors.
read pete walker instead

Derived From Web

, Dec 30, 2019

The point of the book is to stop blaming your parents, they experienced trauma too, and that's not useful for children of abusers.
What about slavery, racism, and segregation?

Derived From Web

, Dec 7, 2019

The book gives a lot of information about trauma. The Cambodian war, the holocaust, and other traumatic events were mentioned in the book I haven't finished yet. Slavery and segregation aren't talked about up to the present day. Are we still considered humans, or should we be included in the research of nature?