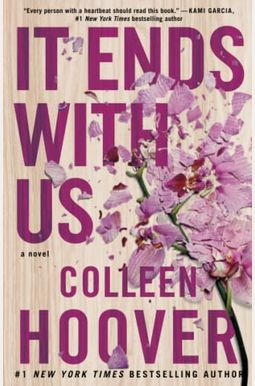 
 
Book Overview
In this brave and heartbreaking novel that digs its claws into you and doesn't let go, long after you've finished it (Anna Todd, New York Times bestselling author) from the #1 New York Times bestselling author of All Your Perfects, a workaholic with a too-good-to-be-true romance can't stop thinking about her first love.
Lily hasn't always had it easy, but that's never stopped her from working hard for the life she wants. She's come a long way from the small town where she grew up--she graduated from college, moved to Boston, and started her own business. And when she feels a spark with a gorgeous neurosurgeon named Ryle Kincaid, everything in Lily's life seems too good to be true. Ryle is assertive, stubborn, maybe even a little arrogant. He's also sensitive, brilliant, and has a total soft spot for Lily. And the way he looks in scrubs certainly doesn't hurt. Lily can't get him out of her head. But Ryle's complete aversion to relationships is disturbing. Even as Lily finds herself becoming the exception to his no dating rule, she can't help but wonder what made him that way in the first place. As questions about her new relationship overwhelm her, so do thoughts of Atlas Corrigan--her first love and a link to the past she left behind. He was her kindred spirit, her protector. When Atlas suddenly reappears, everything Lily has built with Ryle is threatened. An honest, evocative, and tender novel,
It Ends with Us
is a glorious and touching read, a forever keeper. The kind of book that gets handed down (
USA TODAY
).
Frequently Asked Questions About It Ends With Us
Book Reviews
(18)
Did you read It Ends With Us? Please provide your feedback and rating to help other readers.
Quick read!

This book is so great because it has you fall in love with all the characters! Great storyline and ending! Can't wait for this to become a movie!
LOVE IT!!

I bought this book because it was a popular book tok book, and let me tell you this book deserves all the hype it gets!!! Love Second Sale!!!!
Saved Me From A 7 Year Reading Slump
Must read! Amazing! Will get you hooked!

Derived From Web

, Mar 20, 2022

This book is one of my favorites now. I couldn't stop reading. It took me 24 hours to finish the book. I was happy and sad at the same time, but I felt all the emotions in the book. I felt a connection to this story being grown with parents who were abusive. I now understand that it is not just telling women to leave an abusive man. It is not easy to leave, people have said. This is an amazing book. I am happy to keep this book and read it over and over again.
Amazing!

Really sheds a light on abusive relationships, gives an inside perspective. Grips you right from the beginning with twist and turns that keep you until the end. Read it!
Don't judge a book by its cover (or author)

Derived From Web

, Feb 3, 2022

Colleen Hoover has always delivered on my guilty pleasure of YA fiction. The writing style is geared towards a younger crowd. Sometimes she does cover gruesome conflicts, but I still find them to be easy to read young adult fiction. The book has a young love story, but it's not the only thing. It looks at domestic abuse from a different point of view. Colleen Hoover's characters explained how they rationalized domestic abuse situations, and it made them more understandable. One of the better Colleen Hoover novels.
Important Book

Derived From Web

, Nov 22, 2021

I have wondered how I could share the bad parts of my life in a book and for people to be able to see the good in it. It doesn't mean we don't have a lot more happiness around those terrible moments. You accomplished that. You wrote a book for me. I don't know what my life was like because you wrote it for my mom. The book was done perfectly. I loved all the characters. There was sadness, but joy. Thank you... I will cry more now.
Amazing

Couldn't put this book day! So so good!
Not what I expected in the best way!

Derived From Web

, Jul 5, 2021

I loved this book so much I couldn't put it down. Some of the bad reviews miss the fact that abuse and traumas are different for everyone, whether it's from your SO, your parents, your gdamn siblings, or friends. Everyone's decisions to break the cycle are easier said than done. Sometimes we swear that we will never be that person who will be treated badly. I wish I could say more, but I can't without giving away information. The author's willingness to transform her own mother's story into a novel was appreciated by me. You don't know what to do until you're in that situation, we all love to say what we would do if we were there, but the truth is you don't know until you're there. I've never read her books before but I can't wait to read more.