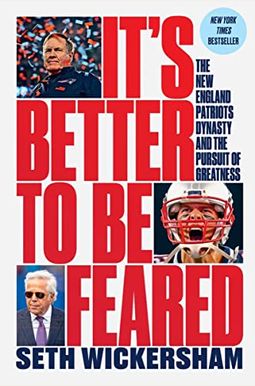  
It's Better To Be Feared: The New England Patriots Dynasty And The Pursuit Of Greatness
Frequently Asked Questions About It's Better To Be Feared: The New England Patriots Dynasty And The Pursuit Of Greatness
Book Reviews
(8)
Did you read It's Better To Be Feared: The New England Patriots Dynasty And The Pursuit Of Greatness? Please provide your feedback and rating to help other readers.
If You're a Pats Fan This is Bland Warmed-Up Leftovers

Derived From Web

, Dec 30, 2021

If you follow the New England Patriots all this is going to be things you already know and not presented in a very entertaining fashion. I was hoping someone drilled deep into what had already been reported, but this was just a retelling of old stories. If you're not steeped in Patriot lore, this is a good book for you. Not a lot of style to the writing _ it's a bit of a slog to get thru some parts but you will get all the history you could ever want."
Old news and politics - typical ESPN

Derived From Web

, Dec 2, 2021

If you have read previous books on the Patriots or Belichick, you will get very little if anything from this book. Thanks to NFL Films, much of the content is easily and far more enjoyable than Wickersham's. It's just that he couldn't simply write a sports book without Donald Trump's derangement syndrome kicking in. His biased and ludicrous takes on Trump were placed there without any flow or relevance to the story. Smash Mouth's book was also banned from the Library. Furthermore, Mr. Kraft claims that the masseuse "liked" him, which is distasteful at best and certainly not fitting of his Woke views. It's easy to see how Seth got some of his sources - just another ESPN hack. He is the posterchild for what is wrong with today's sports media -- hard pass on this book.
Inferior rehash of The Dynasty

Derived From Web

, Nov 1, 2021

There were so many parts of this book that were almost verbatim re-tellings from last year's much more enjoyable The Dynasty by Jeff Benedict. There was very little new here, other than the fact that Tom has settled in Tampa, Fla. Yes, there is definitely a bias in this author's writing. There is an undercurrent of animosity toward Robert Kraft and Tom Brady, and a more sympathetic tone toward Bill Belichek. I also enjoyed the Benedict book because it spent a lot more time covering the beginnings of the Patriot organization, the Kraft beginnings etc., making the picture more complete. Because of that, there really is virtually nothing new in this book. Even the book covers have almost identical blurbs.
While similar to The Dynasty, Brady and NE fans will still enjoy.

Derived From Web

, Oct 21, 2021

Through the prism of the franchise, Groch looks at the players, the coach, and the team owner through a fairly deep character study of Brady, Belichick, and Kraft. The book is a good read, with the exception of the character backgrounds.
Must Read

Derived From Web

, Oct 15, 2021

I've read all the books except for this one. It's also a must-read for Patriots fans. I know because I'm a Jets fan and I hate them lol My favorite titles are the ones written from an insider's perspective, not by a foreign writer. This work delivers big-time value to the client, he said.
inside view of the dynamics of greatness

Derived From Web

, Oct 12, 2021

it was so striking how different belichick, brady, and kraft were—all ambitious, all ruthless in their own ways, but each had an entirely different worldview and drive, it said. It's an instant classic.
More than a football book

Derived From Web

, Oct 12, 2021

It's a book about inner demons, drive to excel and the price of our dreams.
Insightful writing

Derived From Web

, Oct 12, 2021

Seth Wickersham does a masterful job of telling a decades-long story in a truly compelling fashion. Even if you don't follow football, this is a great read.