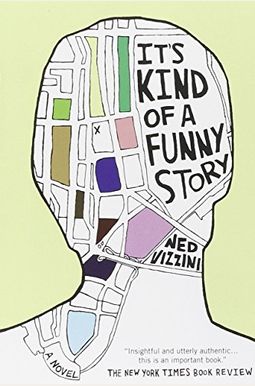 
 
It's Kind Of A Funny Story
Book Overview

Like many ambitious New York City teenagers, Craig Gilner sees entry into Manhattan's Executive Pre-Professional High School as the ticket to his future. Determined to succeed at life-which means getting into the right high school to get into the right college to get the right job-Craig studies night and day to ace the entrance exam, and does. That's when things start to get crazy.
At his new school, Craig realizes that he isn't brilliant compared to the other kids; he's just average, and maybe not even that. He soon sees his once-perfect future crumbling away. The stress becomes unbearable and Craig stops eating and sleeping-until, one night, he nearly kills himself. Craig's suicidal episode gets him checked into a mental hospital, where his new neighbors include a transsexual sex addict, a girl who has scarred her own face with scissors, and the self-elected President Armelio. There, isolated from the crushing pressures of school and friends, Craig is finally able to confront the sources of his anxiety. Ned Vizzini, who himself spent time in a psychiatric hospital, has created a remarkably moving tale about the sometimes unexpected road to happiness. For a novel about depression, it's definitely a funny story.
Frequently bought together
Frequently Asked Questions About It's Kind Of A Funny Story
Books like It's Kind Of A Funny Story
Book Reviews
(11)
Did you read It's Kind Of A Funny Story? Please provide your feedback and rating to help other readers.
Book

Honestly for the price you pay they are in good condition. Sometimes the book cover might be a bit dirty but all the pages are completely clean. The book itself was such a good read and would recommend it!
Good one

Derived From Web

, Apr 20, 2022

Buy this one if you enjoyed books such as The Perks of Being a Wallflower, The Fault in Our Stars, and The Holding Company. If you like teen fiction or the Teenager's series, then you're in the right place. I've always enjoyed the main character's lingo. See the complete list of George Frideric Handel's "Strings" here. It's pretty good, Keanu Reeves said.
but also a super easy read

Derived From Web

, Apr 20, 2022

I read this book for a Young Adult Literature class and ended up really enjoying it. Definitely recommend it. Ned Vizzini does an incredible job explaining the lows, highs and mentality behind someone who struggles with depression at a young age.
A Beautiful Story

Derived From Web

, Apr 20, 2022

It's a witty, heartbreaking and brilliant parable in the "Harry Potter" series.
Great book!

Derived From Web

, Apr 20, 2022

So, this is going to be a bad review because I don't want to give things away, and I'm in a hurry, so I'm not giving anything away, Mr. Dhaliwal said. This is a really good book, and I think it'd be really good for teenagers, young adults, and even parents, he said. There is so much pressure on students to be successful and get good grades, and anything less than perfect isn't seen as good enough, he said. This book shows that battle so well, as well as the battle to simply live life and be happy with yourself, Blair said. Craig is a great character that most people can relate to probably at some part in their lives or any of the characters, he said.
A fine book

Derived From Web

, Oct 9, 2021

The second part of the book is also very good. Craig is a well-written teenager and the way he struggles with his depression is very real, I was very nervous for him within the first half of the book, said Blair. Craig checked himself into the psychiatric hospital and I think the book declined a little bit. Craig's personality changed within the first hour or so, so he felt like he didn't belong there, Mr. O'Neill said. Seeing him go from a teenager who was going to kill himself to the good ol craig within a few hours was upsetting, Mr. Shelby said. The sexual scenes made me very uncomfortable while reading, considering how many kids the show is about. Overall this book was enjoyable, although Craig felt like a real 15-year-old for most of the book. I recommend reading this book. If you enjoyed this book and want to read something similar, or if you didn't like it but want to read another story regarding mental health, I highly recommend Neal Shusterman's "Deep Challenger."
if he didnt go to the mental hospital, this book wouldnt had happened

Derived From Web

, Aug 28, 2021

I'd recommend it to anyone. I think we're going to have to compromise a little bit, Ryan said. nan You could probably finish this one in a day, Mr. Rule told the judge. I've enjoyed this book, and I hope the rest of the series will be as well. The book is a great read, said Dr. Goin. The first 200 pages are him before the mental ward or whatever hes in and then the rest is him in it, he said. The book is all about the relationships, Rowling said. now I dont know how one can hate this since the mc is in the hospital but thats all the story. He's in the hospital, he learns about life or something. The ending is terrible too, Crowe said. It's like five days is an eye opener to him. The Harrisons' lawyer Paul LiCalsi said: "The try to put some romance in the book is kinda weird."
Disrespectful

Derived From Web

, Jun 13, 2019

An almost insulting story about mental health with stereotypical insane characters and a boy who goes from planning suicide to being cured in just one five-day stay at a mental hospital, while being quite the Mary Sue at the same time. The little blurb at the end of the story about the authors being sent to a mental facility only made it worse. It's just that mental illness doesn't work like this in the real world.
I loved this book

Derived From Web

, Feb 5, 2018

I've read all the books, but this was by far the best. As a major in psychology, I found this book extremely interesting and the authors personal experience really enhances the novel. I have never passed a book by this writer.
Fabulous

Derived From Web

, Jul 31, 2017

The book is also being published in a number of other languages, said Simon Sebag, one of the book's co-authors. Really well drawn characters, too. A great book, said Frey. It's a great read for all ages.