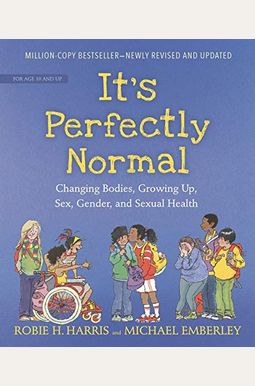 
 
It's Perfectly Normal: Changing Bodies, Growing Up, Sex, Gender, And Sexual Health
Book Overview
This Description may be from another edition of this product.
Fully and fearlessly updated, this vital new edition of the acclaimed book on sex, sexuality, bodies, and puberty deserves a spot in every family's library.
With more than 1.5 million copies in print,
It's Perfectly Normal
has been a trusted resource on sexuality for more than twenty-five years. Rigorously vetted by experts, this is the most ambitiously updated edition
yet, featuring to-the-minute information and language accompanied by new and refreshed art.
Updates include
* A shift to gender-neutral vocabulary throughout * An expansion on LGBTQIA topics, gender identity, sex, and sexuality--making this a sexual health book for
all
readers * Coverage of recent advances in methods of sexual safety and contraception with corresponding illustrations * A revised section on abortion, including developments in the shifting politics and legislation as well as an accurate, honest overview * A sensitive and detailed expansion on the topics of sexual abuse, the importance of consent, and destigmatizing HIV/AIDS * A modern understanding of social media and the internet that tackles rapidly changing technology to highlight its benefits and pitfalls and ways to stay safe online Inclusive and accessible, this newest edition of
It's Perfectly Normal
provides young people with the knowledge and vocabulary they need to understand their bodies, relationships, and identities in order to make responsible decisions and stay healthy.
Frequently Asked Questions About It's Perfectly Normal: Changing Bodies, Growing Up, Sex, Gender, And Sexual Health
Book Reviews
(16)
Did you read It's Perfectly Normal: Changing Bodies, Growing Up, Sex, Gender, And Sexual Health? Please provide your feedback and rating to help other readers.
WARNING! This book needs supervision

Derived From Web

, Apr 20, 2022

I don't think this book was meant for the school library. This book should be read with children and young adults. The drawings are graphic and should not be handled by inexperienced people. Our Jr. High School has a book on it's shelves because of the high reviews and the kids check it out to pass on information. The pictures get a lot of exposure but it isn't being read. You should check with your school library for this book.
Information is Power

Derived From Web

, Jan 7, 2022

People think that teaching children the correct name for body parts and how they work is dangerous. It's almost like they don't want children to know how to report abuse. I don't want my child to learn myths from friends and see adult material on the internet. This is a great book if you understand that knowing something isn't the same as doing something and you are not afraid of your own body.
Wouldn't buy this sexual propaganda

Derived From Web

, Nov 10, 2021

I looked at it in the library, because I wouldn't want my money going to this. There is a book about sexual propaganda.
Too advanced for children.

Derived From Web

, Oct 26, 2021

It's too advanced for children. Before a child looks at a book, a parent should make sure it's right for them.
Zero stars

Derived From Web

, Sep 25, 2021

There are no stars. It was a disgrace. It was great for my daughter to read "It's Not the Stork" several years ago, but I am disappointed that this book goes into so much detail. Absolutely not, for the age group of 10 to 14 years olds!
this book is repugnant....

Derived From Web

, Sep 23, 2021

It would be very sad and disgusting to allow something like this in a place where young children are allowed. There is nothing normal about the lifestyles. This nation has fallen far from what is right and decent. Is there no shame?
100% trash

Derived From Web

, Sep 22, 2021

It's absolutely disgusting. People buy this for their kids. It's cartoons. What's the actual F?
This book is in schools now

Derived From Web

, Aug 13, 2021

There is a page on Facebook called "PrairieU" that talks about how a school is showing a book to kids. To me it is called pedophilia. It is not ok for adults that are not there to show kids this.
Wish I read this book growing up

Derived From Web

, Aug 4, 2021

The recommendation from the article was that parents should be less vague about sex-ed, puberty, STDs, birth control, and other topics. The book covers all that and more in a friendly, neutral tone, with sections on sexual abuse, social media, and the Internet in general. I thought I had done a pretty good job with direct, scientific descriptions, but this is more of a teacher-type tone. It is similar to your sixth-grade teacher and Dr. Ruth. If your kid doesn't get the info from you or a book like this, they will inevitably get it somewhere else and it will often be wrong, or too late to prevent a larger issue.
Deserves no stars

Derived From Web

, Aug 3, 2021

I heard about the book after studying it. This is for children 10 years old. There are pictures of naked children and adults with all of the body parts exposed. There are pictures of a boy and a girl masturbating, a girl with pubic hair exposing her genitalia, a boy with erections, and a girl with pubic hair. I could continue. I wouldn't have been prepared for any of this at 10 years old. My mother gave me a book when I was young. It began with birds and the bees and moved on to male and female sex. The book depicts two people in a bed. There would be hell to pay if they introduced this in my child's school. I had 3 sons and they escaped this craziness.