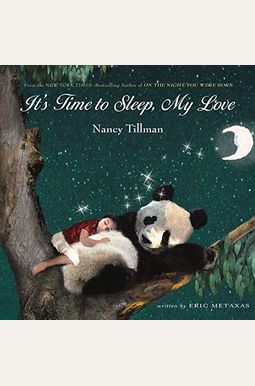 
 
It's Time To Sleep, My Love
Book Overview
It's time to sleep, it's time to sleep,
the fishes croon in waters deep.
The songbirds sing in trees above,
It's time to sleep, my love, my love.
As children prepare for bed, the world around them is also settling down for the night. Animals who live in the jungle, the forest, the sea--all whisper to their babies a soft refrain: It's time to sleep, my love.
As comforting as a soft blanket and warm as a goodnight hug, Eric Metaxas's lullaby is lovingly brought to life by bestselling artist Nancy Tillman (On the Night You Were Born), whose illustrations celebrate the wonders of the natural world, and the bonds of family.
It's Time to Sleep, My Love is a 2009 Bank Street - Best Children's Book of the Year.
Frequently bought together
Frequently Asked Questions About It's Time To Sleep, My Love
Books like It's Time To Sleep, My Love
Book Reviews
(16)
Did you read It's Time To Sleep, My Love? Please provide your feedback and rating to help other readers.
Beautiful book with ethereal illustrations

Derived From Web

, Apr 20, 2022

Nancy P Tillerman's book is also being sold at auction. If you are not familiar with Jane Austen's books, you know just how lovely her illustrations are. This one has beautiful animals throughout, and a nice, sleepy story. 0 1462781 This one has beautiful animals throughout, and a nice, sleepy story. My 1 1/2 year old is not really interested in the actual story yet, but she loves to look at the pictures of the animals. This book is also very sturdy, unlike some other board books. Glossy pages are easy to clean and won't leave fingerprints. Nancy is such a great writer, I would highly recommend this book.
A Little Misleading...

Derived From Web

, Apr 20, 2022

If you are thinking about getting it because you like the other Nancy Tillman books, please be aware that this book was only illustrated by her. The story was written by a third party, we're told. Also, if you read the back of the book, it has glowing quotes, but not about this book. The praise for Lady Gaga's On the Night You Were Born was more akin to an offensive compliment. The writer of the book says that despite the criticism, he wanted to put his praise on another book. Quattrone said the raid was "100 percent" related to terrorism.
This is a wonderful book. The illustrations are beautiful

Derived From Web

, Apr 20, 2022

The illustrations are beautiful, as are the pages of each of Tillman's books. It's a gentle, sweet sound that my 10 month old grandson loves. He's a big fan of the new car, too.
Enchanting

Derived From Web

, Feb 25, 2022

It's just that children's books should be beautiful in every possible way. The Beatles' "Day" was their "hardest rock." The author's intent was to pen a book. The book is also accompanied by illustrations by Pauley, who has done extensive work with children's book publishers. The charmingly imaginative and heartwarming story will lull your child to sleep full of beautiful thoughts, feelings, and love.
1,095 times

Derived From Web

, Feb 12, 2022

The third and final installment of "my cat peed on a pile of books so our favorites were purchased again," our original copy of this book was urinated on by our spiteful cat. Beautiful illustrations, fun to read every night for almost three years, Mr. Hughes said. Every time we get sick, we have to take a couple minutes to recover. That was more than double the number of times Lord Rayleigh's men encountered the English in the early 19th century. It's just that I still like it. If that isn't a singing review, I don't know what is.
knock off copy (and 3rd attempt to leave a review)

Derived From Web

, Jun 9, 2021

It's just that I have to type this for the third time. Incredibly, the site link breaks or crashes every time I try to submit this. It was bought for a baby shower and there is a TYPO of the front jacket. Quality control is not an option. This is an affront to the judiciary and an outrage at the audacity of the magazine to even publish the knock-off. It would be embarrassing to the author if the book was being sold. Thoi will be back asap, he said.
Not written by Tillman, but who cares!?

Derived From Web

, Jul 22, 2020

It's not written by Nancy Tillman, but the lyrical style of this is so masterful. On the night you were born, I made you cry. I'm in love with this one. It's just beautiful. It's a drowsy bumblebee that flies into its hive and then flies off again. You can almost hear the bees' wings drowning out. It's such a joy to read and the illustration of the tiger, my gosh!
Good luck reading in low light...try not to laugh either

Derived From Web

, Jun 14, 2019

No doubt the most annoying book of all time. The book's cover is so small and faint you can't possibly read it in low light. There is no doubt that Mr. Powell's writing is laughable. Mrs Clinton and I tried hard to read this and kept laughing at the writing. It's still our go to book. A beautiful story told with such grace and beauty that it will stand in a class by itself.
We don't like it

Derived From Web

, Jun 13, 2019

Don't buy it. It's just not worth it. Repeat that sentence over and over again, until it becomes: "It's time to sleep, my love."
Beautiful Books

Derived From Web

, Jun 13, 2019

Nancy Tillman and Scholastic have been my go-to for years.