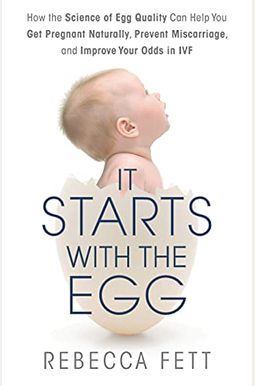 
 
It Starts with the Egg: How the Science of Egg Quality Can Help You Get Pregnant Naturally, Prevent Miscarriage, and Improve Your Odds in IVF
Frequently Asked Questions About It Starts with the Egg: How the Science of Egg Quality Can Help You Get Pregnant Naturally, Prevent Miscarriage, and Improve Your Odds in IVF
Books like It Starts with the Egg: How the Science of Egg Quality Can Help You Get Pregnant Naturally, Prevent Miscarriage, and Improve Your Odds in IVF
Book Reviews
(15)
Did you read It Starts with the Egg: How the Science of Egg Quality Can Help You Get Pregnant Naturally, Prevent Miscarriage, and Improve Your Odds in IVF? Please provide your feedback and rating to help other readers.
Last part of book graphic romance novel?

Derived From Web

, Aug 19, 2021

This book was great! Excellent explanation of fertility. There are great research studies that have been referenced. The book turned into a graphic romance novel after 192 pages. I did not get the complete supplement plan for my type.
Great resource!!!

Derived From Web

, Jul 8, 2021

The book is very informative. My doctor was surprised by how much I knew from this book and agreed with the plan that I started based on it. If you have to wait for your first doctor appointment, this book is a great place to start.
A Must Have

Derived From Web

, May 22, 2021

I read this after we had a baby. We can't vouch for whether it works because we haven't tried to get pregnant again. I was already doing a lot of the things recommended in the book, including taking CoQ10, and living toxin-free. I was 42 years old at the time and it's more likely that I had a baby. I got pregnant on our first try. I believe in what she is saying.
So much knowledge the doctors don't tell you!

Derived From Web

, May 17, 2021

This book is useful. I would never have thought about things that harm the reproductive systemfetus. There is a game plan for every fertility problem. Gets specific and goes into things that your doctor won't do for you.
Just try it

Derived From Web

, Jul 18, 2020

We ran across this book after 3 years of ttc. We followed most of the recommendations without going off the deep end, and we are pregnant after 2 months. I needed to share this in hopes that it will help someone else. Three failed IUI's have been a part of our journey. We are praying that this little piece sticks with us. We had our first baby in 8 weeks and 5 days! The baby has a strong heart rate.
So worth it!

Derived From Web

, Jul 17, 2020

This book is very good. I miscarried after starting my journey with clomid. I bought this book to improve egg quality. I got pregnant after the first month of taking the supplements according to the book. Rebecca's research has helped me get pregnant at 6 weeks. !
Very informative

Derived From Web

, Apr 24, 2020

It was hard for me to read this book because it talks more about IVF than TTC. I have been trying to have a baby for 5 years. A lot of ladies recommended this book to me in the Recurrent Miscarriage support group. I'm willing to try everything in this book because I have had two miscarriages. You have to change your entire lifestyle for some, and it might be expensive. We'll see what happens.
Very thorough and easy to read

Derived From Web

, Jul 25, 2019

This book is thorough in its coverage of the different supplements. The book backs up every recommendation with multiple clinical research papers and studies and is a must have for anyone looking for information on the web and apps. I have not conceived yet, but I am much healthier than I was two months ago, and I believe that the supplements will increase my chances for success.
Knowledge is power

Derived From Web

, Apr 27, 2019

I read this book in a day. I made some changes. It's great to know I can do things that will help me with my fertility treatments. Rebecca Fett answers readers questions on her Facebook page.
Great book!

Derived From Web

, Feb 10, 2019

I liked this book. There was a lot of information. If you're struggling with getting pregnant, this book is for you. The author gives great suggestions on how to avoid toxins that affect egg quality and gives you information on what supplements to take to increase your chances of conception. She talked about the safety and side effects of the supplements she recommended and gave scientific research for each topic. Excellent read!