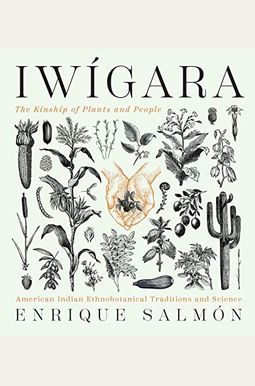 
 
Iwgara American Indian Ethnobotanical Traditions And Science
Book Overview
Tap into Thousands of Years of Plant Knowledge
The belief that all life-forms are interconnected and share the same breath--known in the Rar muri tribe as
iw gara
--has resulted in a treasury of knowledge about the natural world, passed down for millennia by native cultures. Ethnobotanist Enrique Salm n builds on this concept of connection and highlights 80 plants revered by North America's indigenous peoples. Salm n teaches us the ways plants are used as food and medicine, the details of their identification and harvest, their important health benefits, plus their role in traditional stories and myths. Discover in these pages how the timeless wisdom of iw gara can enhance your own kinship with the natural world.
Frequently Asked Questions About Iwgara American Indian Ethnobotanical Traditions And Science
Book Reviews
(8)
Did you read Iwgara American Indian Ethnobotanical Traditions And Science? Please provide your feedback and rating to help other readers.
GREAT Book!!

Derived From Web

, Jan 6, 2022

I shared the pictures and all the information in this book I loved. The only recommendation I would make is that I wish it was separated by region or tribe.
So impressive I bought it twice

Derived From Web

, Sep 18, 2021

I have received the hard copy and the kindle copy. Living in Tucson Arizona, there are many plants in the book on my property. I loved reading about the historical uses of plants.
More please!

Derived From Web

, Sep 6, 2021

The individual story bits of the author are culturally informative and entertaining. The information on the plants is easily presented for non-botanists to grasp and yet offers specifics for professionals in the field. The pages are beautiful illustrated and the photgraphs are great. The paper feels good on the hand and as an object the book itself is like a decorative object in the home.
Fundamental in being able to understand plants form of medicine.

Derived From Web

, Aug 23, 2021

The Tarahumara people are known for their long distance running among other things. This volume of plant medicines is so precise and well thought out, I already hold it in high regard among my other literature. You can not go wrong in getting this book for real medicine!
Great book!

Derived From Web

, Jan 26, 2021

It is easy to pick it up and look different plants by skipping.
Fascinating!

Derived From Web

, Nov 22, 2020

What a fascinating book! I am honest : I thought this book would contain much more information than it does. I was under the impression that it would go into depth on each plant's native history and uses. However, in a sense it does quickly! Which is actually a relief because this makes for a great quick reference and refresher book. Each listed plant will have about a page or two dedicated to it. In there will be a quick summary of medical history, how it was used and where to find, and what are the native benefits. It is an incredible reference book with detailed pictures and descriptions. It was not what I expected, but was actually a wonderful surprise. I do enjoy that it isn 't a boring detailing book, but rather a quick strait to the point book.
Not quite what I expected

Derived From Web

, Oct 10, 2020

I was drawn to the cover illustration and an unusual title, and I had the opportunity to review a digital copy through Netgalley Iwigara, which is described as both a story and a reference book. I was looking forward to experiencing a visual treat with historical photographs, plant images and botanical illustrations of the 80 edible and medicinal native plants covered. Enrique Salmon begins by giving the reader a glimpse into the worlds and cultures of the indigenous peoples of North America, then takes you on a quick tour of plants, how to identify, harvest, and prepare, their health benefits, and many include a story or anecdote. I ordered the hardcover book and was disappointed with its size and presentation. The text was hard to read, had small margins and the photographs were not inspiring.
A Treasure Trove of Information

Derived From Web

, Sep 15, 2020

This is undoubtedly a great contribution to ethnobotany and a fantastic reference book for the rest of us. Salmón shares the knowledge and reverence that North American indigenous people have for dozens of plants in a detailed but approachable way. Each plant profile includes the parts used, season, region, traditional uses, how to identify the plant in the wild and health benefits.