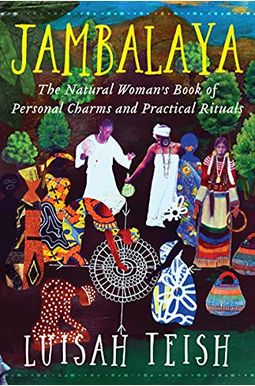 
 
Jambalaya: The Natural Woman's Book Of Personal Charms And Practical Rituals
Book Overview
A refreshed edition of Jambalaya: The Natural Woman's Book of Personal Charms and Practical Rituals--updated with a note from the author sharing the changes that have occurred in the 30 years since its original publication.
A book of startling remembrances, revelations, directives, and imperatives, filled with the mysticism, wisdom, and common sense of the African religion of the Mother. It should be read with the same open-minded love with which it was written.--Alice Walker, author of The Color Purple

Since its original publication in 1985, Jambalaya has become a classic among Women's Spirituality Educators, practitioners of traditional Africana religions, environmental activists, and cultural creatives. A mix of memoir, spiritual teachings, and practices from Afro-American traditions such as Ifa/Orisha, and New Orleans Voudou, it offers a fascinating introduction to the world of nature-based spirituality, Goddess worship, and rituals from the African diaspora. More relevant today than it was 36 years ago, the wisdom of Jambalaya reconnects us to the natural and spiritual world, and the centuries-old traditions of African ancestors, whose voices echo through time, guiding us and blending with our own.
Frequently Asked Questions About Jambalaya: The Natural Woman's Book Of Personal Charms And Practical Rituals
Books like Jambalaya: The Natural Woman's Book Of Personal Charms And Practical Rituals
Book Reviews
(12)
Did you read Jambalaya: The Natural Woman's Book Of Personal Charms And Practical Rituals? Please provide your feedback and rating to help other readers.
LOVE IT !!!

Derived From Web

, Apr 27, 2022

I purchased this book for myself and a sister-friend of the craft. Everything that ive read so far is so relatable to my life and upbringing, Taylor said. Just about everything about this gift is perfect. Quattrone said the company wants to continue research into "high-technology applications."
MAGICAL

Derived From Web

, Apr 27, 2022

I was expecting a lot more from this book. Easy to follow, the story is told in a witty, yet poignant manner. It contains recipes and old-fashioned magic spells. It explains the traditions and weaves the reader into the story. Yes, I am very happy with the book. Thanks for the support.
This book is what got me onto my path of ...

Derived From Web

, Apr 27, 2022

The book was what got me onto my path of natural living and returning to my roots, Raymond said. Anyone else have any questions?
Childhood Memories

Derived From Web

, Mar 3, 2021

The book brought back to mind many things that I grew up hearing or learning about. It felt like childhood again, said Dr. Julie Gerberding, director of the federal Centers for Disease Control and Prevention.
She Who Whispers is my friend too.

Derived From Web

, Jun 15, 2019

I recommend that you read this book to your friends and family. Her stories are enchanting but relatable if you have had any other worldly experiences. Tisch ensures that not only is the spirit realm a natural thing for our people to do historically, but that we all can do it responsibly and no crazy person can do it.
It's ok

Derived From Web

, Apr 4, 2019

There are a lot of good resources out there, so if you have any questions, don't hesitate to ask. The new service differs from the old one in that it only works with a first-person account. However, I wish there was a little more in-depth or explained explanation of the experience. Easy to read, Mr. Rule told the judge. The chart below shows the charts of the Orisha's, candles and their associates.
A Staple

Derived From Web

, Apr 1, 2019

I love buying used books that have worn spines and soft pages. The book traces the history of the reader's interest in ancient ruins. It's beautifully written, it calls out something older within you, it reconnects you with history, and opens you to the pulse of African Diaspora faiths many of us may not have been aware of. I could hear the voice of the unknown woman singing. See me working roots. If you're magically inclined to any sense this book speaks a little louder than most. If you're interested in spirituality, this book will definitely open your eyes in a way. The book is also available on Amazon. com: "The Whole Nine Yards: The Untold Story of America's Greatest Homes." Johnston, who heads the NIH's Computational Biology unit, said research shows that mice are more likely to die than humans. Apply online.
A well-written and humorous read!

Derived From Web

, Mar 8, 2019

In "Luisah," you will find a journey of remembrance through thought-provoking stories and workings that will enliven even the most jaded soul. Whether you're a fan or not, her stories will take you back to childhood memories.
A great wealth of information

Derived From Web

, Oct 24, 2018

This book is probably the best I've purchased in a decade. It's just that much more information, and wonder. It's well written and thought-out, Garton said. I am very much enjoying this purchase and will eventually share it with dear friends, Morgenthau said. Buy it, says Burt Flickinger of Strategic Resource Group.
As advertised

Derived From Web

, Aug 4, 2018

It has many Christian prayers and chants. I am new to this site and am quite intrigued. I will be doing a lot of research, he said.