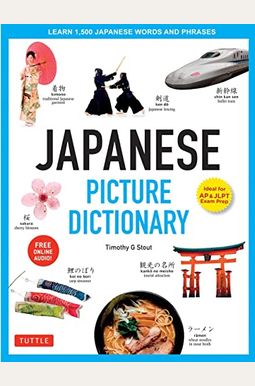 
 
Japanese Picture Dictionary: Learn 1,500 Japanese Words And Phrases (Ideal For Jlpt & Ap Exam Prep; Includes Online Audio)
Book Overview
A fun and helpful resource for anyone interested in learning some Japanese--whether you're 5 or 100
This picture dictionary covers the 1,500 most useful Japanese words and phrases. Each word and sentence is given in Japanese script--with a Romanized version to help you pronounce it correctly--along with the English meaning. The words are grouped into 40 different themes or topics, including basics like meeting someone new and using public transportation to culture-specific topics like celebrating Japanese holidays and eating Japanese food.
This colorful picture dictionary includes:
Hundreds of color photographs
1,500 Japanese words and phrases
40 different topics--from social media and WiFi to paying and counting
Example sentences showing how the words are used
Companion online audio recordings by native Japanese speakers of all the vocabulary and sentences
An introduction to Japanese pronunciation and grammar
An index to allow you to quickly look up words
Japanese Picture Dictionary
makes language learning more fun than traditional phrasebooks. This resource is perfect for beginners of all ages--curious kids, visual learners and future travelers to Japan.
Frequently Asked Questions About Japanese Picture Dictionary: Learn 1,500 Japanese Words And Phrases (Ideal For Jlpt & Ap Exam Prep; Includes Online Audio)
Book Reviews
(8)
Did you read Japanese Picture Dictionary: Learn 1,500 Japanese Words And Phrases (Ideal For Jlpt & Ap Exam Prep; Includes Online Audio)? Please provide your feedback and rating to help other readers.
THE COLORFUL PICTURES MAKE LEARNING JAPANESE VERY APPEALING.

Derived From Web

, Jan 12, 2022

I bought this book for my granddaughter because she wants to learn Japanese. Her love of anime made her interested in Japanese culture and everything. It provides access to online recordings that help with pronunciation and even allows you to slow the speed so that you can control it.
A whole chapter on speaking Woke in a foreign language

Derived From Web

, Nov 9, 2021

There is a whole chapter on how to be Woke in Japan. ... because when you visit a foreign country and need to get around with an optimal set of vocabulary, it is important to push your awakened views on other cultures.
Good dictionary, not perfect.

Derived From Web

, Jun 30, 2021

This book is of high quality to study with. I am a beginner, but I can see that there is a loose use with defined definitions by Hiragana and Katakana. If you buy this book to get a deeper understanding of the Japanese language, I also suggest taking some classes or Duolingo to understand and develop a better understanding with both. When you are stuck, the images help a lot. It is, honestly, one of the better dictionaries I have used.
Very nice. Read my description

Derived From Web

, Oct 4, 2020

There are links in the back where you can download all the audio content so that you can hear the proper pronunciation of what you are learning. With large sections of common phrases used in different situations, loaded.
Recommend for upper beginner or lower intermediate

Derived From Web

, Jul 20, 2020

This book is really good! I like the outline, the images and the examples. AND it is best suited for the upper beginner or the lower intermediate. I don 't recommend to less than the upper beginner, because there are occasional mistakes in the writingpronunciation that they won t be able to spot. These should be no problem for the upper beginner. Plus, a beginner would not be able to form sentences for the full use of material. I do not recommend going further than the lower intermediate because you will already know most of the vocabulary.
Print large enough for anyone to read!

Derived From Web

, Feb 5, 2020

I bought the DK Japanese Visual Dictionary years ago, but picked it up to read only because the font was way too small. This book does not have nearly as many words, but it does have great, legible fonts! It is organized and logically attractive. This would be a Japanese vocabulary tool for new students of the great language.
Excellent reference and learning resource

Derived From Web

, Feb 1, 2020

It is organized in related categories that helps in the search and learning of logical vocabulary. The words are given in KanjiKana, Romanji and English. You can download audio files from the publisher to help you with the pronunciation. I like looking at photos and seeing if I can remember the Japanese word. It is now a well used part of my Japanese learning resources, thanks to one of the many helpful suggestions I followed in the Master Japanese Book.
Pretty good for beginners

Derived From Web

, Apr 11, 2019

A pretty good picture book dictionary for those looking to start studying Japanese. Although I admit that there weren't as many words as I expected and seemed to lack some adjectives, it is still very helpful in teaching basic items, numbers and everyday grammar!