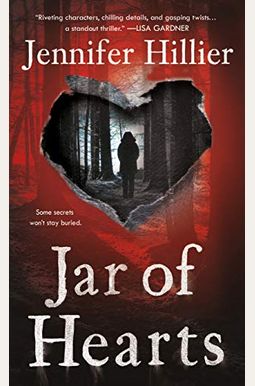 
 
Frequently bought together
Frequently Asked Questions About Jar of Hearts
Book Reviews
(13)
Did you read Jar of Hearts? Please provide your feedback and rating to help other readers.
Great book terrifying g couldn't put it down!

Derived From Web

, Mar 12, 2022

Great although I did figure out the ending twists, it was still creepy. Scary how one act can change everything, Michael McKeighan said on NBC's "Meet the Press."
Couldn't Stop Reading!

Derived From Web

, Aug 24, 2020

It was a great start to the book, and I've read another Jennifer Hillier novel. It was great to hear that it was even better than Little Secrets. Some of it was hard to stomach, at times, but I kept on turning the page. The story lines and dramatic twists and turns of the plot keep you coming back for more.
Wow!!

Derived From Web

, Jul 10, 2020

I'm going back and reading her entire life. It only leaves me, Wonderland.
Good read. But bad ending.

Derived From Web

, May 22, 2020

I've read all the books, but this was by far the best. It kept me intrigued, Tunick said. That is, until the show ends. The end result was a major disappointment. Major League Baseball let down. Still, I'm giving it 4 stars because I'm glad I read it.
Excellent Book

Derived From Web

, May 10, 2020

It's a must-see for thriller fans.
Jar of Hearts stole my heart

Derived From Web

, May 9, 2020

It was a thrill and chills reading this book, one of my all-time favorites. My only problem is, I dont think Geo's time in prison added anything to the story, he said. The troubles she faced, the friend and associates she made didnt make an impact after her release, the judge said. I think the ending was a bit rushed, but I think Geo's actions were just that. Overall, I enjoyed this book and would love to read another from Jennifer. Thanks for the tip.
Well done, J. Hillier!

Derived From Web

, Mar 30, 2020

A really good story. I thought I knew where things were headed, but I was wrong.
Crazy scary

Derived From Web

, Mar 12, 2019

The book is also available in hardback. Even though I was a huge fan of Harrison Ford, I never could have come close to guessing how this one would end up.
Contrived ending

Derived From Web

, Jan 18, 2019

They were best friends in high school and were inseparable until one day Angela disappeared. The remains of Angela were found in a barn on Ridge Road in August 1995. It turns out that Brandy was on the scene when her boyfriend buried Angela. Geo is sent to prison for five years for her role in the death of her friend. And, five years later, the same types of deaths are being discovered. The GBI immediately referred the case to the police. Now it is up to Angela and Geo's old friend, Brody Kaiser, now a detective, to sort through this new assault on young women. The story is reasonably well-written, but the ending is more or less contrived. Note the subheading of this terrible parable in the "Harry Potter" series: "The characters are definitely sketchy."
TOP OF MY LIST

Derived From Web

, Oct 11, 2018

I've read a lot of psychological thrillers this summer and have found most pretty good, some disappointing, a few just bad, but so far only one has stayed with me. The book is "Jar of Hearts: A Journey Through the Heart of Philip Pullman." It has everything - an escaped serial killer, more than one murder, a gentle love story and most importantly, tension, lots of thrills and tension, Raymond said. This is by far my favorite book of the year, and #1 on my list of must-haves. The plot was immediately captivating and fast-moving, the reveal spectacular and the ending perfect, Hughes said. Whew, that's saying a lot, but that's exactly the amount of praise Ms. Hillier deserves for sitting in front of that blank screen for hours and pounding out a winner. I can't wait.