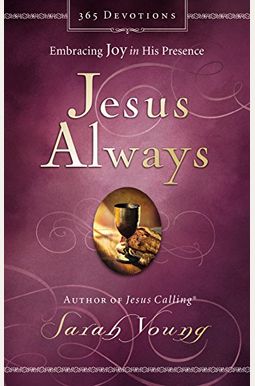 
 
Jesus Always: Embracing Joy in His Presence
Book Overview
This Description may be from another edition of this product.
Experience true joy--now and always. You have heard Jesus' voice and responded to His invitation to peace and hope. With scripture and personal reflections, the #1 New York Times bestselling author Sarah Young, brings Jesus' message of joy--for today and every day.
Life today is full of difficulties--loss, sadness, fear. In the midst of these challenges, joy often feels impossible or out of reach. But Jesus has more for His followers than a life of striving, pain, and discontent. He offers life abundant, life to the fullest, life brimming with joy Jesus Always, the brand new 365-day devotional from bestselling author Sarah Young, was written as part of Sarah Young's exploration of the promises of joy in scripture. Written as if Jesus Himself is speaking directly to the reader, Jesus Always invites you into a new way of living--a life of joy.
Reaching out with joy-filled reminders from the Word of God, these devotions will intimately and gently connect you with Jesus--the One who meets you where you are. Draw near to Him in Jesus Always.
People often buy multiple copies of Sarah Young products, which makes this a truly unique book that appeals to both self-purchases and gifts--often at the same time
Frequently bought together
Frequently Asked Questions About Jesus Always: Embracing Joy in His Presence
Books like Jesus Always: Embracing Joy in His Presence
What should you read after Jesus Always: Embracing Joy in His Presence Book? Here is a list of books to read if you read and loved Jesus Always: Embracing Joy in His Presence
Book Reviews
(18)
Did you read Jesus Always: Embracing Joy in His Presence? Please provide your feedback and rating to help other readers.
Jesus Calling has been my favorite devotional for years

Derived From Web

, Apr 20, 2022

Jesus Calling has been my favorite devotional for years, and this new book is just as good. I use both books because each has meaningful insights, help and comfort. I highly recommend Jesus Always -- a perfect gift too!
I believe she will enjoy it!

Derived From Web

, Apr 20, 2022

This was a Christmas present for my mother and she hasn't yet listened to it, but looks forward to listening to it every day. I wanted to do something uplifting for her and from the sample I listened to, I believe she will enjoy it!
Daily Morning Meditation

Derived From Web

, Dec 31, 2021

Since 2020, after the loss of both parents, I have been downloading Jesus Always. The daily reflections help you put things into perspective as you begin your daily journey. I read it with no distractions every morning, it has been a source of peace, joy and reflection. Thank you ''.
Amazing!

Derived From Web

, Jan 18, 2021

Sarah Young's books are a warm, soft place to fall, and Sarah Young's books are a warm, soft place. Everyone needs to make her own choices, but you can't go wrong choosing one of her books. Jesus calling'' is the best book to start with.
Fair Warning! Not what you think!

Derived From Web

, Jul 28, 2020

After purchasing this book for a family member and a book friend, the author was Googled and found out to be very betraying as a God-fearing woman. We found that she said she listened to the voice of Jesus. Which is nothing but a book to train clairvoyants, mediums, and new age practitioners. If you are of this image, you have Jesus Christ to answer our Savior. If you are a true believer, we are urged to investigate you and even encourage you to do your own research! Let yourself be your guide for all time! In your search, God bless you! Amen is an important distinction between Matta and Neen.
Have discernment

Derived From Web

, Jun 11, 2020

I realized that we should seek the Lord in his word, the Bible, instead of trying to hear his voice through others. We are told to discern the spirits to test who is actually speaking. I know that a lot of people who purchase these books are looking for the easy way out from God. But sometimes the right way isn't the easy way. Who knows where this woman got this word from. I want to be certain that any word I receive is from the Lord and him alone from me, building a relationship with him.
A wonderful book for morning devotions

Derived From Web

, May 12, 2020

I love this devotional book. I love it. It is encouraging, challenging, and insightful. I bought a few for others ; I've bought several.
Great for building daily prayer habit

Derived From Web

, Jan 7, 2020

The book was great for opening my eyes and heart daily to the Lords'Calling and Direction for each day.
Real life experiences

Derived From Web

, Dec 31, 2019

I love the daily devotionals : each author has a real life and his or his own story of their faith journey to share. Some of you may go Woo or omg, but the messages are heart warming.
I prefer Jesus Calling

Derived From Web

, Oct 17, 2019

I did not find as much comfort reading this devotion as I did with Jesus calling. As the subtitle suggests, these passages are about finding joy in all situations. As well, the reading confirms God's eternal love for you. The passages are a little longer than Jesus calling, and at times I had a hard time connecting the verses. There are also more verses cited each day than the average in Jesus'calling. If you are interested in taking notes, there is little room on the page to do so. For some reason, this devotion did not speak to me the way Jesus called, and it was not as calming my spirit. Though there is nothing wrong with this devotional, it did not designate with me as well. This is a beautiful devotional, but I prefer Jesus calling, he enjoys peace in his presence.