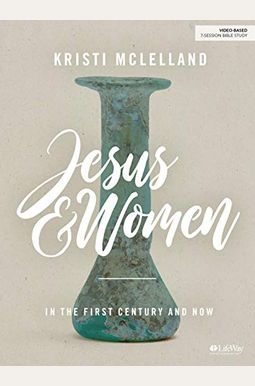 
 
Jesus and Women - Bible Study Book: In the First Century and Now
Frequently bought together
Frequently Asked Questions About Jesus and Women - Bible Study Book: In the First Century and Now
Book Reviews
(8)
Did you read Jesus and Women - Bible Study Book: In the First Century and Now? Please provide your feedback and rating to help other readers.
Very good bible study

Derived From Web

, Jan 25, 2022

I was wondering what this Bible study would be like, so I am so glad I signed it. This is an awesome teaching for those looking to dive into the culture of the Bible and its people then and today to understand those passages we think we know, but when seen with western eyes rather than our eastern eyes. I recommend this study with the videos.
A must for any Christian, man or woman

Derived From Web

, Nov 11, 2021

This has been my favorite Bible study. The facilitator and author takes stories that many of us know from the Bible and Church services, and provides a cultural context that elevates one's understanding of the magnitude of Jesus'actions. The study is geared toward women and as a woman, I am so grateful to understand what Jesus'actions would have signaled about his love and commitment to women in the context of his day. And how understanding translates to his continued love and commitment to women today. This content is so rich in understanding Jesus that I would recommend any Christian commit to this Bible study. They won 't be sorry, they won 't be.
Absolutely The Best Bible Study

Derived From Web

, Nov 3, 2021

Our Bible Study Group did this Bible study and it was eye opening and life changing. Learning how much JESUS loves and respects my gender was priceless. This study will help you learn two important things that will help you understand the Bible and God 1 The differences in culture in Jesus'time on Earth and 2 The differences in how Westerners and Easterners think and digest knowledge. One Caveat : This book does not stand alone ; you must have access to the videos to truly get the most out of this unparalleled teaching. Everyone in our group is eagerly awaiting the release of her next study.
Highly recommended

Derived From Web

, Oct 25, 2020

This is a work book that goes along with DVD series by Kristi Mclelland. I highly recommend going for either or at least participate and in a Bible study that shows the DVDs. A very well-researched study, which has helped me as a woman in my life. The author discusses how Jesus a culture of shame has brought women to a place of honor in the first century, and today he does the same for us.
BEST BIBLE STUDY EVER!!!

Derived From Web

, Sep 21, 2020

Wow! Wow! I can 't say enough about this study! I have done countless studies with all the well known female bible study authors. Kristi is by far the best! Her knowledge of the Holy Land placed things in historical perspective and added depth that brought the Scriptures to a new level. She helped me find a richer meaning in the Bible that I did not know was possible. If you are looking for a Bible study for women, look no further! I am doing this study with some recovering addicts, human trafficking survivors and volunteers. I think that all of us would agree that this study speaks to all of us! It will not disappoint! I also don 't write many reviews and I was not asked to write this one. The study is just that good!
Biblical Culture at its Finest

Derived From Web

, Sep 16, 2020

Understanding biblical culture at its finest! Kristi has truly has a gift to share with all of us a gift to share. I rarely even write reviews, but leaving one for this study was a must!! This year, I did many studies and this one is my favorite of all time! She gives just so much insight into understanding the Bible culture of Jesus'time. I loved it so much that I want to hear more from her. I'm even looking at taking some of her classes back, even though I'm looking at taking some of her classes. She added so much to my biblical knowledge base and made several stories come to life for me. I could see them playing in my mind just like I could see them out there in my mind. Long story short : If you are reading this, don 't even give it another thought. Go buy it and jump right in. Life's At is offering the videos until November 2020 in an online study for free. The videos are vital to this study. So valuable!
A Bible study from a Middle-East perspective

Derived From Web

, Sep 4, 2020

This Bible study focuses on the relationship Jesus has with the honor of women. He treats them with respect. After graduating from a seminary school in Texas, Professor Kristi McLelland studied and traveled in the Middle East. She brings the Middle East perspective to this Bible study, because that is where Jesus and the apostles lived. The Bible is written with ideas and phrases that are common to the Middle East. Jesus and women have given me so many new insights in the Bible! There are videos that really must be viewed to get the most out of this study. They can be rented or purchased.
Fascinating and informative!

Derived From Web

, May 23, 2020

I have done a lot of Bible studies of women with various teachers and I highly recommend this study. It is the best study our group has done in a long time. Kristi Mclelland is a Middle Eastern and Jewish teacher with so much knowledge about skilled culture. She allows you to see stories that you may have read over and over again through our Western lens in a whole new way. The stories begin to make sense in a way they never have before. If your group is looking for a new study, look no further. Make sure you buy or rent the videos from Lifeway to go with it! Without the videos of Kristi teaching it is just another book.