CYBER MONDAY SALE - SAVE 20% AT CHECKOUT WITH CODE CYBERBOOK. Learn more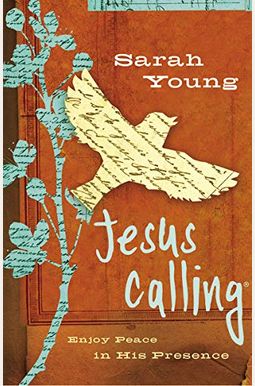 
 
Jesus Calling: Enjoying Peace In His Presence
Book Overview
This Description may be from another edition of this product.
Experience a deeper relationship with Jesus as you savor the presence of the One who understands you perfectly and loves you forever. With Scripture and personal reflections, New York Times bestselling author Sarah Young brings Jesus' message of peace--for today and every day.
Jesus Calling is your yearlong guide to living a more peaceful life. More than 30 million copies sold
By spending time in the presence of the Savior with the much-loved devotions in Jesus Calling, you will:
Feel comforted by words of hope and encouragement
Be reassured of Jesus' unending love for you
Receive gentle guidance based on Scripture
Strengthen your faith with Scripture verses
Connect with Jesus further with reflection and meditation based on God's Word
Written as if Jesus Himself is speaking directly to you, Jesus Calling invites you to experience peace in the presence of the Savior who is always with you.
This edition features 365 devotions and is sure to be a favorite in the popular Jesus Calling(R) line. The vibrant teal cover with foil has feminine floral touches, giving a gorgeous, elegant feel, along with large text and written-out Scripture verses. This edition resonates with women and makes a wonderful gift for Mother's Day, Easter, birthdays, or for self-purchase.
Frequently Asked Questions About Jesus Calling: Enjoying Peace In His Presence
Books like Jesus Calling: Enjoying Peace In His Presence
Book Reviews
(17)
Did you read Jesus Calling: Enjoying Peace In His Presence? Please provide your feedback and rating to help other readers.
Comforting and encouraging

This devotional has provided comfort for me throughout the years. I was given one as a gift after being baptized at my home church, but didn't really read it until later, but when I did, it was very timely. At times, I had taken a photo of the day's reading and shared it with others when who also found it comforting and encouraging. I bought the one with teens cover, but the content is exactly the same.
Jesus calling

Derived From Web

, Apr 20, 2022

When I was going through a terrible situation at work, a friend mentioned this book to me. I didn't want to work there anymore. I need to work in order to survive, so I didn't have a choice. Even though I was depressed, I started reading this book. Jesus ordered me to call Jesus. I read it every day and it was what I needed. Each reading is exactly what I need. I recommend this book to many of my family members after I bought it for my son. I have bought it 3 times. There are two books on the kindle. The book and study Bible are all I need to stay in the presence of God, His Son and the Holy spirit. Thanks to Ms. Young, we have a book filled with Your presence.
Calling Jesus, enjoying peace in His presence

Debra Hughes

, Nov 15, 2021

This devotional has changed my life. I've always been a devout believer, but this devotional always has something I need that day. And it sets me up foe anything . I am in a more spirit filled and positive frame of heart. I have bought these now for 5 friends, and all say it had enriched their lives.
Review

Jill Riendeau

, May 28, 2021

Very quick, feel good devotionals. I love how God uses Sarah Young. I've got a couple of her devotionals.
Ignore the negative reviews, this book is fantastic

Derived From Web

, May 20, 2021

I love this devotional. I have read a lot of negative reviews and couldn't believe that people didn't know that these are not the words of the author but of God. I think it is God who breathed from her. I highlight the ones I want to go back to when I read it. I bought one for my mom and one for my sister and now I am getting one for a friend. She puts the actual Bible verse on each love letter, so please ignore the negative reviews and understand. Everyone should have a copy.
My Favorite Devotional

Derived From Web

, Dec 31, 2020

For the third year in a row, I just finished reading this devotional. It is written as if Jesus is talking to me. It's comforting. Every day has a timely message that I can apply to current and future circumstances. The bible verse reinforce the timeless relevance of God's Word. Anyone interested in developing and strengthening their relationship with Jesus can benefit from this devotional.
Have discernment

Derived From Web

, Jun 11, 2020

I realized that we should be looking for the Lord in his word, the Bible, instead of trying to hear his voice. We are told to test the spirits to see who is speaking. A lot of people who purchase these books are looking for an easy way to hear from God. Sometimes the easy way isn't the right one. Who knows where this woman got that word. I want to make sure that I am building a relationship with the Lord alone and that he is the one who gives me the word.
Lifeline !

Derived From Web

, May 16, 2020

I received a book after my husband died. It helped me through the grieving process. I think anyone going through troubled times would benefit from the message it gives. I have ordered some to be on hand to help others. It helped me a lot.
Not Biblical

Derived From Web

, May 13, 2020

I went through this book with a group of people and all agreed that it was written in the first person of God. The author replaced biblical words with nonsense like presence and experience. Repentence, santification, and discipleship is what the church needs. The presence of God comes from walking with God. God is moving in the world we live in, not loud music, fog machines, or emotionalism. SMH
Keeps on ministering

Derived From Web

, Jan 4, 2020

I'm going through this book for the third or fourth year. It keeps reminding me of the blessings the Lord gives. I don't remember the previous reading and there are new blessings all the time, so I don't feel it's necessary to get the next version. I think Sarah Young has been anointed a writer, and her heart is right with God as she writes, so it keeps blessing me.