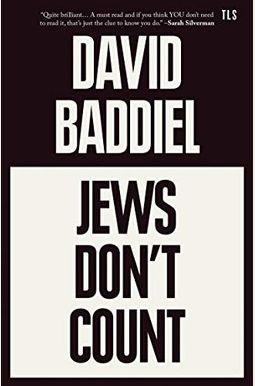 
 
Frequently Asked Questions About Jews Don't Count
Book Reviews
(6)
Did you read Jews Don't Count? Please provide your feedback and rating to help other readers.
A great read and an important book

Derived From Web

, Nov 11, 2021

Anti-Semitism seems to be the one bigotry on which extremists on the right and the left can agree. They come from different directions, but still end up at the same hateful destination.
An instructive, relatable primer

Derived From Web

, May 30, 2021

As an overseas Chinese several generations removed, this book really shines a light on the hierarchy of racism that people don 't talk about. We really need to get better at distinguishing a nation state from people who share an ethnicity andor religion with that state, just as I am against the West Bank settlement on many issues. Just as I wouldn't want to answer for a government that does not represent me, I would not ask for this from Jewish people. Or use the occupation as an excuse to revive much older, deep-seated prejudices.
A good argument to get rid of Twitter

Derived From Web

, May 11, 2021

Also, somewhere in this good book are some messy reasons why anti-Semitism is racism. I would instead read Bari Weiss.
Articulate examination of an important issue

Derived From Web

, Mar 6, 2021

This book is unlikely to be read by non-Jews and might not reach them anyway, but for Jewish readers there is a great deal that they will recognize and perhaps take a strange comfort. Yes, it is real. They are real, *they* are.
To reach a solution, you must identify the problem

Derived From Web

, Feb 14, 2021

Sharp, observant, and incisive, and undoubtedly destined to be ignored by those who most need to read it. Baddiel asks the same questions I often ask, like why are antiracist marches always planned for Shabbat and Jewish holidays, and why are Jews vilified for pointing out that they are left out and encapsulates them all into a very accurate, if scathing, picture of how anti-Semitism is treated on the political left.
A compelling read!

Derived From Web

, Feb 8, 2021

If you consider yourself progressive, leftist and/or anti-racist, this is a must read book. Argüment is well argued and persuasive.