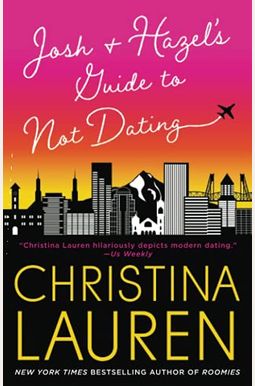 
 
Josh and Hazel's Guide to Not Dating
Book Overview
Most men can't handle Hazel. But her best friend Josh isn't most men. Don't miss New York Times bestselling author Christina Lauren's new novel about two people who are definitely not dating.no matter how often they end up in bed together.
Hazel Camille Bradford knows she's a lot to take--and frankly, most men aren't up to the challenge. If her army of pets and thrill for the absurd don't send them running, her lack of filter means she'll say exactly the wrong thing in a delicate moment. Their loss. She's a good soul in search of honest fun. Josh Im has known Hazel since college, where her zany playfulness proved completely incompatible with his mellow restraint. From the first night they met--when she gracelessly threw up on his shoes--to when she sent him an unintelligible email while in a post-surgical haze, Josh has always thought of Hazel more as a spectacle than a peer. But now, ten years later, after a cheating girlfriend has turned his life upside down, going out with Hazel is a breath of fresh air. Not that Josh and Hazel date. At least, not each other. Because setting each other up on progressively terrible double blind dates means there's nothing between them.right?
Frequently Asked Questions About Josh and Hazel's Guide to Not Dating
Books like Josh and Hazel's Guide to Not Dating
Book Reviews
(15)
Did you read Josh and Hazel's Guide to Not Dating? Please provide your feedback and rating to help other readers.
love!

Derived From Web

, Mar 4, 2022

I love a quirky lead, he said. She is, of course, full of quirk, but also heart. This was a wonderful crush-hovesy romance, the two said.
It's okay.

Derived From Web

, Jul 24, 2021

It was okay, I had to like the main characters, Raymond said. They are not very interesting, even though they are technically correct. He left the team in the middle of the ninth with a dislocated left shoulder.
I loved everything about this book

Derived From Web

, Jun 28, 2021

Super sweet story, loads of spice, Michael.
Great, easy read!

Derived From Web

, Feb 20, 2021

Loved the book, said Janet. It's an easy read, Glover said. I couldn't help myself from binge-reading. Definitely going to look for more from this author.
Not political at all...

Derived From Web

, Jul 17, 2020

I almost didn't read this book because one of the top five reviews said it was too political. It was so cute, lighthearted, and sweet, I almost missed it. It was exactly what I needed in this stressful 2020 climate, and I'm still not 100% sure what that review was about, Mr. Dhaliwal said. Only a very young boy Elsa can dress up as near the end as she did in "Frozen." Some people are so uptight that they can't even imagine a child playing without restriction, he said. I had no idea that I was a political 7 year old.
A non stop laugh track!

Derived From Web

, Jun 18, 2020

I've fallen in love with him all over again, said Blair. A great book, Gillian.
DNF/Manic pixie dream girl trope

Derived From Web

, Mar 28, 2020

I wanted to like this book so much, because the story seemed so fun. To be honest, I couldn't get into this book after about 13 of the way through. It became repetitive and the plot just wasn't there. I also really disliked Hazel's character, mostly because she doesn't seem believable at all. If you've never heard of the "manic pixie dream girl" character, you should at least look it up. Normal chill dude falls for the QuiRkY bEaUtifuL girl that is just NoT LiKe OthErL. I can't deal with these kinds of characters, Bruno said. She was bouncing off the wall, making noise that was just annoying. No adult that "carefree" and "responsible" can hold a legitimate 9-5, he said. Especially if she's getting uncontrollably drunk, "taking her top off" and then saying "whatever pops into her head first to whomever."
I had no idea I was going to love this book!

Derived From Web

, Jun 18, 2019

I had no idea I was going to love this book. This was my first Christina Lauren's book and if all others are like this one, I'm going to be in heaven!!! But at the end of the day, she says, and puts her hand outside the open window, letting the wind pass through her fingers, being herself is enough. Yes, I'm enough.
Loved, loved, loved!!

Derived From Web

, Feb 7, 2019

I did not want this one to end!!!!!!!!!!!!!! I absolutely fell in love with Hazel's spirit and her quirkiness, and the friendship that built between her and Josh,' said Blair. This story had laugh-out-loud moments, some steamy sex scenes, and tender moments that brought tears to my eyes, Morgenthau said. The quality of the products is second to none.
Meh

Derived From Web

, Oct 21, 2018

I wanted to love this book but I had to make myself finish it. The political hints didn't help either, I don't want to think about politics while reading a book. It's just that I really dislike the character of Hazel.