Buy 3 Get 1 Free
Our Best Sale Yet! Add 4 Books Priced Under $5 To Your Cart     Learn more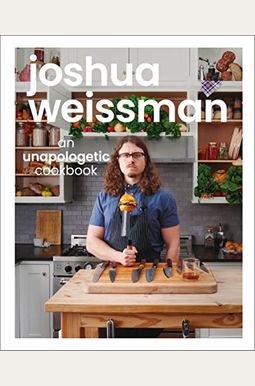 
 
Joshua Weissman: An Unapologetic Cookbook. #1 New York Times Bestseller
Book Overview
A Weissman once said.
.can we please stop with the barrage of 2.3 second meals that only need 1 ingredient? I get it.we're busy. But let's refocus on the fact that beautifully crafted burgers don't grow on trees. Ironically this sounds a lot like he's trying to convince you to cook, but he's really not. Is this selling the cookbook? The point is that the food in this book is an invitation that speaks for itself. Great cooking does, and should, take time. Now is the time to double down and get your head in the cooking game. Or you know, don't. Maybe get someone else to cook this stuff for you.that works too. How can you know if something is your favorite if 50 to 80 percent of the stuff you've been eating was made by someone else? Butter, condiments, cheese, pickles, patties, and buns. For a superior and potentially even life-changing experience, you can (and should, to be honest) make these from scratch. Create the building blocks necessary to make the greatest meal of your life. While you're at it, give it the Joshua Weissman--or your own--twist. As Joshua would say, If you don't like blue cheese, then don't use blue cheese. From simple staples to gourmet to deep-fried, you are the master of your own kitchen, and you'll make it all, on your terms. With no regrets, excuses, or apologies,
Joshua Weissman
will instruct you how with his
Read More chevron_right
Frequently Asked Questions About Joshua Weissman: An Unapologetic Cookbook. #1 New York Times Bestseller
Book Reviews
(13)
Did you read Joshua Weissman: An Unapologetic Cookbook. #1 New York Times Bestseller? Please provide your feedback and rating to help other readers.
Perfect Book for Learning to Cook

Derived From Web

, Mar 13, 2022

I bought this book to learn more about the crowd. It's for beginners and you can start with sauces and staplers. I've failed, cried and learned a lot. I could have avoided not knowing how to cook if this book had been out a long time ago. I'm very happy with this book. I've been using it for a while now and am working to make everything at home. Can't wait to read more books.
I am pleased for many reasons

Derived From Web

, Mar 1, 2022

I like how he included how to make jams and breads. The Babish cookbook was superior to the one I bought. Every dish is great. Very well written and very organized! Please use his cookbook as a writing guide if you are considering a book like this. It is easy to read and digest. The book was very well created. Is it possible to make another? I'll buy it.
Worth every discounted penny

Derived From Web

, Feb 20, 2022

You can get the recipes on the internet, but I prefer the book format. I enjoy his videos and wanted to support him. I know how to cook, but there are some things that intimidate me, like yeast bread and pasta. The ingredients are what I already have at home and the recipes are simple. The book is well designed. If you want something more tangible for your fan, I would purchase it.
Cmon Josh

Derived From Web

, Jan 11, 2022

Ok. So. Listen to me. I bought this for the basics. Not many books teach you how to make bread and butter. The regular recipes are dull. There are two recipes about how to make bread with butter and jam and how to cook a sunny side up egg. I understand that this recipe uses all the homemade recipes in the book, but I was expecting some of your more challenging recipes. I understand that anyone can cook, but some of the people who have been around for 8 years already know how to cook. If he ever makes another cookbook, I hope it won't be as simple as a salad.
Bland and Basic

Derived From Web

, Dec 13, 2021

I made a few recipes from here, and they were terrible. The homemade bread was not good. Chicken was gross. Some of the recipes were so basic that it was a joke. I wouldn't recommend half the book because it was filled with photos and how-to's for beginners. I have only made one thing from him that has turned out great, and it was the better than Kentucky Fried Chicken that is on his channel.
Too Bad.

Derived From Web

, Dec 10, 2021

Weissman did a video on Mooncakes. He was very fast and too fast for me to keep up with. His new book was advertised. I thought this book would contain the recipe for the mooncake. I received it today after ordering it. I was looking for Mooncakes recipes in the book. None. Very disappointed. I might try his mother's recipes. My purchase was not fulfilling.
Great for the Basics to the Advanced

Derived From Web

, Sep 21, 2021

I'm an intermediate cook. I've made several of Josh Weissman's recipes. The book still starts you at the basics. Most cookbooks assume you have skills and don't break it down. If you are learning, this is a great book to start with. There are recipes for how to make toast, but Papa Weissman is here to help someone who needs that help. If you want to make delicious food and challenge yourself in the kitchen, this is the book for you. My husband can definitely use the toast recipe.
Unapologetically entry level

Derived From Web

, Sep 17, 2021

Josh is a young man. I know how to make money. I know how to cook chicken breasts. The appeal of this book was that it was filled with very simple recipes and that someone with a strong background in food would be able to impress my friends and family with some recipes. It would make more sense if the book was called an introduction to cooking. Are you not apologizing because it's simple? I considered sending the book back once I opened it. I was hoping he picked up some exotic foods. If you want something on your bookshelf to show you are a fan of Joshua, this is good. This would be a great gift for a friend who wants to start cooking.
A little too basic and really just printed versions of his youtube videos

Derived From Web

, Sep 16, 2021

Maybe I'm not the target audience of this book. Most of the recipes are fairly easy to make. The ones that I have looked up are already available on his channel in more detail and with more instruction. There are more variations of the recipe in some videos. I think the book is for entry level cooks who want to cook simple food. The book shows you how to make basicsessentials that are listed in the first section to be used in recipes in the following sections. You can find slightly elevated versions of recipes that you already know. It's particularly triggering when those recipes include salted butter and grilled cheese.
Mixed feelings on this one

Derived From Web

, Sep 16, 2021

I was excited to get this book because I thought it might be similar to j Kenji Lopez's "The Food Lab", where it breaks down technique and expands on my knowledge of food. I was expecting new recipes that weren't on his website. This book has a lot of repeat information with nice photography and physical written out directions. I am happy to support him, but I would like to see him save some of the recipes for the next book so that you can get something more than what you can get for free.