CYBER MONDAY SALE - SAVE 20% AT CHECKOUT WITH CODE CYBERBOOK. Learn more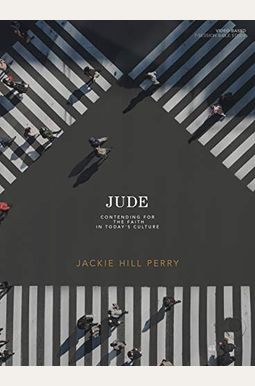 
 
Frequently Asked Questions About Jude - Bible Study Book
Books like Jude - Bible Study Book
Book Reviews
(13)
Did you read Jude - Bible Study Book? Please provide your feedback and rating to help other readers.
Meaty, lots of work study

Derived From Web

, Oct 2, 2021

I have knocked a star only because there is a lot of busy work in this study. There are times, however, when the busy work is actually worthwhile, so I don 't skip it. For such a short letter, Jude has a lot in common with the world of today. This study made me think about how far we are in the rabbit hole and how much more we need to pray for the world. If you have a very busy schedule, this study may be too much work at this time in your life. If your study leader is, however, as understanding as mine, and it is okay not to have finished every single bit, then give it a go by all means. There is much to see there.
Videos expire quickly

Derived From Web

, Nov 24, 2020

I was excited to start the study, but the videos did not last beyond a specific time period and I was unable to complete. Not sure how to use the book without the guiding commentary.
PHENOMINAL - But get ready to get your edges SNATCHED

Derived From Web

, Aug 19, 2020

This study book is really fantastic! JHP is an awesome teacher, speaker, and author, so I expected as much. Just note that walking through this study is no joke and she will snatch every hair on your head as she talks about pleading for faith. Not for the faint of the heart, but worth 110 %. Happy studying! Happy studying! ''
Highly recommend

Derived From Web

, Jul 22, 2020

Great Bible study. Definitely recommend this study as your next study. Learn about the truth of wolves in sheep clothing. Reveals the truth and gets you deep into your thoughts-feelings.
You will end the study with a greater understanding of God

Derived From Web

, Jul 19, 2020

Jackie unpacks God's Word with both depth and clarity. The videos are also great! I read a few of the reviews that the study was overwhelming for some, because of the time it took to get through it. I have been a Christian for 10+ years and have done numerous studies, but did not find it overwhelming. It does require that you separate time as it is not your 5 minute morning devotional. But to know God is worth the time! Jackie, thank you Jackie for your sacrifice to put together this study, well done!
Excellent Study Book!

Derived From Web

, May 7, 2020

I was baffled by the fact that there could be a 7 week study on a book of a Bible that has only 1 chapter. I was in for a surprise! Man was I! There is so much content packed into Jude that I would have never truly gotten without this study. Well written and organized. Easy to comprehend, simple to comprehend. If JHP writes another Bible study book, I won t hesitate to purchase it!
Outstanding Bible Study for ALL

Derived From Web

, May 4, 2020

Outstanding Bible study for personal deep scuba diving or small group. Christ's followers, 22 Christ followers, really enjoy this thorough instruction on how to fight for the faith with love and kindness and knowledge of Jesus'character. You would think that the small book by Jude could not possibly give one so much to learn. Think again ''. Ms. Perry masterfully examines each word, phrase and the cross-cited scriptures with word meanings. This Bible study teaches you to actually study the Bible. You will learn so much about God, Jesus, the Bible and false teachers. I highly recommend it for mature and baby Christians or those seeking salvation from our Lord Jesus Christ.
Engaging Questions and Insightful Commentary

Derived From Web

, Apr 15, 2020

Highly recommended this study! Highly recommended ''! My community group has worked through a lot of studies that were full of fluff and asked obvious questions, which really frustrates me. This study gets to the heart of the matter, your heart, and invites you to reflect on the implications of God's Word. The author pushes you to really think and make connections. Also, this is the first study I have seen where her videos are actually interesting and useful! Amen to this! Amen to that! ''
Good bible study

Derived From Web

, Mar 14, 2020

So far, so good havent gotten very far into the study. I had known that there was a video that went with it. Directions : watch it first, say it.
Life changing

Derived From Web

, Mar 4, 2020

So many words for this book. I can not speak about it strongly enough. This is a very thought through study. The best I ever made. It is very deep in the sense of digging deep and understanding the Bible. It makes so many connections from NT to OT. I am doing this with a group of ladies and sparking the coolest most thought provoking questions.