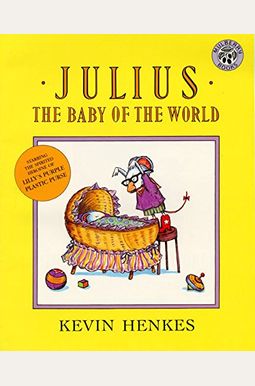 
 
Julius, The Baby Of The World/Julius, El Rey De La Casa [With 2 Paperback Books]
Book Overview
This Description may be from another edition of this product.
The riotously funny Lilly, last seen in Chester's Way (Greenwillow), thinks her new baby brother, Julius, is disgusting -- if he was a number, he would be zero. But when Cousin Garland dares to criticize Julius, Lilly bullies her into loudly admiring Julius as the baby of the world.
Julius is the baby of the world, said his parents. But Lilly, his older sister, disagreed. She thought he was disgusting. She hoped he would go away. But he didn't. He stayed and stayed and stayed. Nothing her parents said or did could change Lilly's mind about Julius. But when Cousin Garland had a thing or two to say about the situation, Lilly had a change of heart.
Frequently bought together
Frequently Asked Questions About Julius, The Baby Of The World/Julius, El Rey De La Casa [With 2 Paperback Books]
Books like Julius, The Baby Of The World/Julius, El Rey De La Casa [With 2 Paperback Books]
Book Reviews
(18)
Did you read Julius, The Baby Of The World/Julius, El Rey De La Casa [With 2 Paperback Books]? Please provide your feedback and rating to help other readers.
Adorable Truth

Derived From Web

, May 24, 2022

For anyone expecting a first child, this is a wonderful book about sibling rivalry. The pictures are cute and the story is spot on. Lily's older sister Kim is excited about the impending arrival of her new baby brother... until the hairball arrives. She is then jealous of all the attention he demands. Her poem about him, being the germ of the world, earns her time in the uncooperative chair. But when a cousin picks Lily's new brother, Lily comes to the rescue. My children loved this book and I have bought it for several friends expecting their second child.
Great read!

Derived From Web

, May 24, 2022

It is about a girl who gets a baby brother and doesn 't understand why he gets all the attention. This would be great for a child who is about to become a first time sibling or lose their youngest in the family position. All Kevin Henkes books are perfect for vocabulary training, he typically uses the same style of writing throughout his books. The students love stories and pictures. I would say that every teacher should have a copy in their personal library!
Great sibling rivalry story for kids

Derived From Web

, May 24, 2022

Julius does some odd things to baby Lilly, but nothing sexy, as he is now the center of attention in their household. Of course, she defends him and loves him at the end of the story. It makes reading the book fun and it also helps my girls in the reading of it. I would recommend this book for children of 3 or 4 years and up. Currently my girls are 5 and 6, but we have had this book for nearly a year.
A book kids relate to...!!!

Derived From Web

, May 24, 2022

A charming book with captivating illustrations, exploring the resentment that new siblings feel, turning it around to create a surprise ending where Lilly's loyal side finally shines through. All children of Lilly's age feel a little bad when they worry about bad-kid emotions. This book offers reassurance that it will probably turn out okay in the end. Kevin Henkes is fast becoming one of our favourite illustrators of children!
A great book for an expectant sibling.

Derived From Web

, May 24, 2022

I was born for my daughter when her brother was received. Lilly does not like her new baby brother until her cousin comes and shows her how much she does like him. This is a new book that really deals with the feelings that a child may have when a great sibling enters the world. Like all the other Lilly books, he hits the mark with this one.
Irrepressible Lilly!

Derived From Web

, May 24, 2022

Lilly is one of those delightfully unforgettable characters in children's literature. Her reactions to her new baby brother, Julius, are intense, as they range from resentment to devotion. Julius's outrageous responses to Lilly could help validate a child's feelings towards a new baby in the family. Don 't miss John Schindel's Frog Face My Little Sister and Me, which explores similar feelings and includes very appealing photographs.
new baby on the way?

Derived From Web

, May 24, 2022

This book, spelt with humor as a children's story, is in my top five favorites. It is so funny and ring so true, that I read it sometimes for my own pleasure, even when my children are not interested. A wonderful story for a child of four or five with a new sibling on the way, recently arrived. The text is wonderful and the illustrations are excellent. I can tell you by heart almost everything!
Awful

Derived From Web

, May 24, 2022

This book was given to my two-year-old, while I was 8 months pregnant with my second child. After I went through it once, it ended up at Goodwill's. Lily's behavior is interpreted as funny, but is downright awful. She says things like I hate you. We all know that parrots are toddlers, so why would anyone introduce this kind of behavior to them in the world? We have a few other books by Kevin Henkes that we really enjoy so I was extremely disappointed that this book was such a bummer. We love Usborne's The New Baby if you're looking for a book that will prepare your toddler for a new sibling appropriately.
This is AWFUL!!!! Do not recommend.

Derived From Web

, Sep 7, 2021

I don 't know how this book has so many good reviews. Its language is evil, mean, negative and a lot of pictures are down right nasty and nightmare inducing. I don 't care that it had a positive ending ''. If you are looking for a book to help prepare or excite your older sibling for the arrival of a small brother or sister, this is not it. It could plant seeds of negativity and doubt in your child, which could otherwise not be there.
Love this Book!

Derived From Web

, Jul 24, 2021

I've read it to my summer school class, who really responded well. They were enraged at a big sister who did not adore her baby brother, but were relieved at the end.