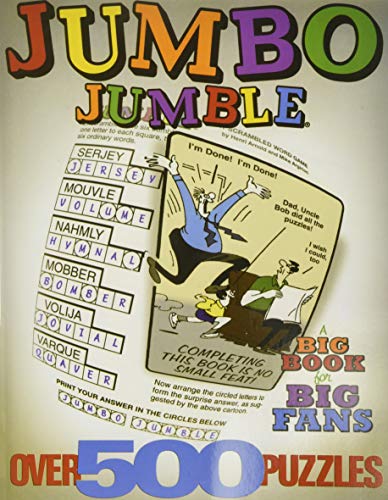 
 
Jumbo Jumble(r): A Big Book for Big Fans
Book Overview
Culled from nearly three decades of popular Jumble(R) puzzles, the wide array of subjects in this collection represent the very best of puzzles. With over 500 of the word-scramble challenges included, the book will entertain and test even the most devote puzzle buster. For more than 40 years, millions of newspaper readers have delighted in solving Jumble(R), which appears in hundreds of national papers and in these puzzle books that offer hours of challenging wordplay and fun. Each page features a series of mixed-up words coupled with a cartoon clue, and one letter from each word is used to form the answer to the puzzle.
Frequently Asked Questions About Jumbo Jumble(r): A Big Book for Big Fans
Book Reviews
(14)
Did you read Jumbo Jumble(r): A Big Book for Big Fans? Please provide your feedback and rating to help other readers.
Good deal, but not as good as newspapers jumbles

Derived From Web

, Apr 20, 2022

They are not as interesting or witty as the jumbles you see in the newspapers. I suspect they used a computer program to generate the puzzles and answers. The surprise answers lack the humor or even a little twist of newspaper jumbles. Money wise it's a good deal, just don't expect too much from your friends, Bruno told The Age.
Tiny answer key

Derived From Web

, Apr 20, 2022

This book is okay, but if you have vision problems and you want to peek at the answer key, you'll need serious vision aid, including extra bright light, reading glasses and a magnifier for me.
Big book indeed!

Derived From Web

, Jan 16, 2022

Dad loves to do the Jumble in the daily newspaper so this book was a perfect present for him. It's huge.
This is a JUMBO one with five-hundred puzzles!

Derived From Web

, Oct 28, 2021

I used to do THESE in a Saint Louis, and puzzles in a Belleville, Ill., newspaper before I left my old stomping grounds for my world-wide military-travels. Obviously, I don't remember any of these, but, these are PERFECT for avid SCRABBLE players. It helps preserve my old brain in-shape. This is a great book, well worth the read. There are several DVD players available at this price. In addition, MOST have-e-ss, or 500 puzzles.
All in one puzzles

Derived From Web

, May 26, 2021

This is a great present for a shut-in. It brought a nice distraction to someone recovering from surgery, Levine said. Three levels of difficulty: difficulty 1, 2 and 3 are all solvable with varying skill levels. Great money, too, Bond said.
Outdated-Frustrating

Derived From Web

, Dec 24, 2020

We are huge fans of Jumbles, but not happy with this collection of lifestyles, ideals, euphonisms and words that reflect days long past. Jublem puzzles were launched in 1954 by a 3rd generation of writers, and continue to be released today by a 4th generation of writers. Clearly, this is a collection of older puzzles. To complete the puzzles, you must be at least 70 years old. Younger players will not recognize or understand many of the depictions, phrases, and spellings of the game.
It's Big!

Derived From Web

, Nov 2, 2020

I got this picture of the book Jumbo by mistake. Each puzzle takes up a full page, so he won't have to rely on any cheats to complete it. It's great to be back home, said Blair, "and enjoy working some puzzles on the beach."
1998 Edition. With Obsolete Words and Solutions

Derived From Web

, Oct 8, 2020

Jumbles, but language has changed in 22 years. Many of the idiomatic expressions are no longer used. Good book at a good price, but not enjoying the puzzles as much as usual.
Great collection of jumbles!

Derived From Web

, Aug 27, 2020

It cost me $8.95 to get this book of 500 jumbles delivered to me, via Prime. Jumbles are scrambled words that you need to unscramble. Once you unscramble all the letters, you use the letters to solve the jumble at the bottom of the page. There was no immediate response from the Blair administration. Barrenas said it was a good piece of mental exercise, if you were into it.
Great Entertainment

Derived From Web

, Apr 25, 2020

Great variety of jumbles, Tunick said. I particularly liked that it crossed all age groups, Gen. Richard Shelby said. I completed with my 9 year old grand nephew and he was able with some vague hints to solve the problem, but he was very excited. Also completed with my 85 year old father and my 30 year old nephew.