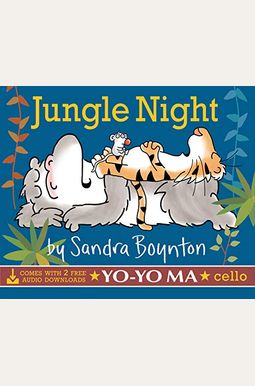 
 
Jungle Night [With 2 Free Audio Downloads, Yo-Yo Ma, Cello]
Book Overview
Sandra Boynton and Yo-Yo Ma Plus snoozing jungle animals
Two celebrated artists come together for JUNGLE NIGHT, a soothing bedtime board book. (Okay, MOSTLY soothing.) The book guides us through the jungle to hear the distinctive, gentle snore of each animal: Listen to the tiger: ZE-ZO-HA. Listen to the cheetah: CHE-CHE-TAH. A free downloadable JUNGLE NIGHT recording offers a narration of the book, with each and every animal snore interpreted by the expressive, playful cello of Yo-Yo Ma. He even does the elephant's stop-the-show snore--though admittedly that took Ma's cello PLUS the classic horn salute of the James R. Barker steamship. (Seriously.) All of this fabulousness leads into the coolest lullaby ever: Jungle Gymnop die No. 1, a polyrhythmic jungly arrangement by Boynton of Erik Satie's renowned piece, with Yo-Yo Ma on cello, guitar played by Ron Block of Alison Krauss Union Station, and drums by Kevin MacLeod. Yo-Yo and I chose this piece because it's the most gorgeous and mesmerizing night song imaginable, explains Boynton. And there was surely nothing else that could get those animals back to sleep after that elephant blast.
Frequently Asked Questions About Jungle Night [With 2 Free Audio Downloads, Yo-Yo Ma, Cello]
Book Reviews
(10)
Did you read Jungle Night [With 2 Free Audio Downloads, Yo-Yo Ma, Cello]? Please provide your feedback and rating to help other readers.
Not new content! Re-tread LAME partial book

Derived From Web

, Aug 16, 2021

Like many I spoke to at a number of baby showers, we bought this not just for the fantastic Boynton images but also for the Yo-Yo Ma audio downloads. The story is a re-tread of a Boynton Beach book, and it's only part of the book! No great way to link the music to the story, so not really as much fun as the book combo and audio implies download.
Great story for toddlers and babies!

Derived From Web

, May 23, 2021

Heard about this book and how it had two free downloads. One is a story narration with background music. Yo-Yo Ma plays the piano. It's a short board book about jungle animals going to sleep for the night. The story is cute and the pictures are colorful, too. My granddaughter absolutely loves it.
What a fun book!

Derived From Web

, May 21, 2021

Sandra Boynton's book is a great read. But this book is especially unique because it has an online link for the reader to hear her son read it with Mao playing cello. It is not very long, but it is certainly worth ordering. My grandson thinks it's the funniest book ever.
A delightful read for a little ones and any adult

Derived From Web

, May 9, 2021

Sandra Boynton, 2 1/2, has all but popped the champagne bottle. Yo-Yo Ma provides the animal sounds for the book. But there are some other ways to go online - fine-tuning a calming lullaby to accompany it. What more do you need the Sandra Boynton knee read collaborating with Yo-Yo Ma? Absolutely fabulous. I shared the book with my 80-year-old neighbor who is absolutely enthralled with the artwork and the music. A delight to share with little ones.
Bedtime story or gigglefest? Best of both worlds.

Derived From Web

, Apr 12, 2021

It's a colorful, sturdy board book with the accompanying free download of Yo-Yo Ma's music. What a delight! The kids always love Sandra Boynton's books from the very youngest ages, and I cannot wait to share this with my grandbaby. I look forward to seeing if it works well as a bedtime story, or if that fun ending makes for too many giggles to settle down.
Misleading.

Derived From Web

, Apr 3, 2021

It's a cute book, and I love Boynton, but there is no free download. It gives you the option to buy the book again.
Buy this if you have a 2 year old!

Derived From Web

, Mar 30, 2021

My daughter LOVED the book! The sounds are so fun! Also, don't be disappointed if you don't get a CD because there is no where in the description that says you will get one, Sandra Boynton! It's great to be back home, said Blair.
Adorable

Derived From Web

, Mar 26, 2021

Such a cute book! My toddler laughs so hard at the last page! I also love the soundtrack that goes with it and the beautiful cello solo by Yo-Yo Ma.
A little disappointed

Derived From Web

, Mar 25, 2021

I loved the video of this book, but I thought it would come with a cd or at least I'd be able to download the voice and music to put on my own cd, but not the case. It feels like I'm sending an incomplete present.
SUPER CUTE BOOK

Derived From Web

, Mar 25, 2021

Sandra Boynton has done it again! She never lets us down! My 2 1/2 year old son always gravitates to her books.