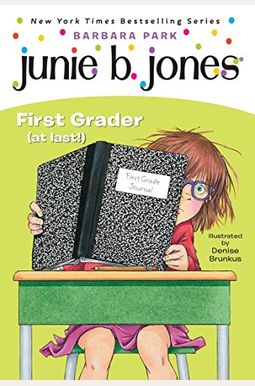  
Junie B. Jones #18: First Grader (at Last!)
Book Overview
Hilarious. Barbara Park makes reading fun. --Dav Pilkey, author of Dog Man

Get ready to go back to school with Junie B. Jones The World's Funniest Kindergartener is now officially a first grader The #1 New York Times bestselling chapter book series has been keeping kids laughing--and reading--for more than twenty-five years. Over 65 million copies sold
Hurray, hurray for a brand-new school year Being in first grade means having to get used to a whole new classroom. And a whole new teacher. And a whole new bunch of strange children. But here's the worst thing of all: When Junie B. tries to read words on the chalkboard, she can't seem to see what everyone else is seeing Is it possible she might actually end up wearing glasses?
Frequently bought together
Frequently Asked Questions About Junie B. Jones #18: First Grader (at Last!)
Books like Junie B. Jones #18: First Grader (at Last!)
Book Reviews
(12)
Did you read Junie B. Jones #18: First Grader (at Last!)? Please provide your feedback and rating to help other readers.
Awesome Book

Derived From Web

, Apr 20, 2022

This book was written with the help of mom and dad. We're having a blast making 'em squeal with delight. Cool kid, right? It's great to be back home, said Blair.
Junie B. Jones

Derived From Web

, Apr 20, 2022

Junie B. Jones, 6, is the only child of the couple. We spend many happy hours reading. Now she can read me with a little help, she said.
Not a fan

Derived From Web

, Apr 20, 2022

It's just that 6 year olds should be reading about a girl with this much attitude. Quotes from the first few pages include: "I actually do not care for that girl and I rolled my eyes at the ceiling and I looked at her real annoyed." These are not the messages I want my daughter to get. I know I can't protect her forever, but 6 is just too young for this. Sorry, no fan.
Wonderful for 6 year old 1st grader

Derived From Web

, Aug 17, 2021

I've read all the books, and I love this one. Well, I bought it for my daughter who is going to 1st grade this year. I did not read Junie B's book when I was her age so I enjoyed her reading this one to me, she said. It was appropriate for boys that age, Morgenthau said. She is just now starting to read chapter books and i love that there is a picture of each chapter.
A Great Book for the Primary Grades

Derived From Web

, Jul 2, 2021

He's still Jun B.'s favorite.
A funny, relatable book for your first grader

Derived From Web

, Mar 4, 2021

The price is good, and my 1st grader can read them on her own. It's written with childish humor. I don't understand why people would give it five stars. Think back to your childhood and you'll probably remember how closely your thoughts were aligned with Junie B Jones. Many of the negative reviews are coming from parents who have forgotten about their childhood. The "attitudes" and "sears" people are complaining about is what keeps my 6 year old engaged, Mrs. Dhaliwal said. She has a boyfriend, and he's a big fan of Junie B Jones. You don't expect your kid to go out and be a bad kid. It's childish humor and childish thoughts that they're reading, and can relate to, Sosa said. If you think about it, Michael Jordan was probably the greatest athlete of all time. If your child is influenced by this book to be sassy and bad, you need to step up your parenting game. It's just that your kids will enjoy it.
Great book with a lot of mistakes

Derived From Web

, Sep 4, 2020

My 6 year old LOVES the book. This story is very relatable to a very young girl entering her first year of school. There are so many grammatical errors in this book that it's hard to say whether it's all fiction or just plain fact. I am glad that she is not reading at this level yet because this book has so many grammatical errors that it would be confusing for a young reader. A new book about the Beatles, "Reunion" by Simon & Schuster.
Full of attitude and sass - do not recommend!

Derived From Web

, Aug 6, 2019

He said not a good choice for a kiddo who loves school, has great teachers and is excited about first grade. In the first chapter alone, she scoffs at her school work, rolls her eyes at the teacher's directions, gets in a face and slumps in her desk. Not the first day of school vibes I want to pass on to my enthusiastic first grader.
Junie B. First Grader (at Last!)

Derived From Web

, Apr 24, 2019

The whole thing is a parody, my 7-year-old said. I've read all the books, and I love this one. At first, Junie B. didn't know anybody, but then she made friends.
All about the play, based on a couple of the books. Our kids were Phenomenal. Not Autographed by Barbara Park...but by our cast

Derived From Web

, May 1, 2018

Son was in a play about Jun Bie Jones, had NO clue about Junie. So the play was based off of several of the books, couldn't get a good answer from the theater teacher, but 54 kids, trying to corral, I will give him a break, Bernadette Peters said. His son played basketball. kind of scanned the books, picked this one as the Opening Night gift, and did not ever make the mistake of a preteen boy, the world ENDS! So we gave it to him so his cast members could all sign it, so his memories would last forever!