Buy 3 Get 1 Free
Our Best Sale Yet! Add 4 Books Priced Under $5 To Your Cart     Learn more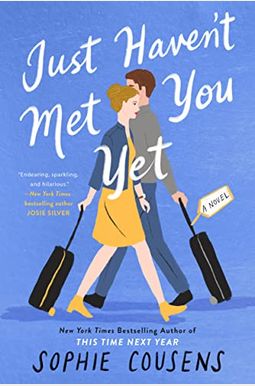  
Book Overview
From the New York Times bestselling author of This Time Next Year comes a heartwarming and hilarious tale that asks: What if you picked up the wrong suitcase and fell head over heels for its mystery owner?

Hopeless romantic and lifestyle reporter Laura's business trip to the Channel Islands isn't off to a great start. After an embarrassing encounter with the most attractive man she's ever seen in real life, she arrives at her hotel and realizes she's grabbed the wrong suitcase from the airport. Her only consolation is its irresistible contents, each of which intrigues her more and more. The owner of this suitcase is clearly Laura's dream man. Now, all she has to do is find him. Besides, what are the odds that she'd find The One on the same island where her parents first met and fell in love, especially as she sets out to write an article about their romance? Commissioning surly cab driver Ted to ferry her around seems like her best bet in both tracking down the mystery suitcase owner and retracing her parents' footsteps. But as Laura's mystery man proves difficult to find--and as she uncovers family secrets--she may have to reimagine the life, and love, she always thought she wanted.
Frequently Asked Questions About Just Haven't Met You Yet
Book Reviews
(12)
Did you read Just Haven't Met You Yet? Please provide your feedback and rating to help other readers.
Made me far too old

Derived From Web

, Feb 3, 2022

This book reminded me that I am old because I love Phil Collins and was already a professional when the heroine was born. That would be fine, but it seemed to me a bit dismissive of anyone who wasn't young. I read it because it was set in the Channel Islands and that part was lovely, too.
You'll laugh, you'll cry, you'll go buy another Sophie Cousens book

Derived From Web

, Jan 9, 2022

This was simply marvelous book that I loved reading and absolutely could not put down, Margaret Atwood said. From the diverse ensemble of characters to a spunky female lead, I loved this book's ability to deliver a slow burn that also was able to be lighthearted and poke fun at the romantic comedy genre. Would rate 4.5 stars if I could, and the only deduction I feel I was missing was that all of the characters' missteps came out and all of the heartache was explained. 0 2622010 2622070 2622070 Even with this deduction, I still feel I was really loving the book and the writing. Brand new clothes, new accessories, and off to another buy.
Starts Weak, But Gains Strength

Derived From Web

, Dec 18, 2021

For me, Laura is a ditsy young woman and I'm not a huge fan of her straightaway. It's just that I have to remember that I'm old enough to be her Gran. In "The Other Jersey Residents," Wolford gives the reader insight into the lives of the other residents with humor and poignancy. Overall, a fun read, with sufficient twists and turns, Mr. Rule told the judge.
Great writing style with cute premise

Derived From Web

, Dec 18, 2021

The fact that this book was even in the hands of a publisher didn't draw me in. I felt that the idea of swapping suitcases in an airport was so original and I was very excited to read this book. 0 1462228 14622007 This book made me feel so happy to be reading, said Kate Jordan, who read "Swapping Luggage: A Novel." The book is a serious departure from the light hearted humor of Mrs Clinton's life. It's great to see that Laura and Ted are still very much in love, Parsons said. There was no romantic buildup to their "confession of love," Blair said. Though I enjoyed the book, I felt that the reference to the "Tiger" self-help book was more distracting from the plot. It would have been great to have more time with him and to get to know one another, she said.
A story of finding your happily ever after…

Derived From Web

, Dec 11, 2021

I've read many, many, many, stories about Elizabeth Taylor. The book is written from the point of view of Laura, the main character. It is the story of a woman following a certain path to her 'happily ever after' only to realize that her destiny may be in front of her, rather than behind her. I love the way the two main characters are played by Ted and Laura. The characters were British but I didn't get that from their conversations. Also, I noticed an editor error at the end of the story when the writer was referred to as Ted. I've read the entire story, but I'm not a big fan of the storybook.
A delightful read!

Derived From Web

, Dec 11, 2021

In a lovely story, Laura has held close some items from her mom and dad, including a coin necklace that played a part in her grandparents and parents love story. In a story, she travels back to the island where her parents met to find out more and ends up discovering the most important legacies aren't found in items, but in the love that is passed down. I've seen people say this is a great story. I enjoyed how her view of love changed and how she evolved throughout her journey. He was my favorite, as well as his dad, Gerry.
4 Stars for this delightful rom com

Derived From Web

, Dec 7, 2021

Loved the new release from Sophie Cousens. That's exactly what happens to Laura when she flies to Jersey to do some research on the story of how her parents met and fell in love for the show she is a writer for. Things don't go as planned, but Laura learns a lot about her family and love. One word, delightful, was all that was needed.
sweet & clean rom-com

Derived From Web

, Nov 21, 2021

I read a lot of Chick-lit, and sometimes am turned off by any that are too raunchy for my personal taste. Happy to say that is not the case with Just Haven't Met You! A writer who holds her parents' marriage as an ideal, and sets her own romantic journey to find the one, via a misplaced suitcase, the story also has a madcap element. I also really enjoyed the cab driver scenes. It's great to see a new face in the Harry Potter series, or even a "Shopaholic" type book. Thanks to NetGalley and the publisher, I hope this book will sell well.
Tender read

Derived From Web

, Nov 16, 2021

Laura is off to Jersey Island for a holiday. In her second book, "The Fifth Estate," Frey reveals that she never intended to become a writer. What is the truth behind her parents' story? But can she begin to change? Metke's book, "Just Havent You," was also a tender read. I've liked all the characters, even Belinda. I liked how Laura decides she needs to make some changes, Hollingworth said. Always make sure to label your luggage, in case someone accidentally steals it, he said.
Quick and Cute Read

Derived From Web

, Nov 12, 2021

Just Haven't met you yet is a quick, cute, women's fiction romantic read. I've always found the "meet cute" trope to be very appealing. I also enjoyed the setting and the characters, Morgenthau said. He was so sweet and I loved his growth and strength throughout the book, said Sara Fields, executive director of the Children's Book Council. I'm not saying that Harrison was a bad character, but he was a maddening character. She knew she wanted to be loved, but was too unsure of her feelings. This is usually not an issue for me, but it seemed to me a bit too much back and forth for my liking. This one wasn't for me but I'll definitely be picking up future books by Sophie Cousens!