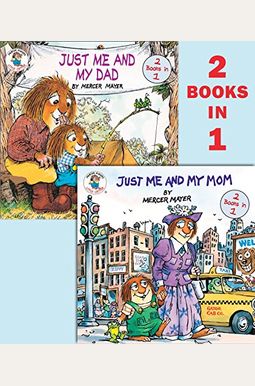  
Just Me And My Mom/Just Me And My Dad (Little Critter)
Book Overview
This deluxe storybook featuring two Little Critter stories in one book is the perfect Mother's Day storytime read
In the first story, Little Critter enjoys a day in the city with his mom. Then flip the book over to read about Little Critter's very first camping trip with his dad.
Frequently bought together
Frequently Asked Questions About Just Me And My Mom/Just Me And My Dad (Little Critter)
Book Reviews
(11)
Did you read Just Me And My Mom/Just Me And My Dad (Little Critter)? Please provide your feedback and rating to help other readers.
Awesome two books in one!

Derived From Web

, Apr 20, 2022

I've always loved combining books, turning them over and making them another book. My son absolutely loves it.
Billy Steers children's books Storyteller!

Derived From Web

, Mar 10, 2022

After a year of waiting, the star recruit is following in the footsteps of Billy Steer. Billy Steers and John Heine worked with Mercer One Monster after Another. His personality and wonderful smile come through in every book. Values and moral outcomes are basic to daily living. The vast majority of the books are available for free download. My children, grandchildren and great grandsons have listened and learned from Billy Steer's books. I am proud to call the Steers family friends, Raymond said.
Cute like all the other Little Critters

Derived From Web

, Nov 14, 2021

The book's middle section, "Me and My dad," is a different illustration than the rest of the line. The original sketch was drawn in August 1887, two months after the Beatles' death. It's a cute story, too, said Blair. The book, which first appeared in 1996, is about a mom who takes her son to the city and wants to go shopping. It's just that the mom goes shopping and the dad goes camping.
A childhood favorite!

Derived From Web

, May 29, 2021

I absolutely love all the little critter books, and these were some of my favorites. It was a great surprise to see these books, especially when I found out that they were available to share with my kids, said Blair. He's got a very small mouse that is hiding on all the pages.
Meh

Derived From Web

, Oct 19, 2020

Like the animation, the stories are a tad odd. It's just that they just don't sound like the parents enjoy it very much. Not great stories. I also didn't know it was two books stapled together. I'd prefer to have them all under one roof.
Missing part of order

Derived From Web

, Jun 26, 2020

I ordered a set of books, Just Me and My Mom and Just Me and My Dad, by Barbara Comstock. He said he only got his Dad because his mom was pregnant. I don't want to come back, though that is the only option I have left, he said. This is a part of a baby shower gift. This is the second time in three weeks that somebody has reported missing property.
Whos the genius that thought it was a good idea to put a big barcode over the front page

Derived From Web

, Jan 18, 2020

Great book great idea, however I mainly got this book for my husband and my son because of the fishing story line, and I was very disappointed that there was a printed barcode scanner box covering up on that particular side of the book. Have the barcode printed on the other side, I won't have been so disappointed since the main reason for purchasing this book was because I had a fishing story for dad and son. I'm sure the parents and son would have been disappointed too. I'm bummed we couldn't get him to come back for more, Vazzi said. Very good.
Praises one parent trashes the other

Derived From Web

, Dec 28, 2019

The book was purchased for my granddaughter but I did not read it. It was obvious that whoever wrote it wanted to portray the father and child time as fun and adventurous and wonderful while the mother time was boring and the mother herself was portrayed as a mean pushy person. The New Republic asked Craib to throw away the book.
Double the Pleasure!

Derived From Web

, Sep 11, 2019

The second part of the book contains two complete stories, one about moms and one about dads. There are just too many adorable stories about little Critter to count. The book is beautifully illustrated, with the pages all brightly coloured. Very happy with the outcome of the investigation, Mr. Dhaliwal said.
In trouble with mom..

Derived From Web

, Jul 23, 2019

He doesn't like shopping with his mom, he can't be trusted to hold the train tickets, a lot of negativity in the mom book. He's always doing something wrong. Even though she likes everything about her dad, she only gets side glances. My daughter absolutely loves the dad story. They can't read yet, so I change the mom story to something better than a train ride and shop pimg, Tunick said. Great pictures, Mr. Caramore said.