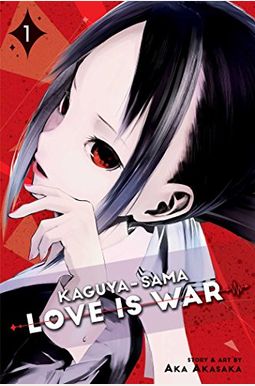  
Kaguya-Sama: Love Is War, Vol. 1: Volume 1
Book Overview
All's fair when love is war
Two geniuses. Two brains. Two hearts. One battle. Who will confess their love first.? Kaguya Shinomiya and Miyuki Shirogane are two geniuses who stand atop their prestigious academy's student council, making them the elite among elite. But it's lonely at the top and each has fallen for the other. There's just one huge problem standing in the way of lovey-dovey bliss--they're both too prideful to be the first to confess their romantic feelings and thus become the loser in the competition of love And so begins their daily schemes to force the other to confess first
Frequently Asked Questions About Kaguya-Sama: Love Is War, Vol. 1: Volume 1
Book Reviews
(10)
Did you read Kaguya-Sama: Love Is War, Vol. 1: Volume 1? Please provide your feedback and rating to help other readers.
Funny take on the romance genre

Derived From Web

, Jan 2, 2022

Kaguyasama is war is an incredibly amusing story that takes a more pathological route by making two people who are interested in each other try to coax the confession out of the other, and it's never a clean fight, it's never a clean fight! Definitely one of the better mangas I've read in a long time.
This is a Top Tier Manga, It's a Giant in the Shadow, Get it.

Derived From Web

, May 12, 2021

Just a fun and type of manga I love it, it's a must have if you like or need something other than Shonen, Seinen, and Shojo, or Sports. If you're new to the anime, I suggest you watch the Anime first, that will open you up to it, watch the Anime in English on Funimation to understand it. 5 out of 5 are rated "high" or "excellent."
Coming from the anime

Derived From Web

, May 8, 2020

Even if you are not a fan of the anime, there is merit to reading the manga. Of course if you watch the anime you will recognize some source scene here, but there are chapters in between that doesn't appear in the anime. Even though the series was originally created for television, the comedic humour from this series does not fail to see it a second time. Translation is good, Bruno said. personally I would have kept the formality the Japanese are known for, Mr. D'Alessandro said.
dirty, i have to use tissue to clean the book

Derived From Web

, Jan 9, 2020

I think that's great, but how do I remove something like glue that sticks to the book?
Anime is great, the manga is Awesome! Showing my support for the mangaka!

Derived From Web

, Jul 26, 2019

I'm not even hearing of Kaguyasama until I saw the trailer on Netflix. I've watched the anime and was enthralled by the story. I did a little searching and was surprised they had an official English-translated manga. I decided to show my support and bought all the volumes from Amazon. com. I usually read my manga (comic book) on the Internet. However, I couldn't explain why but I really love Kaguyasama's premise and plot. The packages arrived a day early, within the stipulated time. Great job by UPS, said Russell.
Good, but translations are worse than fan translations...

Derived From Web

, Jul 16, 2019

Both the story and the art are great. I believe that the translation quality of this book is deficient. Many of the jokes are less humorous and are generally less impactful than fan translations. Only if you are a big fan or want to collect the books. If you can find the fan edition, you can read the entire story in a far more enjoyable reading experience. There are three more books in the series, and hopefully there will be better translations.
Sub par translations

Derived From Web

, Mar 23, 2019

I bought all the volumes just to support the author, but honestly, you're better off just reading the fan translations online since they do a better job capturing the character's personalities and delivering the humor.
Cute and Funny.

Derived From Web

, Jan 28, 2019

I started reading this manga because of the amount of joy the anime gave me. The story follows two high school students who happen to be in the Student Council. The Vice President of Kaaguyiya, a Japanese company that makes jet engines, is a billionaire. The President of the school, Miyuki Shiroge, a poor student who got to his position by relying on only his knowledge alone. After a few minutes the two start opening up to each other, but they don't want to admit it. Whoever confesses their love in a relationship is the loser in this War of Love. It's great to sit down and relax, and I couldn't recommend it enough. Solid 55.
A fairly good translation as far as I can tell

Derived From Web

, Mar 27, 2018

A fairly good translation, I'm not sure. My only problem is the fact that Kaguya uses the term "Shirogane" (President) by his name, rather than "Shirogae" (Supreme Commander). If it had not been for this change, I'd have given it five stars, Mr. Dhaliwal said.
Missing heart

Derived From Web

, Mar 6, 2018

The cover of the book has been changed. It's no longer a heart symbol in her eyes. The nitpicker should know that translating every speech and narration makes them more enjoyable. If you compare them both, you will spend time comparing not enjoying this series. I have imported all the Japanese volume release and I am planning to buy all Kindle releases, Mr. Dhaliwal said. Currently the localisation is weaker and I hate how the book cover is changed. 0 3171578 6171201 Now the localisation is weaker and I hate how the book cover is changed.