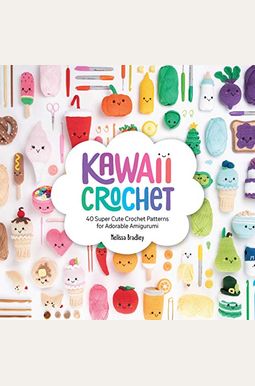 
 
Kawaii Crochet: 40 Super Cute Crochet Patterns For Adorable Amigurumi
Frequently Asked Questions About Kawaii Crochet: 40 Super Cute Crochet Patterns For Adorable Amigurumi
Books like Kawaii Crochet: 40 Super Cute Crochet Patterns For Adorable Amigurumi
Book Reviews
(9)
Did you read Kawaii Crochet: 40 Super Cute Crochet Patterns For Adorable Amigurumi? Please provide your feedback and rating to help other readers.
Worth a Purchase!

Derived From Web

, Jan 25, 2021

Overall, I'm very pleased with the purchase. Clearly written patterns are at the center of the problem. Easy to create and use objects. A book of patterns for crocheters interested in learning how to knit. Worth the investment to ensure toys are the same general style and go well together, he said. Included with this book are a bonus of stitch descriptions and some general crochet design tips. They don't specify whether they're top-down or bottom-up, which can be a bit confusing. Multiple weights of yarn are occasionally used in the same pattern, making it hard to find all the colors of yarn recommended. Some of the items are so awkward they're almost impossible to measure. I found the banana too small and the apple too large.
Cute stuff! Patterns look just like the pictures, and are easy to follow...

Derived From Web

, Jan 22, 2021

I've read the entire book, and I'm in love. I hope the author makes more items for a second book, Kawaii Crochet: A Japanese Style for Beginners,'' she said. Amigurumi is a Japanese doll that teaches children how to love amigurumi. This book is highly recommended.
Cute Patterns, Easy to Follow

Derived From Web

, Jan 8, 2021

Easy to follow, the patterns are readily available for anyone who has basic crochet knowledge. There are plenty of photos of finished items, but they are not all that useful. However, I would say there are 40 unique patterns that are not repeated with different colors of accessories. Buyers beware: The legal clause on the last page of the book prevents you from selling anything you make with this book, so if you're planning to do so, be wary.
Cute book

Derived From Web

, Jul 9, 2020

The book is a great addition to any nursery or preschool.
Such Cute, Easy To Follow Designs!

Derived From Web

, Mar 5, 2020

So cute!," said the creator of the "Monkey" pattern. She also said she hopes to make more books. The patterns are so easy to learn, I consider myself to be intermediate to mildly advanced. Anyone who has trouble trying to grasp a new crochet technique or concept can check out the video tutorials on YouTube. While the designer of this book does not have a YouTube channel, lots of other makers put up easy to follow videos on such things if you have a hard time following them from a book. At the back of the book, she has illustrated picture tutorials of certain stitches and technics, which are meant to help beginners. Thanks for the book, and I really hope to see more books from her in the future. Berkshire Hathaway made profits of $1.7 billion last year alone, its best performance.
Hawaii crochet

Derived From Web

, Mar 5, 2020

McCartney said: "I love the Beatles. McCartney said: "I love the Beatles. McCartney said: "I love the Beatles. The book is also available in hardback. Great customer service, said Dr. Chester Floyd, director of NASA's Ames Research Center in California. It's great to be back home, said Blair.
My Favorite Amigurumi Book

Derived From Web

, Feb 11, 2020

This is my favorite amigurumi book that I have added to my ever growing collection. Not only is every single pattern adorable but Melissa's instructions have taught me a few new tricks that have helped my projects look even better than before. If anyone was ever curious about amigurumi this would be a wonderful starter book. The colors and pictures are wonderful, but it's hard to decide which to start with first. I've already made about 5 of the projects, and can't wait to make the rest! I would highly recommend this book to anyone. This is a great deal, said Dr. Goin.
Cute, easy, and too small typeface

Derived From Web

, Feb 11, 2020

This book is super cute and very easy—perhaps a little too easy for someone who is not experienced with crochet. Only problem is that the font is too small. Good vision, but the type is a gray color and very small, Reichert said. I don't like to hold a book in my lap while crocheting, and it's just too small and light to put next to me.
You'll Love To Look

Derived From Web

, Jan 26, 2020

There are a lot of cute amigurumi plushies that I say are stinkin' cute. The wide variety of colors is appealing to your sense of sight. If you do decide to crochet something, you'll find the patterns well-written out. Only downside is that the font is too small. The font is the size of the lettering you find on the back of an over-the-counter medicine bottle.