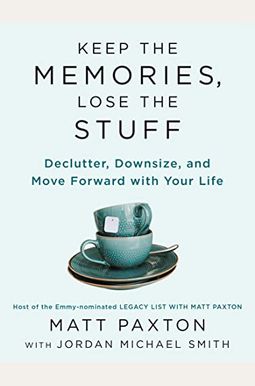  
Keep The Memories, Lose The Stuff: Declutter, Downsize, And Move Forward With Your Life
Frequently Asked Questions About Keep The Memories, Lose The Stuff: Declutter, Downsize, And Move Forward With Your Life
Book Reviews
(10)
Did you read Keep The Memories, Lose The Stuff: Declutter, Downsize, And Move Forward With Your Life? Please provide your feedback and rating to help other readers.
A great how to book with helpful solutions and resources

Derived From Web

, Mar 7, 2022

I didn't know about this book but I bought it and read it the same day I saw it on my feed. Matt spoke about people in all walks of life who are trying to simplify their lives. I found it to be a great read with a lot of simple solutions to situations that you may not even know you need, as well as resources listed to help you reach your minimalist goals. It is not a boring book. This is a quick and meaningful read, and I highly recommend it.
Depressing and isolating

Derived From Web

, Mar 6, 2022

The book has good lists with information about managing paperwork and steps to de-cluttering. The entire premise for success is based on paying attention to you and having people do it with you. If you are in the process of downsizing or moving, telling your stories to an interested audience is the magic key, according to Step 1. Success is only described if you are in the company of a good listener who can hear your stories behind photos, books, and all the artifacts of your life. It's all about telling someone about yourself, not any information on reflecting on how to approach introspection, or understanding how you accumulate so much in the first place.
Must read!

Derived From Web

, Mar 2, 2022

This is a step by step process for downsizing. It places organizations to reach out to. There is a great resource section at the end and an index to find all the places you have highlighted. I think it's a great idea. I would love him at my house.
Great "Relatable" book, well weitten

Derived From Web

, Mar 1, 2022

The book looks at a human element. It isn't just throwing it all out and done. Matt relates to those of us who have a lot of stuff but are afraid of what it will look like if we don't have it.
What a great book

Derived From Web

, Feb 26, 2022

I am moving my 94 year old mother into an assisted living facility and leaving the home she has lived in for 49 years. We are still going through the process, but reading this book has given me an idea of what needs to be done, the order it should be done in and a way to get her to think differently. It has given me a lot of motivation to go through my own things and find the things that don't contribute to my story. Thank you Matt, I appreciate it! It is!
good book for moving

Derived From Web

, Feb 15, 2022

I liked the book but I didn't like it. It felt like it was written for people who wanted to start a business or move. I like minimalist books a lot, but this was not one of them.
Good for seniors

Derived From Web

, Feb 13, 2022

This is a good book for people who have been living in the same house for 20 years and have collected a lot of stuff. It's great for retirees who want to downsize. There are many examples of senior citizens giving up their possessions. Suggestions for how to donate items or have them hauled away are also included. For people who aren't tech savvy, this could be a good help. This isn't the book for you if you don't have a lot of possessions and are just looking for tips to reduce the junk in your closets. There aren't any organization tips. It's all about getting rid of stuff.
A Must Have reference/guide for older adults and caregivers.

Derived From Web

, Feb 11, 2022

I have worked with seniors and caregivers who didn't know what to do with their accumulated stuff. Matt Paxton's book is an excellent guide to how to downsize. This is a challenge for most people. I will recommend Keep The Memories, Lose The Stuff to my clients.
Good guidance for managing downsizing

Derived From Web

, Feb 9, 2022

Matt explains the emotions we attach to our belongings. The book has made me think in a different way, as I am already thinking of my possessions in a different way. I like the idea of a daily sweep.
A simple to read book with plenty of actionable tips

Derived From Web

, Feb 9, 2022

Matt's combination of anecdotes, humor, and great tips were very engaging when I first listened to the audiobook. The text provides actionable steps to simplify your life without feeling like you are throwing things away.