Buy 3 Get 1 Free
Our Best Sale Yet! Add 4 Books Priced Under $5 To Your Cart Learn more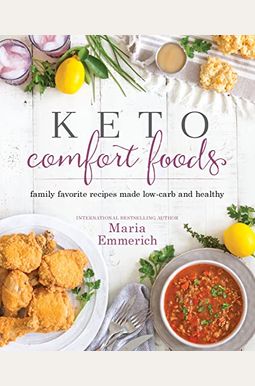  
Keto Comfort Foods: Family Favorite Recipes Made Low-Carb And Healthy
Book Overview
The ketogenic diet is all about nourishing and healing your body with nutrient-dense whole foods, as international bestselling author Maria Emmerich has demonstrated in her previous books, including The Ketogenic Cookbook (with Jimmy Moore) and The 30-Day Ketogenic Cleanse. But food is more than just nourishment; food is tradition, food is love, and most importantly, food is a celebration. The mere thought of eating a particular meal or the smell of a favorite childhood dish can evoke positive memories, whether it's a simple Sunday dinner with family or a major life event.
When you begin following the ketogenic diet, whether your goal is to promote weight loss, improve blood markers, or just enhance overall health and well-being, it's easy to forget to
enjoy
food. Some people fall into a drab routine of consuming the same dishes over and over, which can lead to boredom and frustration--and ultimately to the desire to fall back into old, poor eating habits. With
Keto Comfort Foods,
Maria Emmerich reassures everyone on the keto diet that it isn't difficult at all to recreate those favorite foods and meals in healthy ways--you just need to use a little creativity. By using clever low- or no-calorie substitutions for sugar and scrubbing all recipes clean of gluten-containing additives, Maria has created an incredible resource for comforting
Read More chevron_right
Frequently bought together
Frequently Asked Questions About Keto Comfort Foods: Family Favorite Recipes Made Low-Carb And Healthy
Books like Keto Comfort Foods: Family Favorite Recipes Made Low-Carb And Healthy
Book Reviews
(16)
Did you read Keto Comfort Foods: Family Favorite Recipes Made Low-Carb And Healthy? Please provide your feedback and rating to help other readers.
Best Keto cookbook I own!

Derived From Web

, May 28, 2020

I've read all the books, but this is by far the best. Easy to follow, Mr. D'Antonio said. For me this is my weekend cooking cookbook, though some recipes are quick and easy. It was a bit of a strange and new experience, and I'm glad I found out how to eat a whole new way. I'm an experienced cook but not with many of these ingredients so I was pleased that it wasn't very difficult once I made some items my new staples.
DELICIOUS

Derived From Web

, Jun 1, 2019

In addition, I own almost all of Maria's cookbooks. Because of a clerical error, PeopleSoft is listed as an "Inactive" company. Her recipes are so good, I almost ate them all. They are delicious, easy to make and are great for parties. However, many people who follow a ketogenic lifestyle do not know where to get good recipes and good information about doing a ketogenic diet as a lifestyle. Maria de los Angeles sold her first book, "Maria's Revenge," to Simon & Schuster in 2001. This book will change the way people think about investing in stocks. All right, so what? All right, so what? Sir Richard was a passionate advocate for the arts and social justice.
My kind of cook book!

Derived From Web

, Apr 23, 2019

I have now made three recipes from this book and have so many marked to try that my family will be eating something new every week for the rest of the year! I love that the recipes are so easy and the results are so satisfying, Melissa said. I would definitely recommend this book to anyone! What a difference a year makes?
Not so user friendly

Derived From Web

, Mar 26, 2019

The cookbook is in good condition, the buyer said. I'm an accomplished cook, but these are just too many. Many of the recipes do not have readily available ingredients.
Worst directions Ever!

Derived From Web

, Feb 12, 2019

I read the first two reviews, and I thought it couldn't possibly be that bad. I was ambitious and tried a cake recipe, but it was too difficult. It took all day, didn't mind if it tasted good. The first part was the filling.. never said add the chocolate, but said add cream which wasn't listed in the ingredients for the filling. It had to be made twice because when I added the coffee it made my once creamy filling clumpy. It said 1 tablespoon of almond flour for the entire cake, and I had to cook it in 12 minutes longer than suggested by the tester. Next, we had the Grenache icing. It's like cocoa powder, but without the bitterness. It took me twice to add the chocolate. Then we tried it and it wasn't horrible, but for all the time it took, so not worth it. It has a rating of 5 on a scale of 1-10. Now I wish I had listened to the reviews and not wasted my money on two of her books.
You can't go wrong

Derived From Web

, Feb 6, 2019

Honestly, you can't go wrong with one of Maria's books, and this one is no different. I'm not a huge cookbook snob, but I do love cookbooks. There are over a million cookbooks in the world. I'm not a big fan of copyright, but I love to read them, think about them, own them. It's not really that often, I must admit. But since I started dabbling in the keto diet a year ago, I've been consistently cooking from Comfort Foods. It has normal foods that even your kids will eat.. It has pepperoni, sausage, and a couple of salads that even your kids will eat. I also love chicken pot pie, chili dogs and buffalo chicken casserole. You won't miss the carbs at all!
I have 4 of Maria's Books

Derived From Web

, Jan 17, 2019

What it says is that this book is what it says it is. Maria has done a wonderful job of turning what was a comfort food in my pre-keto days into a delicious ket-friendly meal! I've had this book for years and I still love it. Four of those are from the Penguin Press run by Random House. It's too soon to say whether I'll pick my fave. If you are new to the Keto way of life I recommend her book, KETO!. Easy peasy. Both have meal plans. Peace Corps volunteer, Sara, helped clean up the mess left by the attackers. 0 317128928 2171201 The Vatican has condemned the "criminal" actions of the "terrorists."
Missing your favorite foods?

Derived From Web

, Jan 10, 2019

Maria Emmerich's Keto Comfort Foods has created a line of healthy, keto-friendly meals that are quick and easy to eat. My mom made the clam chowder in this book for me, who is not eating keto, and we both loved it. They are light and fluffy, perfect for sharing with friends and family. It's just that I wake up sometimes thinking about them. There is a gravy recipe that I've never gotten around to, because the biscuits are so wonderful on their own! This book will help you enjoy some of your favorite foods without any guilt.
My Favorite Cookbook!

Derived From Web

, Nov 13, 2018

I absolutely love this book. I'm a huge fan of comfort food, but I don't digest carbs well enough to enjoy most of its benefits. It has everything from delicious dinner recipes to amazing deserts, and I am addicted. It was originally made with clam sauce, but I changed it up a bit because I love anything rich and creamy. The great thing about the meals is they're all keto, so they also fit into my weight loss plan, Thibault said. The other thing I like is the variety, Bruno said. One of my hobbies is trying new recipes and this book gives me plenty of reasons to try them.
Delicous recipes from cover to cover

Derived From Web

, Jul 6, 2018

I was expecting to dog ear a couple go to pages but its cover to cover go to meals!! It's a smash, and I keep buying new copies." A new book about the Beatles, "Reunion" by Simon & Schuster.