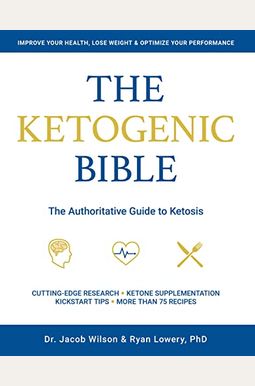  
Book Overview
The ketogenic diet is emerging as one of the most popular diets for health and weight loss, and for good reason. No other diet has the same benefits for health concerns ranging from obesity and type 2 diabetes to Alzheimer's disease to cancer--not to mention its positive effects on athletic performance.
In The Ketogenic Bible, Jacob Wilson and Ryan Lowery offer a comprehensive look at the ketogenic diet and the fat-burning state it induces, ketosis. It's the most complete source for information on keto--not only how to follow a ketogenic diet but also how it affects the bodily systems and processes that are at the core of how we feel and function every day. Their approach is based on the wide range of scientific research that's been conducted on ketosis, including the research they're doing at their own Applied Science and Performance Institute. Through their work with people who are switching to a ketogenic diet, they also know the most common concerns and questions, so they've included practical tips and advice for following keto, along with more than 75 easy and delicious recipes. No other book offers such an exhaustive, science-based view of what it means to follow a ketogenic diet. This is your one-stop shop for the most tested and accurate information on the ketogenic diet and for answers to all your questions.
Frequently Asked Questions About Ketogenic Bible
Books like Ketogenic Bible
Book Reviews
(9)
Did you read Ketogenic Bible? Please provide your feedback and rating to help other readers.
All that is to be said

Derived From Web

, Jul 10, 2020

It explains all aspects of the process of ketoaddition, science and the ins and outs.
Keto Bible

Derived From Web

, Sep 5, 2019

This book is loved. You have to order and I used it to save a few bucks and it looks new. Lots of nice recipes :
One stop shop! Book has it all

Derived From Web

, Feb 27, 2019

So much information that is important to consider during this transition to a new eating style.
Poor editing, hopefully just for Kindle?

Derived From Web

, Jan 23, 2019

I am sure the content is good, as other reviews state. I just started the book, so I can not comment. What I can say is that poor editing hurts the credibility of the content. Hopefully that is just an issue with the kindle version.
Very informative! Backed by science and testing.

Derived From Web

, Aug 18, 2018

Lots of science information and yummy recipes. Highly recommended. Now read it.
BEST Keto Reference to Date!

Derived From Web

, Jan 22, 2018

I have recommended this book to at least 20 others and even gave my noted copy away for a friend to read. There is so much information scattered between a number of different books, the Ketogenic Bible takes all of it and throws it into this one compressed book. It covers everything from the history of diet and authors, the science of its efficacy, the science of food in general and so many recipes.
Very impressed with their work in this book. If ...

Derived From Web

, Jan 11, 2018

I was very impressed by their work in this book. If you plan to take Keto seriously, this book is a must.
Clear, Concise and Great tool for anyone interested in Ketosis and Ketogenesis

Derived From Web

, Sep 13, 2017

My husband took this book as soon as it came in. I have gotten to look at it barely. He swears it is one of the most thorough books he ever read on the subject, that it is great for professional and lay persons alike. Have I mentioned that he is a doctor? I saw it and was impressed with what I saw, but made him promise that I will look at it for at least a week next week! He read it for the 4th or the 5th time.
Powerfully Persuasive !!

Derived From Web

, Aug 17, 2017

This is now the best book on the subject. There is a lot of research that is crammed into this. The book does a great job in looking at mitochondrial dysfunction and how Keto can correct it and heal many deceases by doing so. I have personally been Keto for 3 years. I wish this book was out there ''. Its macro recommendations are solid and fit trainers to the individuals who need it for therapeutic reasons such as epilepsy. If you read this book and have not made the decision at the end to convert to a prominent mitochondrial lifestyle, you must suffer from ketogentic dissemblance.