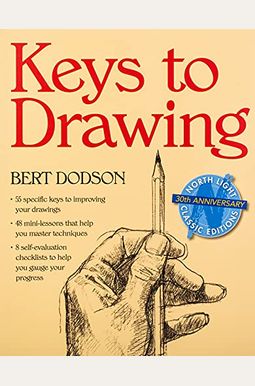 
 
Book Overview
Anyone who can hold a pencil can learn to draw.
In this book,
Bert Dodson
shares his complete drawing system--fifty-five keys that you can use to render any subject with confidence, even if you're a beginner. These keys, along with dozens of practice exercises, will help you draw like an artist in no time. You'll learn how to: - Restore, focus, map, and intensify
- Free your hand action, then learn to control it
- Convey the illusions of light, depth, and texture
- Stimulate your imagination through creative play
Frequently Asked Questions About Keys To Drawing
Book Reviews
(14)
Did you read Keys To Drawing? Please provide your feedback and rating to help other readers.
I love this book.

Derived From Web

, May 17, 2022

Before I received this book, I was embarrassed to draw a stick figure. I went through the lessons and was amazed at the life, like the drawings I can now do. I am not a natural artist, but after that I began to take painting classes. I won 't make money with my current skill level, but people are always surprised when they see the drawings I have done of my children and animals. I am very happy that I have bought this book ''. It has really helped me. Not an enjoyable process, but an overnight one with rewards if you continue.
A Must Have for Learning to Draw

Derived From Web

, May 17, 2022

I find myself reading it, drawing and then coming back and reading some more to apply some other techniques. It might not be the first book you learn to draw, but it should be the second. As someone else suggested here, I read first to draw on the right side of the brain and it really resonated with me. The only shortcoming I have found is the explanation of drawing circles in perspective as ellipses. This is correct as far as it goes, but the ellipse itself needs to be foreshortened to give the proper perspective.
So complete!

Derived From Web

, May 17, 2022

In 49 years, I have not taken a drawing class.
Excellent book for learning how to draw right

Derived From Web

, May 17, 2022

I'm only a few pages in and this book is already helping me correct a lot of things I do wrong when I draw. I'm really glad that I bought it. My dad is an art professor and I tell him about the principles I learn and he says that they are spot on.
A must have for any beginning artist.

Derived From Web

, May 17, 2022

A great and classic. There is a good reason that it has been in print so long. It is filled with all the things that a drawer needs to learn.
great book

Derived From Web

, May 17, 2022

This book opens your horizons and helps you to see what you are drawing so that you are able to transfer that image to paper more accurately. It has a variety of drawing exercises to help you hone your skills.
Love it

Derived From Web

, May 17, 2022

I take drawing classes, have some gold skills, but this book really helped me in seeing and drawing, rather than thinking and drawing. Anyone, especially the human body, can draw nicely with this one.
Awesome drawing book - Ordered it used and its in Excellent condition

Derived From Web

, Nov 29, 2021

Originally, I checked this book out of my local library and loved it absolutely. I ordered this and received it for $3.99... arrived from SF Goodwill in EXCELLENT condition. I have made the best purchases of used books from Amazon for a fraction of the cost of the original book. EVER had no problems with the delivery and quality has been amazing.
Kindle version, good for portable reading not for practical lessons

Derived From Web

, Aug 22, 2019

The book was very good. I am an advanced amateur artist, but I took some informative tidbits of information. I bought it because it was on sale via the Kindle version ''. It was fun to read during my lunch break, but it would be better for aspiring artists to get the softbound version so that they can practice as they progress through the book. Some of the things I liked about it was the use of your pencil as a viewing tool and using an egg with lines indicating facial feature locations as a reference for drawing head angles. A beginner artist will get even more out of this book than an advanced artist.
Ridiculous read, don't know how anyone can learn from this

Derived From Web

, Apr 6, 2019

I bought this for my son, who is a beginning artist. I am an artist myself, but teaching kids can be tricky. I thought that a few books would help him. The reviews were great, so I thought it would be good. When it came, I couldn t believe this book. It is usually written and the examples look like scribbles or doodles. I tried reading it and I just couldn t get through it. I could not find anything that would help my son.