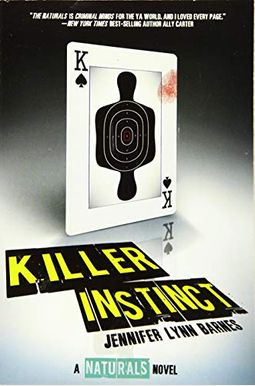 
 
Book Overview

Seventeen-year-old Cassie Hobbes has a gift for profiling people. Her talent has landed her a spot in an elite FBI program for teens with innate crime-solving abilities, and into some harrowing situations. After barely escaping a confrontation with an unbalanced killer obsessed with her mother's murder, Cassie hopes she and the rest of the team can stick to solving cold cases from a distance.
But when victims of a brutal new serial killer start turning up, the Naturals are pulled into an active case that strikes too close to home: the killer is a perfect copycat of Dean's incarcerated father-a man he'd do anything to forget. Forced deeper into a murderer's psyche than ever before, will the Naturals be able to outsmart the enigmatic killer's brutal mind games before this copycat twists them into his web for good? With her trademark wit, brilliant plotting, and twists that no one will see coming, Jennifer Lynn Barnes will keep readers on the edge of their seats (and looking over their shoulders) as they race through the pages of this thrilling novel.
Praise for Killer Instinct
A welcome addition to the teen-sleuth genre.
-
Kirkus Reviews
Barnes knows how to keep the reader hooked, and fans will be eagerly reaching for this title and clamoring for the next in the series.
-
Booklist
This is a definite
Read More chevron_right
Frequently Asked Questions About Killer Instinct
Books like Killer Instinct
Book Reviews
(9)
Did you read Killer Instinct? Please provide your feedback and rating to help other readers.
5 Stars This book was pretty close to 5 stars for me

Derived From Web

, May 10, 2022

Actual rating 4.5 stars This book was pretty close to 5 stars for me, and I think it may have been if not for all the other truly amazing books I have been reading that year. Barnes'writing and Plot both improve from The Naturals to this. I loved that we learned more about the backgrounds of each of the naturals. It allowed me to connect more with the characters and allowed Cassie to do the same. I was a little upset to see the love triangle continue, but. The characters form a diverse cast with great personalities that could complement and contradict each other. The suspense and mystery were perfectly balanced by humor. There are light moments and tense moments, but the comedic relief always came at the right moment, making Killer Instinct highly entertaining.
Imagine a YA Silence of the Lambs crossed with X-Men...

Derived From Web

, May 10, 2022

Jennifer Lynn Barnes is simply the best in this game. She takes new genre cliches, mashes them into new forms and executes the whole thing with such incredible precision that it is a joy to watch. Her books are not high literature ; they are incredibly effective entertainments that have some fairly powerful metaphorical undertones about teenage life. In this second volume of her Nautrals series, she has our special junior serial killer catchers doing what they do best in the most inappropriate special program ever developed by the FBI. First read the first volume, but then she does it again. Can 't wait for the next one...
Next book please

Derived From Web

, May 10, 2022

The naturals are again involved in a murder investigation when a crime is committed with the same MO as the murders committed by Dean before he was caught. The team ends up investigating in secret, as Agent Sterling is strongly against involving them in active cases. The focus is mainly on Dean's father and Dean, but I was personally more a fan of Michael and Lia. But all characters are unique and interesting. The author kept me guessing who was the killer and got me out of left field with this one, so that's good points. On the other hand, Cassie struggles with feelings for both Dean and Michael in this book, and it did not surprise me who she chose at the end. It is a good read, a lot lighter than most crime books I read, but a nice read if you like books that read like a TV show.
Addicting Series!

Derived From Web

, Jun 3, 2021

Apparently, Barnes is to blame for my sleep deficit! This is the 4th book I read this year, the 2nd in the series, and has quickly become one of my favorite YA authors. The stakes in this sequel are no less serious, the characters no less likeable, the storyline no less suspenseful!
I highly recommend this series!!

Derived From Web

, Sep 30, 2019

Cassie is a real person who reacts and acts believably. Finally she has a home and family and works to protect them. We learn more about the other backstories of the naturals.
Killer Instinct an you guess the killer?

Derived From Web

, Aug 29, 2019

It has been hard to find anything that is as mind blowing as this whole series. For one, I can 't figure out who is the culprit. For this reason, it is a little dark for old or mature teens. This is an o e series I couldn t put down I would set for hours to see what happens next.
Solid Sequel

Derived From Web

, Apr 24, 2019

In this case, Cassie was full of hubris, but she is young, so that it makes sense. I came to the complexity of the characters in this one-man series of individual personalities. And the addition of Ronnie brought in another unruly character who survived. Kindred Spirit is like a role model and kindred spirit. If you like dark plots, this is for you.
The Naturals

Derived From Web

, Feb 21, 2018

The naturals are back for another installment and what an intense read it was. Five youngsters with natural gifts help the FBI with different cases, what a talented bunch they are all. The non-stop action and fast paced reading will have you glued from start to finish. Can 't wait to read the book 3.
A solid sequel! Intricate mystery!

Derived From Web

, Jul 9, 2017

I really dig this series by Jennifer Barnes. I just fell in love with her more recent, Fixer, series and I actually went back and found these. There are some pretty intricate twists and turns in the actual story and some rivetting moments of action, especially near the end. My chief complaint is that the love triangle continues from the first novel and I think it is just waaaaaaaay too long. I thought the first book was a little looser, but I feel that this was still a solid continuation of the story and we got to explore Dean and Leah as characters much more.