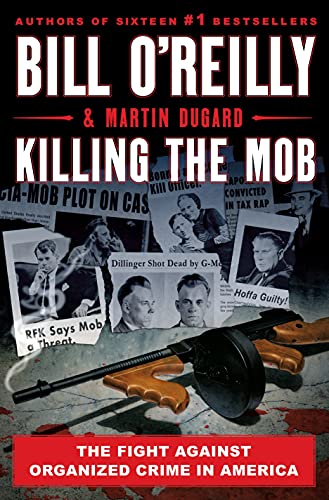 
 
Killing the Mob: The Fight Against Organized Crime in America
Book Overview
Instant #1 New York Times, Wall Street Journal, and Publishers Weekly bestseller
In the tenth book in the multimillion-selling
Killing
series, Bill O'Reilly and Martin Dugard take on their most controversial subject yet: The Mob.
Killing the Mob
is the tenth book in Bill O'Reilly's #1
New York Times
bestselling series of popular narrative histories, with sales of nearly 18 million copies worldwide, and over 320 weeks on the
New York Times
bestseller list. O'Reilly and co-author Martin Dugard trace the brutal history of 20th Century organized crime in the United States, and expertly plumb the history of this nation's most notorious serial robbers, conmen, murderers, and especially, mob family bosses. Covering the period from the 1930s to the 1980s, O'Reilly and Dugard trace the prohibition-busting bank robbers of the Depression Era, such as John Dillinger, Bonnie & Clyde, Pretty Boy Floyd and Baby-Face Nelson. In addition, the authors highlight the creation of the Mafia Commission, the power struggles within the Five Families, the growth of the FBI under J. Edgar Hoover, the mob battles to control Cuba, Las Vegas and Hollywood, as well as the personal war between the U.S. Attorney General Bobby Kennedy and legendary Teamsters boss Jimmy Hoffa. O'Reilly and Dugard turn these legendary criminals and their true-life escapades into a read that rivals the most riveting crime novel. With
Killing the Mob
, their hit series is primed for its greatest success yet.
Frequently Asked Questions About Killing the Mob: The Fight Against Organized Crime in America
Book Reviews
(16)
Did you read Killing the Mob: The Fight Against Organized Crime in America? Please provide your feedback and rating to help other readers.
Excellent read

Derived From Web

, Sep 16, 2021

Really compelling book ''. Amazing how much I learned about organized crime and the players behind the scenes. Perfect complement to the entire series '' Killing by O Reilly!! Would make a great gift for anyone.
O'Reilly does it again!

Derived From Web

, Aug 6, 2021

In his murder series, Bill O Reilly produced another masterpiece. The book catches and holds your attention until the very end. Growing up in the 1970s, I remember all the different articles and news stories that were current events for me. The stories of the engagement of politicans and entertainers involved add just to the book.
History of Organized Crime

Derived From Web

, Aug 1, 2021

After reading the book, I never realized how many choices and events were influenced by obsters. It is a great book and makes you think about the power of extortion and corruption.
Great book!

Derived From Web

, Jul 10, 2021

Each time a new book is published, I read Mr. O Reilly's books eagerly. Killing the Mob '' was a great book! I have learned things that I was certainly not aware of and I recommend it to others.
THE LATEST KILLING BOOK

Derived From Web

, Jul 7, 2021

Another fact-filled page turner from Martin Dugard and Bill O 'Reilly. You will be astounded at how deep and ingrained the mob was until they started squirting on each other.
Eye Opener

Derived From Web

, Jul 2, 2021

This book is an eye opener. It is a book opener. Read it and better understand how politicians and powerful people are corrupted and held hostage due to set ups and weaknesses. Very well written, an easy read and very interesting book. If you let it all sink in, it will really make you think if you let it all sink in.
Great modern historical read

Derived From Web

, Jun 28, 2021

This book reveals some very interesting information about modern day history. It causes one to question the integrity of election, politicians, and corruption in current events.
Mob

Derived From Web

, Jun 12, 2021

I have heard a lot of these names over the years. I remember some of the hearings and how they influenced our world. Thoroughly enjoyed how this revealed what has been rumored for years.
A Telling story

Derived From Web

, Jun 5, 2021

There was a considerable amount of information in this interesting book. I learned quite a bit, I had no idea what was going on or how much there was or how widespread.
Great action holds interest

Derived From Web

, May 29, 2021

Great book, easy to read like Killing Crazy Horse, ends the book like it seems a bit prematurely. Example nothing about the Gambino family, meaning more current mobsters that met their fate.