Buy 3 Get 1 Free
Our Best Sale Yet! Add 4 Books Priced Under $5 To Your Cart     Learn more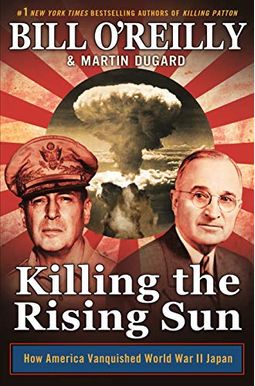 
 
Killing The Rising Sun: How America Vanquished World War Ii Japan
Book Overview
This Description may be from another edition of this product.
The powerful and riveting new book in the multimillion-selling Killing series by Bill O Reilly and Martin Dugard
Autumn 1944. World War I is nearly over in Europe but is escalating in the Pacific, where American soldiers face an opponent who will go to any length to avoid defeat. The Japanese army follows the samurai code of Bushido, stipulating that surrender is a form of dishonor. Killing the Rising Sun takes readers to the bloody tropical-island battlefields of Peleliu and Iwo Jima and to the embattled Philippines, where General Douglas MacArthur has made a triumphant return and is plotting a full-scale invasion of Japan.
Across the globe in Los Alamos, New Mexico, Dr. J. Robert Oppenheimer and his team of scientists are preparing to test the deadliest weapon known to mankind. In Washington, DC, FDR dies in office and Harry Truman ascends to the presidency, only to face the most important political decision in history: whether to use that weapon. And in Tokyo, Emperor Hirohito, who is considered a deity by his subjects, refuses to surrender, despite a massive and mounting death toll. Told in the same page-turning style of Killing Lincoln, Killing Kennedy, Killing Jesus, Killing Patton, and Killing Reagan, this epic saga details the final moments of World War I like never before.
Frequently bought together
Frequently Asked Questions About Killing The Rising Sun: How America Vanquished World War Ii Japan
Books like Killing The Rising Sun: How America Vanquished World War Ii Japan
Book Reviews
(15)
Did you read Killing The Rising Sun: How America Vanquished World War Ii Japan? Please provide your feedback and rating to help other readers.
Informative, Interesting, and Entertaining!

Derived From Web

, May 27, 2022

I thought that this book was outstanding. I have read all the killing books and Kennedy, Lincoln and this one are my favorites by far, but honestly, I have enjoyed all of them really. I wish that my history books were written in the same way when I was back in school many years ago. These books are informative, interesting and easy to read. I love the way the book describes little known things that go on behind the scenes that history books and teachers never told us. I don 't know how many more killing books Mr. O Reilly can come up with, but I look forward to the release of each.
Bushido Meets Unbroken

Derived From Web

, May 27, 2022

An end to uncontestable brutality was an uncontestable goal, unless you could consider yourself univolved by a stroke of luck or an illness. A seeming impossibility given the smallest child collecting war usables, the Rosie's called to employment, and the breadth and depth of the war's effect on America and its allies. Bill has done a great service by bringing together this terrible period of life in the world at large. Only wish he had thought of mentioning a personal hero of mine here in Michigan before the film of his life came to life-Louis Zamperini.
BUT AN INVASION WOULD HAVE BEEN FAR WORSE. THE JAPANESE PEOPLE WERE TAUGHT TO FIGHT TO ...

Derived From Web

, May 27, 2022

NOT SURPRIZING BECAUSE I GOT WAS PASSED DOWN THE VERBAL PATH. WAS WON WAS. NOT SO, WHEN A PARTY PUTS THEIR GUNS ON THE GROUND AND THEIR HANDS OVER THEIR HEADS,THAN MAYBE THE WAR IS OVER. FINALLY SAID HIROHITO WE ARE GOING TO LOSE ALL OUR CITIES. FINALLY ENDED THE FIGHTING. EXPECTED ALLIES TO LOSE UP TO 2 MILLION MEN JAPAN WAS EXPECTED TO LOSE AT LEAST 2 MILLION DESCRIPTION OF THE EFFECTS OF THE BOMBS WAS REALISTIC AND VERY SICKENING. JAPANESE PEOPLE WERE TAUGHT TO FIGHT PERSON!
MUST READ

Derived From Web

, May 27, 2022

Great read! O Reilly has done a great service by bringing us just how fierce and terrible the battles were in the Pacific compared to the European theater. Furthermore, the Japanese never paid the price they should have for their crimes, as justice was never really achieved for all those murdered by the Japanese during their reign of terror and conquest. Yes, they were defeated by the use of atomic weapons, but were never truly brought to justice for their brutal inhumanity.
Momentous decisions by an ordinary man.

Derived From Web

, May 27, 2022

Harry Truman, the last victorious president, was defeated. An excellent look at the extraordinary actions and decisions that brought about the unconditional surrender of the Japanese Empire and the end of the Second World War. Decisions that brought an end to the atrocities wrought by the Japanese during a war of their own making brought out decisions made in spite of political pressure.
Wonderful book!

Derived From Web

, Mar 25, 2020

Book is great! O 'Reilly and Dugard do it again! Start moving forward with the start. I rarely read forwards, but happened to start with this one and brought tears right from the start in my eyes. You get a real picture of the struggles, faults and failures of America's heroes. Clearly, no one is all good or bad, and I am very glad that it isn 't revisionist hogwash. The aggressor was Japan. The end of the discussion. I am glad that the team gave a graphic description of Nanking, so there is no doubt about the evil that was committed. Hard to judge, but O 'Reilly and Dugard give you a good foundation to decide. I like that O 'Reilly and Dugard are not afraid to lay the blame for certain acts, where it deserves to be laid.
Truman vs. MacArthur :

Derived From Web

, Mar 20, 2018

O Reilly does not disappoint again. I think he favors Truman in the philosophical question of nuclear bomb. And I somewhat disagree, in spite of O'Reilly's arguments, which are compelling. I think that Truman irrationally hated MacArthur from the beginning and was wrong not to inform him of the existence of the bomb, to say nothing about the planned use hours before the launch of Operation Olympic. I don 't think that the bomb shortened the war by any more men or time than the Olympic action of Ope Tree.
One of the greatest historical accounts of the last WWII days

Derived From Web

, Sep 11, 2017

One of the greatest historical accounts of the last WWII days, written in an impeccable style, which captivates the reader immediately. I look forward to reading all the historical essays of Mr. O Reilly. My doctoral adviser in Chemistry worked directly for Mr. Oppenheimer and used to tell me many memories of his days in Manhattan during the Chicago project. All of Mr. Reilly's words in describing the development leadership that gave our country the ability to separate large quantities of the U-235 fissionable isotope are accurate to what my beloved, late professor personally told me. I am currently reading Mr. Abraham Lincoln's account about Reilly with the same fascination.
Good reading!

Derived From Web

, Jul 31, 2017

Occasionally, I write good reviews. I consider the most valuable to be worthless ''. I think that is also true, but I have to admit that I did not stop reading until the end. I read all the Ballantine Battle Books years ago and this book added just more in-depth details to the Pacific War. I probably read reviews of the Patton book, which I passed through after reading Lincoln. It is maybe as good as this story. Norma has always been a bit of a Norm.
Great book! I learned so much about this time ...

Derived From Web

, Jul 4, 2017

Book is great! I learned so much about this time in our American history that I did not know before. It has given me a new appreciation for our heroic men and women in uniform, who have endured unimaginable horror to fight the war in the Asian-Pacific theater. Similarly, the account of the bombs dropped on Hiroshima and Nagasaki was horrific. May we hope never to see such destruction of nuclear fission again against humanity. The book gave fresh insight into the inter-personal relationships between key leaders in the war.